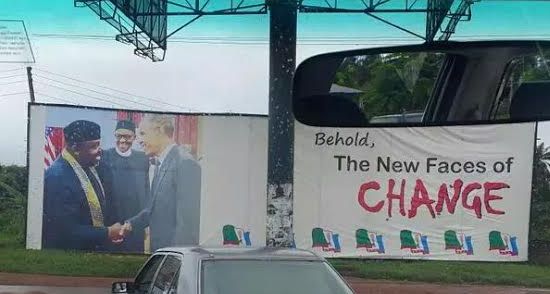 Over the weekend, one of the most popular trending topics was Imo State Governor Rochas Okorocha's photo he took with President Obama, which was transformed into a large billboard.
Many criticized the governor about the billboard.
But now, Okorocha is saying that he was not responsible for putting up the billboard. He declared this via a press statement released by through his Chief Press Secretary, Sam Onwuemeodo, Daily Post reports.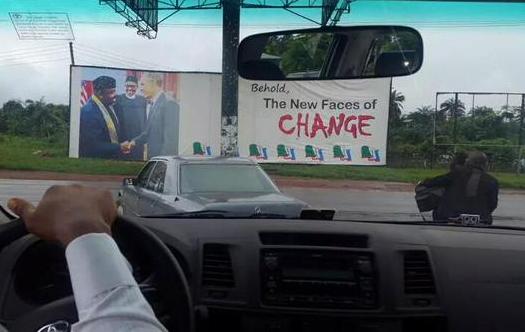 Read the statement below:
The attention of the Imo State Government has been drawn to His Excellency, Governor Rochas Okorocha's photographs with president Barak Obama been shown on the digital billboard screen and flex billboard banner.

To say the least, the Imo Governor or the state government he superintends did not place the photographs on the referenced screen or billboards, and was not aware or informed of such development, and could not have authorized anybody or any group to do that since it was totally unnecessary.

At the level God had placed the Imo Governor even before his becoming governor in 2011, he would not have authorized anybody to begin to advertise or display his photographs with the American President.

We had done our investigations and had discovered that some politicians in the state did that and they had done it with good intentions without their knowing the implications since they are not experts in public relations. They had thought that by doing the adverts they were going to impress the governor. And we can understand that. The government has however told them to put a stop to that.

The government also wants to use the opportunity offered by this development to demand that any body who wants to do any advert for the governor in any media or publicity outfit should get clearance from designated officials of the government. We appreciate the love of those behind the adverts in question for the governor, but next time, when they intend to do that they should get clearance before going public.

We are aware of the fact that Imo people love their governor and do certain things to appreciate him, but they should please be thorough enough, by informing the government to avoid playing into the hands of habitual opponents.

It was a good thing that His Excellency, President Muhammadu Buhari in his magnanimity included the Imo governor in his team for the visit to President Obama, but the governor had got to a level that he could not have allowed the adverts in question if informed.

So, we take the liberty to call on the general public who had seen or who will see the photographs on the networks in question to discard them. They are not from the Imo State Government."