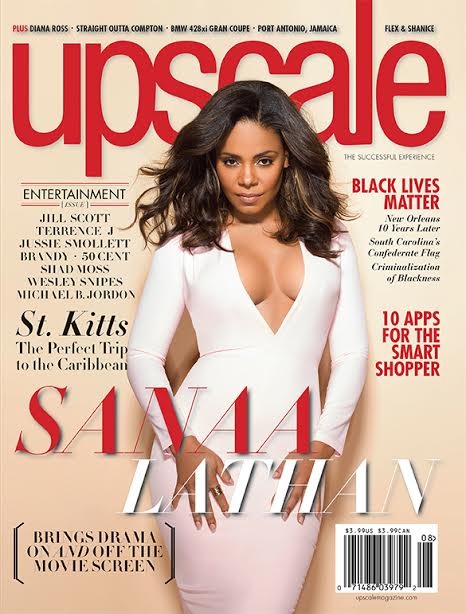 Hollywood actress Sanaa Lathan is bringing the drama off the set on the new cover of Upscale Magazine!
The gorgeous actress has had social media buzzing with rumours that she's dating Khloé Kardashian's ex-boo, French Montana, but has kept her lips sealed on their relationship status.  Instead she is serving sultry poses on the cover and the editorial.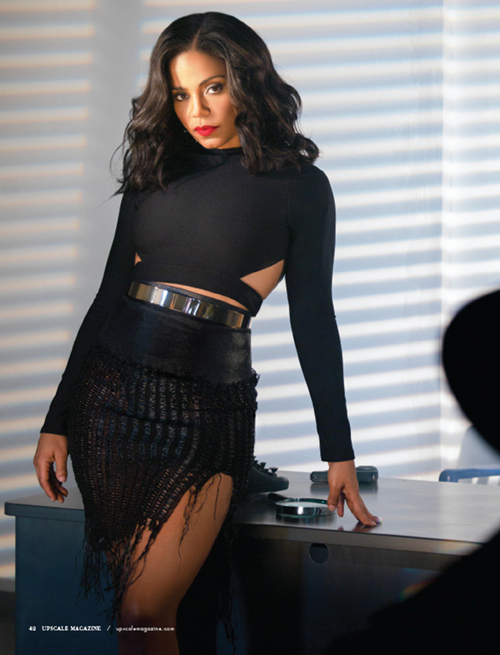 The 43-year-old talks new movies – The Perfect Guy starring alongside the handsome Michael Ealy and the anticipated Best Man Wedding movie in pre-production; as well as nepotism in acting.
By the way, did you know her father, Stan Lathan was the first Black director in TV?
She speaks to the mag on when she feels like a "real celebrity" saying – "I don't feel like a celebrity until I'm doing interviews like this. I walk around in sweats. I'm not always hair and makeup ready, and I have real people around me. That's the key. You can't help but stay in pocket, because real people don't tolerate anything else."
And she's moving from the front of the cameras to behind the scenes. She told the mag – "I am moving into the behind-the-scenes aspect now. When you've been in the business so long, you say to yourself, "I know how to do this." I know you can never say never, but I'll never stop acting. I'll just keep adding to what the word "performance" ultimately means to me."
See more images of Sanaa below;
Photo Credit
Photography: Derek Blanks
Hair: Kim Kimble