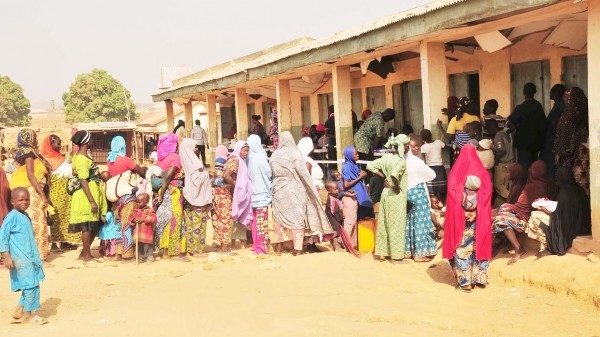 On Wednesday, the United Nations Resident Coordinator in Nigeria Daouda Toure pleaded for more resources to meet the needs of 1.5 million internally displaced people in the country.
During the activities to mark this year's World Humanitarian Day celebration with the theme: Inspiring the World's Humanity in Abuja, Toure said:
 "We appeal for more resources to respond particularly to the education and health needs of the displaced people.
What is available is not commensurate with the situation on ground as the crisis in the North-East is not publicized enough.
Nigeria is the major contributor to peace keeping in the world, so the international community need to contribute more resources, step up their support and restore the livelihood of these vulnerable people.
We need to come and help them, help their brothers and sisters and help them get a better future for their children.''
Toure added that the major challenges facing the humanitarian community today was the lack of access to security and limited resources. He called on stakeholders to mobilize themselves and examine the reasons for the slow response and support needed to tackle the security challenges.
Earlier, Muhammad Sani Sidi, Director-General, National Emergency Management Agency (NEMA), stated that the capacity to handle the present IDPs was not enough.
Sidi added that though a lot of effort and resources had been channelled towards the displaced persons, it was not enough because of their increasing population.
He said that responses to the needs of the IDPs were dwindling due to lack of adequate capacity.
Sidi said there was the need for proper coordination to enable them to harness all available resources to improve the living standard of the IDPs.
It was also stated  that the day was set aside to celebrate the gallantry of humanitarian service providers.
In addition, he noted that the theme of the day was intended to steer actions of people around the world for a greater humanity and advocate for more peaceful world.
"We are celebrating people who have sacrificed their lives for peace in the world.

These are people who have lost their lives or survived different threats to life while providing humanitarian services especially in violent conflict situations.

This celebration is an opportunity to advocate for a peaceful world, bring hope to people affected by disaster and guarantee safety of humanitarian providers rendering service in the Northeast.''
He stated that Nigeria had faced a lot of challenges in recent times with the Boko Haram insurgency.
Sidi commended and thanked the UN and all stakeholders for their support and cooperation during the period.
The UN Secretary-General  Ban Ki-moon, is scheduled to arrive in Nigeria on Sunday, the News Agency of Nigeria (NAN) said on Wednesday.
A statement said the UN chief would meet President Muhammadu Buhari on Monday and subsequently engage in other field activities.