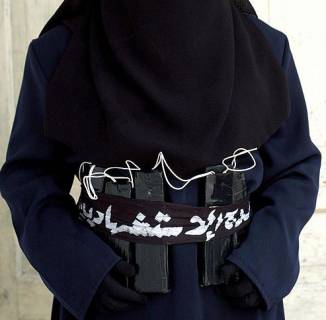 A 21-year-old woman who used to be a Boko Haram hostage, told reporters that the missing Chibok girls are now part of the terrorist group, and are being used as fighters.
The woman Tabitha Adamu, was  freed from the sect's camp and handed over to the Borno State Government last week, The Nation reports.
Reports further state that Tabitha is pregnant for one of the sect's commanders, who forcibly married her.
She told newsmen that she was taken from Bayan Dutse in Gwoza Local Government Area, when the insurgents invaded her village.
Telling her story she said:
"They killed my father and brother. They took me along with my mother but at some point we were separated. Since then, I've not set my eyes on my mother. When he (Abu Kabir, my Boko Haram husband), wanted to marry me, he gave the women who were  taking care of us N5,000 as my bride price.

Before the marriage, I was asked to convert to Islam. I did so because many who refused were killed and they gave me a name (Samira). I answered the name but I know my true name is my real name. When we were rescued I told the soldiers that my name is Tabitha.

They asked me if I am one of the wives of the Boko Haram and I told them my story. They felt for me and they treated me well.

Many people asked me since we were liberated, particularly about the pregnancy. I don't know the right answer to give because I actually do not know what to do. It has happened. I don't know what the authorities would do about it but I think it is too late to abort it. But my prayer is that I give birth safely."
She also reportedly stated said that she spent quite a lot of time with the abducted Chibok girls while she was in captivity. According to her, the girls are now being used as Boko Haram fighters.