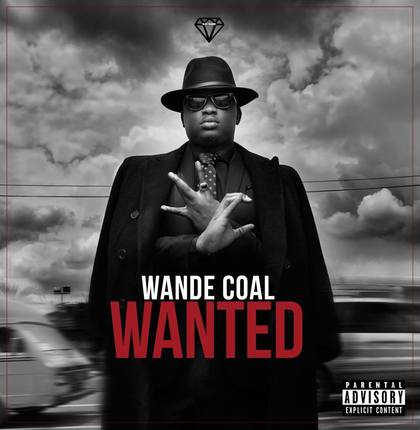 2009's Mushin 2 Mohits introduced us to the pop music phenomenon known as Wande Coal.  Coal carved a name for himself and with the help of Don Jazzy and set the template for what pop music sounds like in Nigeria today. Fast-forward to 2015 after a couple of controversies and label squabbles, Wande is back with Wanted.  You can buy the album HERE.
Now, let's get into the review itself.
1 Intro (Seyi Law)
T: Like I keep saying, no comedian in Nigeria has ever been funny on a skit
S: This was meant to crack my ribs, but instead I cracked my fingers and skipped it
2 Adura
T: Welcome back Wande we missed you
S: We really did. His voice still sounds as dope as ever.
T: What better way to start an album than praising Baba God
S: Delivering us from the oroboness that was holding us back and also delivering us from the shackles of Mavin. We are back haters!!!
T: What Mavin gotta do with this?
S: Mavin has everything to do with it whether we like it or not
T: We're just glad Black Diamond back
3 Superwoman
T: This song right here proves why Wande is one of the best vocalists in Nigeria right now. My favourite song on the album by far
S: You know I was gonna like this song. Like everything was going great. But i couldn't get over "I go love you casually" abi na gradually.
T: Wande finish work for here forget
S: Why you loving a superwoman gradually/casually tho'
T: Because Superman dey with Wonder Woman
S: That made no sense. Production was pretty alright as well.
4 We Ball
S: Tune! Jam! King Wande
T: Nothing special here for me. I don't know why you're shouting, smooth jam though
S: It's not special to you because you don't ball like us.
T: You don't ball like him either
S: That's not the point. My imaginary bottle popping life makes me relate.
5 Same Shit feat. Aka
T: Wande's vocals makes up for the dodgy mixing on this trap beat
S: Wande saving all these jams just straight off his talent. This mixing will make you miss Sucasounds
T: Aka got murked by a singer
S: Awon Twitter fingers
6 Monster
T: One time for Legendury Beatz
S: Two time for W.C
T: The production on this one is all fire. Wande just killed it with the last verse
S: Just straight fire verse!!! This is what we've been missing. This just makes you wanna hammer so you can park your white ghost right in front of a cemetery and stunt on your dead ex's body
T: You're on your own with that
7 Skit ( Falz)
S: LMAO!!!!
"Sometimes he do fornicate"
"I purchazed it with my ard hearned money!!"
"One heatery in mushin serving moin moin!!!
S: This dude is a foooooool. This skit cracked me up
T: Funniest skit I've heard in a long time. Can never get tired of Falz and his Yoruba man accent
S: Falz killing both the rap game and the comedy game.
8 Wanted
T: Wande sabi
S: Not really crazy about this but I enjoyed that last 20 seconds of this. Majorbangz beats kinda lose their bang after a while.
T: In other words, Major doesn't bang, see what I did there?
S: Stop it, please
T: This song felt like it was missing Chidinma
S: Or Phyno…Or Ill Bliss…Or Stormrex…Ok..no Ill Bliss
T: Better
9 African Lady
S: I gave this song 18 seconds
T: Wande should just give Flavour his song back asap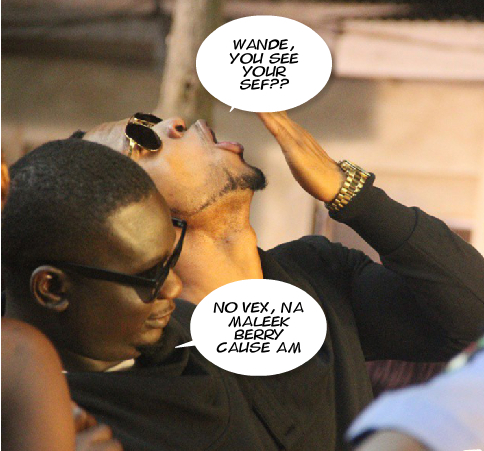 S: I have never heard what it sounds beyond that
T: You didn't miss much, with the signature 'listen' this could have been a Flavour song
10 Ashimapeyin
S: SARZ!!!!!!
T: Nominee for club banger of the year. When i first heard this song i didn't really like it, but a couple of bum bum grinding on me' later, my mind changed
S: SMH. This jam will bang till the end of time!!!Waaaaaaande we are your loyal servants!!!
T: Issskaaabaaaa
S: Sarz can produce my unborn kid's heartbeats. Flaaaaames
T: Am I the only one who has a problem with Wande using his 'sexy ladies around the world' line
S: Yes, you are
11 Weekend feat. Maleek Berry
T: Side chic anthem
S: Jam wey sweet dey give jedi jedi
T: Berry pon the beat
S: Sounds like a side nigga anthem to me. Really smooth R&B jam for ladies who just want to talk about the letter D only for the weekend
T: Another smooth song
S: Maleek Berry and Wande really connecting and churning out dope songs
T: Talent meets talent
12. Plenty Love
S: *checks album again*… *checks who produced it*…*checks who is singing*
T: Make story no too much. This is a poor song. Shouldn't have made the album. Finish
S: Iyanya was in the studio…that is the only excuse
T: Or written by him
S: After we gave Maleek Berry praise…sounds like Wizzy is teaching him bad things
13 Skit (Jimmie)
S: Skip
T: Nothing here, pointless skit just adding to the album count
14 Make You Mine feat. 2Face
T: Nope, this didn't happen. Wande and 2face didn't come together to make this
S: Well I know we were expecting mind blowing but we just got "una try"
T: Dem no try, maybe Wande gotta change his name to Sound Sultan for 2face to come correct
S: 
15 Lowkey
T: This right here is what Burna should have jumped on. Track is tailor made for him
S: But Wande made this a jam. I enjoyed this. Galala forever
T: Wande is talented. Talent will always shine but i'm just confused about beat selection and topic range sometimes
16 Iyawo Mi
S: This song, 'African lady' and 'Plenty Love' are competing for this week's edition of 'songs that should be in the trash can'
T: And they're songs Wande should shine on easily. You hear titles like that and expect something great
S: Poor songs. "Bambialah" tracks. This had no place on this album. F9 for whoever A&R'd this album
17 Jelly
T: I don't know how I feel about this song.
S: Hahahah I swear
T: Wande sounding like Wiz on this joint, like he basically spat out Wizkid on this song
S: Maleek Berry made him do it. But it's normal. Wizzy kinda hot right now.
T: This was hard for me to listen to, sounded like a Wizkid freestyle
S: Harmless fun i guess…ain't gonna be a favourite.
T: Ain't gonna be listened to again either
18 Baby Hello
T: You already know. Jam
S: Dopeness
19 Wanted remix feat Burnaboy
S: SARZ!!!!!!
T: Still preferred the original.
S: Nah, this should have been the only 'Wanted' that made the album. Burna and Wande go together like Dudu Osun and Yoruba skin
T: Huh! Why
S: Black on black!
T: The day Burna would not speak Yoruba on a track is the day that a woman would allow you enter her front in traffic
S: Hahahaha That's hard yo
20 Kpono feat. Wizkid
S: This is a virus
T: Like Cyrus or like…
S: Just behave
T: This is also below expectation to me, nothing good came out of this collabo
S: With lines like "she playing with my kpono no no ehh". This jam just sounds like things old men would sing to private university babes
T: The collab didn't work as we expected it to, it can kpononono its way out of my ears
S: E no sweet
21 Skit (King Spesh)
S: Skip
T: Another skit that needs skipping
Verdict
S: After dropping easily the best Naija album to date, a 6 year wait for a sophomore album…you can bet our expectations are gonna be extremely high. Did this live up to it? No. But we are just happy to have him back
T: Considering the success Wande Coal had with his first album, the expectations for Wanted were obviously high. The album, however, falls short of taking Wande Coal to the next level, for an album that has limited subject matter and isn't cohesively put together, length is obviously an issue. Wanted has more misses than hits but it's still worth checking out
2.9/5 wRaps
Peace, Love and Iskaba