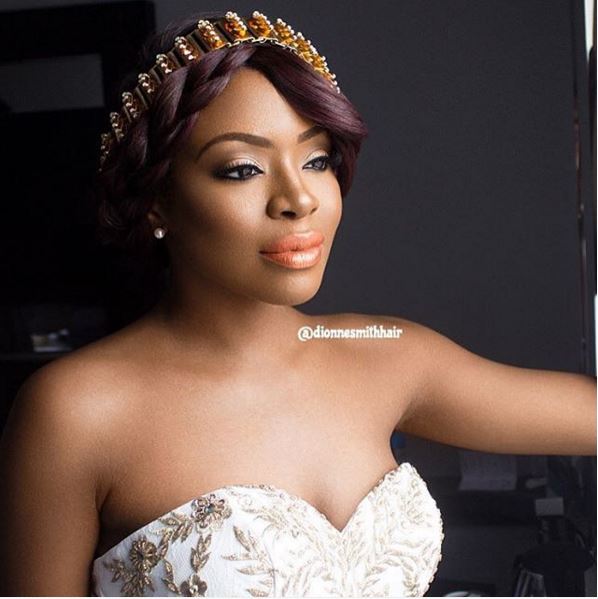 Newlywed Dolapo Oni was featured in the latest issue of digital magazine Creme de la Bride Beauty where she talks about her wedding plans as well as what she has been up to lately.
She also shares the details on how her husband, Prince Adegbite Sijuwade popped the question!
Read excerpts from her interview below.
On how he proposed: I was on set shooting a TV series and my business partner called me saying we had a meeting at 6pm that evening with a possible sponsor for my show. My shoot ran late and I wasn't finished till 8pm. I headed over to the restaurant where the 'meeting' was, and sat through the worst traffic. I was tired and wearing tracksuit bottoms and a t-shirt so I gave up and called to say I wasn't going to make it, but he kept encouraging me to come down. I finally got there at 10pm and instantly asked where the man that we were meeting with was, and was told he was in the bathroom. All of a sudden the music in the restaurant got really loud and dancers came out and started performing. I thought it was bizarre, but I carried on with my conversation. Then my boyfriend came out and knelt down next to me and popped the question! He told me to look up and all of our friends were standing on the balcony watching – I cried like a baby!
On her daily beauty regime: I'm not the best with my beauty regime. I just make sure I wash my face before I go to bed and that's about it.
On the most important thing about her hair: Letting it breathe! I am all for weaves and braids but I need to let my hair rest, so I try to have it out as much as possible. I try not to put too much heat on it and go for treatments regularly.
You can check out her full feature here.
Photo Credit: Instagram – @cremedelabeauty