As the year draws to an end a lot of magazine's and award platforms are putting together their "Person of the Year" nominee list and one of the most prestigious ones is TIME Magazine's "Person of the Year" award.
The magazine has released a couple of names up for nomination and some of the people on the list have caused quite a reaction on Twitter.
When TIME tweeted this: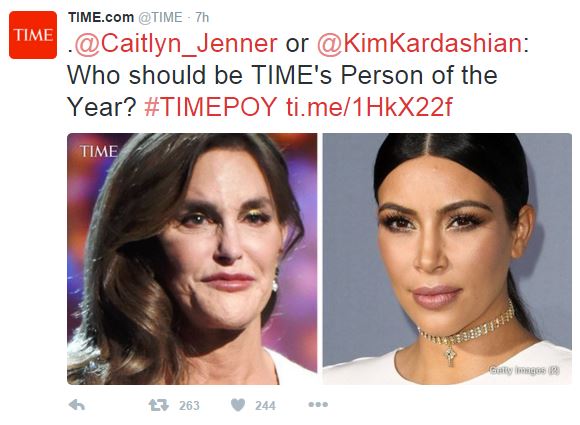 … a lot of people could not believe they were being asked to choose between Caitlyn Jenner and Kim Kardashian for the "POTY".
TIME however later tweeted this: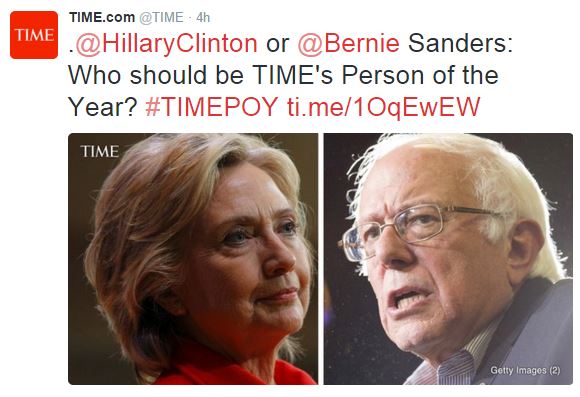 …and also shared a link revealing the other nominees.
They wrote on their website:
TIME's editors will choose the Person of the Year, but that doesn't mean readers shouldn't have their say. Cast your vote for the person you think most influenced the news this year for better or worse. You can also vote in our yes/no poll. Read more about the voting methodology here.

Voting closes at 11:59 p.m. on Dec. 4, and the combined winner of our reader polls will be announced on Dec. 7. TIME's Person of the Year will be announced Dec. 9.
Some people on the poll on their website include Bernie Sanders, Malala Yousafzai, Barack Obama, Pope Francis, Drake, Adele, Kim Kardashian West, Donald Trump, Viola Davis, J.K Rowling, Vladimir Putin, Jennifer Lawrence, Muhammadu Buhari, Serena Williams, John Kerry, Mark Zuckerberg, Hilary Clinton, Taylor Swift, Tim Cook, Nicki Minaj, Ben Carson, Ted Cruz and more.