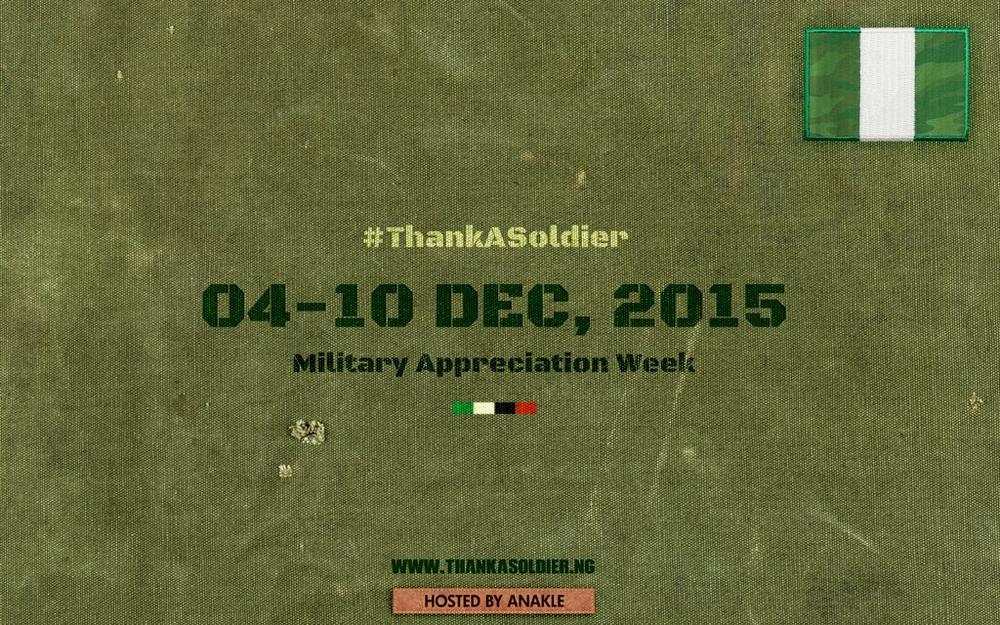 Being in the Nigerian Military is one of the most dangerous jobs in the world. You risk leaving home and never coming back. You leave warm embrace from your wife, affections from your mother, and the opportunity to see your kids grow. You abandon a warm bed, nutritious food and a cosy house to fight (sometimes to the death) for people you barely know … who barely know you. In the end, instead of being recognized and appreciated for your efforts, you are under-celebrated, or straight up abused.
This is why #ThankASoldier, the viral campaign championed by Anakle, one of Nigeria's most innovative digital agencies, is a campaign every well-meaning Nigerian should be a part of. You may remember Anakle for building the Bride Price app in 2014, which went viral.
The essence of the campaign is simply to tell those fighting to defend Nigeria, especially those fighting terrorism, that even if we're not directly at the frontlines with them, we appreciate their efforts and are immensely grateful.
#ThankaSoldier is weeklong campaign which begins on December 4th and ends on December 10th, 2015. It will feature a series of online and offline activities. On the website – www.thankasoldier.ng, you can create a customized DP like the one below and share on Twitter, Facebook, Instagram, Whatsapp and BBM.
You can also sign your appreciation on a Gratitude Wall, and share your own Soldier Stories. Tweets, Facebook posts or Instagram messages highlighting reasons to #ThankASoldier will also go a long way in telling our gallant military men that we are behind them. But it doesn't end online though. Wherever you are, make an effort to salute and #ThankASoldier for their service whenever you meet them.
Follow the conversations on Social Media using the hashtag #ThankASoldier. Also visit and bookmark the website www.thankasoldier.ng for updates on the Military Appreciation Week.
Every Nigerian soldier is either a martyr fallen, a hero standing or a champion rising. Honor them. #ThankASoldier today.
______________________________________________________________________________________________________
This content has been published for free as part of BellaNaija's commitment to youth, education, healthcare and community development as part of our corporate social responsibility programme