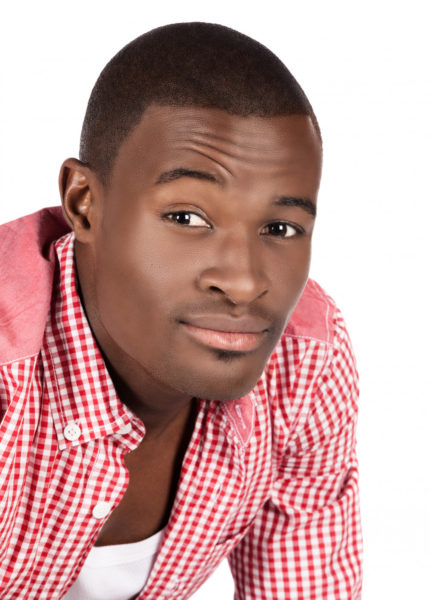 "Six thousand Naira," said the receptionist with a dry voice. Her brown eyes watched Chike, his double chin, his enormous chest protruding through his t-shirt, his big manly hand as it dropped three thousand Naira on the wooden counter. Then she shifted her gaze to Ovie. Ovie dug his shaky hand into his pocket, groping for three thousand Naira. His heart quaked, so loud that he thought this woman could hear it. Quickly, he handed Chike the money. His arm looked so skinny compared to Chike's. Chike placed the money on the counter and flashed the receptionist a beam. She didn't smile back.
During customer service training, they probably don't teach the staff to smile. When you visit fast food restaurants and stores in Nigeria, most of the staff  would squeeze their faces at you, like you insulted their loved ones. Perhaps it was the low income, barely enough to cover feeding as well as fuel for generator, transport, PHCN bill and house rent. Not to mention social life.
This woman gave Ovie a form to fill. He wrote down his name, address and phone number and signed his signature. She gave the key to Chike. Chike climbed up the stairs, while Ovie lagged behind him. Ambling through the hallway, Ovie's restless eyes appraised the stains and hand prints on the walls, the peeled off paint and the cobwebs hanging from the ceiling. Several times, he looked back to check if anyone was following them. A war raged in his mind. If he stopped in his tracks and said no, would Chike understand?
Chike stopped at a door numbered fourteen.
The air was warm and still but there was a chill rushing through Ovie. Nothing could stop the dryness in his tongue or the churning in his belly. Having sex for the first time in a hotel had his pulse racing with excitement. It would also be his first time having sex in Nigeria.
Ovie had spent some years in England, studying his undergraduate degree. It was there that he learnt of his sexuality and its commonness. Before then he thought he was the only homosexual. Everyone seemed to like girls. But soon he learnt that just because no one was flaunting their sexuality didn't mean it was non-existent. Homosexuals had been pressured to hide their existence as it had always been frowned upon. Now that there was a law against homosexuality, no one felt safe. In England, he felt free to be himself. People could hook up comfortably in their houses without worrying that they'd be dragged out by neighbours and disgraced, probably even killed.
Inside the bedroom, Chike pulled Ovie closer. He gave him that dimpled grin.
"Do you think she noticed?" He whispered.
"I've been coming here for years. Nothing has happened," said Chike.
His lips pressed softly against Ovie's as his hands wandered down to Ovie's buttocks. He was so close Ovie could feel his erection. Ovie's confidence grew as their tongues stroked each other's. Suddenly, his inside was consumed with unleashed lust.
It had been a year since Ovie had sex. Could have gone longer without it, but he was only human. He was aware of the risk involved. In the past, Ovie had been diagnosed of asthma, tuberculosis and testicular cancer and he had none of those. If he couldn't trust Nigerian doctors with the right diagnosis how could he tryst them to tell him if he's got any sexually transmitted disease? Unlike the UK there isn't proper care for HIV patients. If anything happens he'd have to deal with the stigma. One more kiss and Ovie was rid of all worries.
In silence, they stripped out of their clothes. Ovie got on the bed. The bedsheet could have been covered with poor people's sweat, but he didn't care. Earlier, he'd told Chike there would be no blow jobs. He didn't say why, but it was because he couldn't risk catching anything.
Ovie faced his buttocks towards Chike who was slipping on a condom.
Suddenly, the door flew open. It was the receptionist. With wide eyes, she pointed her skinny finger at Ovie as she yelled, "I told you they were gay!"
Behind her, two police men rushed into the room. One of them – tall, with an oval shaped face and three horizontal slashes on each cheek – said, "You're under arrest."
"Please sir," begged Chike with his two hands in the air. He got on his knees begging.
Ovie crawled out from the bed, begging, "Please, forgive us."
On his knees, Chike said, "We'll do anything, sir."
The woman was glowering at them.
The other police officer – short with a big belly and a thick moustache – said, "Homosexuality is against the law. Fourteen years imprisonment, how do you intend to avoid this?"
"We can pay you," said Chike.
The police officers shared glances. One of them said, "Fourteen thousand Naira."
"Ah," shouted Chike.
"Please sir, that's too much," murmured Ovie.
Chike looked at Ovie. His eyes filled with tears. He said, "We can split it, seven thousand naira each."
The tall officer said, "Are you mad?" He swung his arm and smacked Chike's face. The loud clap filled the room, echoed through the hallway. It was so hard, Chike fell on the carpet. This tall man, glaring at them, said, "We're asking for fourteen thousand Naira each."
"Ah-beg sir, I don't have that kind of money," said Chike, still on the ground.
"We'll drag you to the police station naked."
"Ah!"
The short officer asked Ovie, "Are you going to pay us? Or do you want to go to jail naked too?"
The tall officer said, "This one wan go jail. You saw how he set his behind up."
Ovie envisioned how his mother would react. Would she bail him out? His father would disown him. Just to stop that from happening, he said, "I can pay."
The officers hurled affronts at Ovie as he got dressed. The short officer snatched Ovie's phone from his hand. The tall one insisted to keep an eye on Chike while the short officer escorted Ovie to the nearest cashpoint. They walked out of the hotel, under the scorching sun. Ovie endured more insults as they waited for a bus.
He contemplated running but the officer said, "We have your address. I have your phone, I can call your parents."
The bus swung by, with a man yelling, "Oshodi" as he stuck half his body out of the vehicle. The two hopped in and together they went to the nearest bank, where Ovie withdrew fourteen thousand Naira.
Shortly afterwards, the officer returned to the hotel. The receptionist asked, "Did he pay you?"
Wearing a broad grin, the officer replied, "Of course."
Chike was seated, fully clothed, at the reception. He had a bottle of coca cola in his hand. Next to him was the tall officer nursing a bottle of Guinness.
The short officer handed money to the receptionist. "Two thousand Naira," he said.
He walked towards Chike and the tall officer, counting the money in his hand. He said, "Take your four thousand."
Chike collected the money. Looking at the screen of his phone, at a gay app, he said, "I'm bringing another one this evening."
Photo Credit: Dreamstime