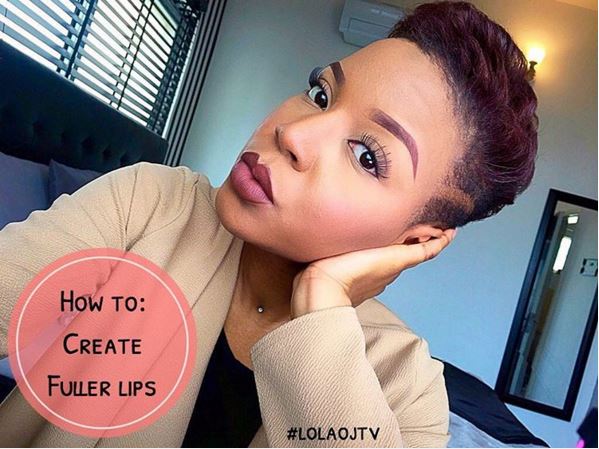 Vlogger and makeup artist Lola OJ has a simple step-by-step tutorial on how to get fuller lips!
Step 1: Moisturise your lips
Use a smooth lip moisturiser to gently cream your lips.
Step 2: Prime your lips
Apply a matte primer over your lips in preparation for the next step.
Step 3: Apply a thin layer of foundation
Using a beauty sponge, evenly apply a fine layer of foundation directly over your lips and lip area to neutralise your natural lip colour.
Step 4: Line your lips
Following the natural shape of your lips, use a dark brown lip liner that will helps define lips. Line your lips with the lipliner, you can draw just a little but above your natural lip line but do not overdo it as it will show.
Step 5: Fill in your lip edges
Begin to fill in the corners of your lips with the lip liner, apply the lip liner downwards towards the inner parts of your lips.
Step 6: Apply your nude/brown lipstick
Apply your matte lipstick directly on top of your lip liner, leaving a very minimal amount of space between the lip liner and the lipstick.
Step 7: Reline your lips
With the same lip liner, go over your original line to blend the liner and lipstick together.
Step 8: Neaten your lips
Using a tiny amount of concealer and a concealer brush, begin to neaten the edges so that the lines become clean and smooth.
Step 9: Set the concealer with powder
Using a setting powder and setting brush, go over the concealer you have applied with a setting powder so that it will blend in naturally with the rest of your face.
Step 10: Extra matte lips
Using a clear or lightly coloured powder, using your index finger, dap a little bit of powder lightly all over your lipstick to give the lipstick an extra matte finish.
Then you now have the finished look!
Watch below.