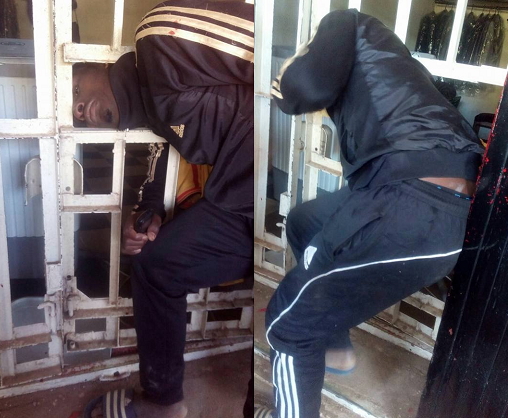 A thief was caught with his head stuck in a gate after trying to flee a supermarket he robbed in Jos, Plateau state.
This Wednesday at a shopping plaza on Plateau Club Road, 32 year old Solomon Clement tried to go through the 'burglary proof' gate after he's believed to have entered through the roof.
According to Punch, he stole clothes, shoes and home items. Punch reports,
He was said to have stolen seven pieces of suits, two blankets, 13 pairs of shoes and three pieces of bed sheets after which he tried to escape with the loots through the window.

Our correspondent gathered that he struggled in vain to free himself, until daybreak when the police were alerted to the incident. He was arrested, while the stolen items were recovered.

A trader, who spoke with our correspondent on the telephone on condition of anonymity, said there had been cases of burglary in the plaza before the Wednesday incident, adding that she suspected there was connivance between the perpetrators and insiders.

He said, "That was not the first time burglars attacked shops here. We normally close around 6pm. I suspect they connive with insiders, who might have been giving them information. Most times, they (burglars) break the bars. It was God that orchestrated the man's (Clement) arrest. I learnt that he had entered through the roof. It was the security man who was moving around the complex that saw him with his head stuck. The shop is owned by one Daniel. I learnt he stocked the shop with suits and shoes recently.

"I want the police to handle this matter seriously and mete out appropriate punishment to the suspect. Maybe through that, others would learn to desist from the act."

An eyewitness, who identified himself only as Julius, said Clement was freed after a welder was employed to cut the bars.

"He was there for hours. We called the police from the A Division who arrested him. We had to get a welder to cut the bars," he said.

The Plateau State Police Public Relations Officer, DSP Abuh Emmanuel, said investigation was ongoing into the incident. He added that the suspect would be charged to court when the investigation was concluded.
Photo Credit: Twitter.com