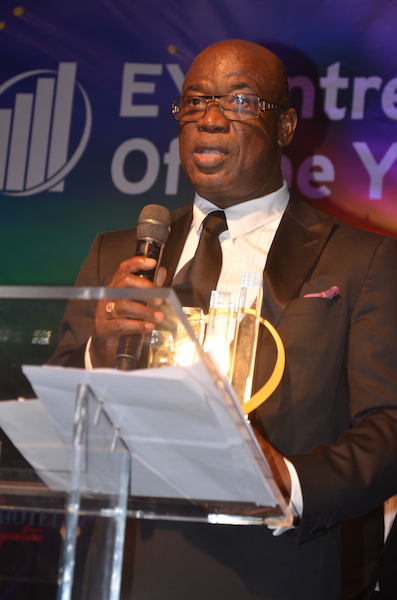 Dr. Kwabena Adjei, Founder and Chairman of Kasapreko Limited was awarded Master Entrepreneur of the Year in the West African edition of the Ernst & Young (EY) World Entrepreneur of the Year Awards, held at Eko Hotel & Suites, Lagos, Nigeria on Friday the 5th of February 2016.
Kasapreko Company Limited is responsible for producing the authentic Alomo Bitters – the brand named by CNN as one of the top 5 emerging drink brands. Alomo Bitters has seen major success across West Africa and beyond. Recently added to Kasakpreko's stable are Kalahari Bitters and Carnival Strawberry drinks.
The World Entrepreneur of the Year Award program was created by Ernst & Young to recognize the accomplishments of entrepreneurs with Award programmes in more than 60 countries around the globe. Members of this elite community are exceptional leaders who disrupt the status quo, drive innovation, create jobs and transform economies.
Past winners of the Master Entrepreneur of the Year category include Aigboje Aig-Imoukhuede, former Group Managing Director of Access Bank (2011); Alhaji Aliko Dangote (2012); Mr. Austin Avuru, Managing Director of Seplat Petroleum Development Company Plc (2013); Jubril Adewale Tinubu, Group Chief Executive of Oando Plc (2014).
In the wake of all his achievements, Dr. Kwabena Adjei, recently launched a $70m state of the art bottling plant for Kasapreko in Ghana, which will churn out hundreds of thousands of bottles a day of a variety of alcoholic and non-alcoholic drinks.
_______________________________________________________________
Sponsored Content