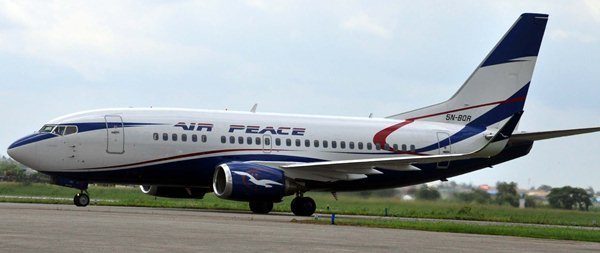 The management of Air Peace Limited has released a statement following the fire alarm raised on Saturday, 12th of March, 2016, that led to the evacuation of passengers at the Port Harcourt Airport.
In the statement signed by the Chairman/CEO of Air Peace Limited, Allen Onyema, the management stated that the fire alarm was false and the evacuation of passengers was a precautionary measure taken to ensure the safety of passengers.
"… the safety of our passengers, crew and equipment is our number one priority, so the emergency evacuation procedure was duly followed and everyone disembarked without any incident only to discover that it was a false alarm" the statement read.
The statement further cleared the air on the cause of the false fire alarm thus: "As the Captain was taxing to go and park at the apron after landing, the tower informed him that there was smoke from the under belly of the aircraft thereby making the pilot to deploy the slides and all six doors for the passengers to be evacuated."
It stated further, "The fire fighters who were called by the tower did not see any smoke or fire, likewise passengers. The engineers, the NCAA, and other agencies witnessed that there was neither smoke nor fire. It was a false fire alarm that led to the entire situation, but Air Peace crew responded professionally in accordance with the books."
The statement also stressed the need for the media to make sure of their facts before publishing. "It serves no one any good to engage in sensational journalism without crosschecking facts. We have proved to the world today that we are very capable of handling very efficiently emergency situations if they ever occur even though this one turned out to be a false alarm."