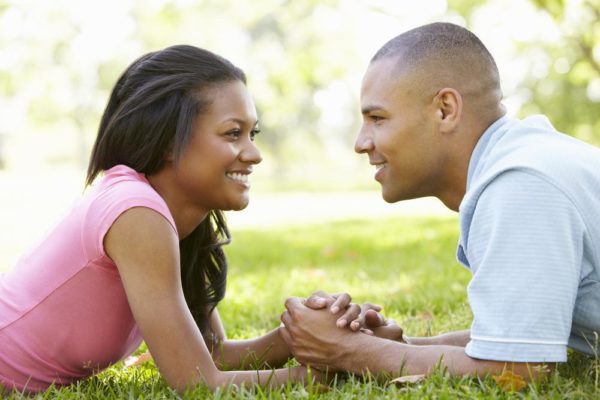 Having deep but flirty conversations with a chic is a 2nd heaven. I have heard it said that a good conversation is like a mini skirt – short enough to pique interest, but long enough to cover the subjects.
My buffoonish older cousin used to say that girls are more moved by what they hear than what they see. Cousin once walked up to a lass who was sipping "mineral" in a greasy spoon joint on a hot Surulere evening and said "Oh you like Fanta too? Let me buy you more later na".
He was staring at her tangerines as he said that, but the quirkiness of what he said and how it came out made her laugh. They scheduled a meet-up for the next evening.
Another time, he saw this sweet looking PYT (Pretty Young Thing) at a crowded store opening event, and he pretended to be texting on his phone as he approached her "I don't have time to toast you now, give me your number so that I can continue later."
She gave him her Glo, MTN and Etisalat phone numbers. 0809-419-69696……
He got a reality check when his bank transferred him to its PH branch, and he had to tango with the "runs girls" brigade.
Truth be told, it is one thing getting a chic's phone number, but it is another thing to vibe with her enough to lead to something epic between the two of you. As Buhari is finding out now, it is not about just receiving the go-ahead; it is about what you do with it.
Women are perceptive as hell. I keep telling my friends that women have menfolks in their pockets but we don't know it yet. Just pray that it is their breast pocket.
If a girl is feeling your "steelo", even the corniest words you say land like gems plucked from Shakespearian chapters.
You know you hit pay dirt when she giggles at your innuendos – even if you and her know that you just spouted gibberish –balderdash – opata. At that point, she is laughing "for" you. Hint – laughing for you, is a better place to be in than laughing at you. Laughing on you is not bad… if it is done on a mattress.
Some chics like being told true lies.
That is not my style though, if I am into the chic! Esco is not the type to bring sand to the beach. A man of passions, I say exactly what I feel, even if I stand to lose and snooze.
I was always the type to buy a blank birthday card and write my own words in them; I feel the wording in most commercial cards are lame.  Then, I go on to write something incredibly goofy like: "Violets are red, roses are blue. Dang look at what thinking of you made me do."
Sometimes it's something slick that I picked off some obscure alternative rock tune:  "I can move mountains / I can part seas as long as you love me."
Sometimes I get invited up to the girl's place for "coffee"; sometimes I get left standing there with my mouth full of kopiko.
Esco is that one dude who would ask a chic he is into this on the second day: "So baby how do you feel about me? Does your world know about me?"
You see, with a new chic who I am feeling, my sense of taste gets heightened over that of sight, smell and touch. I literally want to taste her. When I am not permitted to physically lick her, as I would like, (that would constitute harassment), I utilize the allure of words, including open-ended questions that facilitate a back and forth interactions and that can relax the most prudish maidens. Sometimes, it is to get her to talk about herself – which females love to do to certain degrees.  Other times, it is just to get to know her better. Oh, and I don't ask anything that I am not able to answer myself.
Of course words do not always give the full picture, as lies can be initially told, and then trust, love and mutual respect can fade. However, you could tell a lot about a person from their response to and evasion of questions. Even an answer to something as needless as "how was your night" could tell you a lot about a chick.
I will give some samples:
What kind of things make you laugh?
What is the meaning of your name? Or how did you come up with your nickname/profile name?
What is the biggest misconception about you?
What would you do with a million dollars?
Who are you closest to in your family?
Are you daddy's dearest? Or is your family looking to unload you quickly onto the first suitor's hands? Don't let her mum carry your surname to her coven o.
What is your favorite break up song?
This is a good, if not foolproof, way to measure emotional balance. It is all in the lyrics, lads. Basically my concern here is that if it does not work out with us, she is not the psycho "Glenn Close in Fatal Attraction" type that would slash my Honda Accord tires, and pour Jik on all my gear. That she would not make my life a living hell, by dragging my name through a "pap" smear campaign about my "staying power", or conspire with the vulcanizer to kill me dead in my pajamas. Or bathe me with acid from an Everstart car battery because I cancelled our engagement.
Fellas, if her top break up tune is Kelis's "I Hate You", take flight like Jacob.
The lyrics of that song read like a horror motion picture: "So sick of your games / I will set your truck to flames/…Drive me so far up the wall/ I come sliding down/
It may not alarm me that much if her favorite break-up jam is Beyonce's "Irreplaceable":
You must not know about me/ You must not know about me / I can have another you in a minute/ Matter of fact, he will be here in a minute, baby/
This is because, as bad as you say I am, you are boasting about how you could have another me in a hot minute? So you would basically make the same mistake twice, dating my kind. Woman, you are accident-prone, carry on.
Personally my favorite break-up tune is "Hopeless" by Train. Go have a listen on YouTube, but the words go: But you don't need my pictures on your wall / You say you need no one /And you don't need my secret midnight call / I guess you need no one / Is anybody waiting at home for you?
So, back to the questions you can use to carry on conversations with your babe:
What is your favorite romantic movie? Are you heartless romantic? Or a closet freak with no time for sweet nothings? Do you believe that love always has a tragic end, and that Romeo must die like in "Titanic" where Leonardo took a cold bath?
By the way, I have seen Love Actually more than 15 times. And Notting Hill is a classic. I am a sucker for love, what can I say?
Money, Power or Respect – Which is the most important to you? (This may give an insight on her values and expectations of life.) Money, Power or Respect – Trump, Sai Baba or Wole Soyinka?
For me, respect is everything as it is the only one of the above that can only be earned the hard way. Unfortunately, it gets the least tail. And then certain people only respect Naira notes or the use of brute force.
What is the one place in the world you wished you lived in? I really find it hard to answer this one though. If my village in Imo State could have 24 hours power and WiFi, then I would reside there in a heartbeat. It is picturesque with fresh breeze, palm trees and red soil, but nothing beats being woken up in the morning by the sweet chirping of nnunu, a native robin bird. Tutututututututut….fiakwa!!!
Oh by the way, a new Shoprite Mall is being built about 35 minutes from my hamlet. More escalators to ride. Yay!
What is your favorite thing to do when you are totally alone? Fellas, pay good attention to this one – you will learn plenty from what is unsaid. If she says "nothing", hail her…
What was your favorite childhood toy?
What is your dream date? (Would she be up for a rock climbing expedition to the hills of Nkalagu, or does a dream date for her only equal fast-food and a cinema film at Silverbird. Or YouTube and chill?)
How would you answer these questions?
Photo Credit: Dreamstime