PZ Wilmar Foods Limited, producers of Mamador Cooking Oil has made good its promise to loyal consumers across the country in the Mamador Cook & Cruise Promo.
The Promo which started in October 2015 has recorded three winners of brand new Hyundai Accent cars in Lagos, Port Harcourt and Akure and another three, winning one million Naira each from Lagos, Benin and Abuja, with several others winning airtime cards and other freebies, all worth more than N20 million.
General Manager, Marketing, PZ Wilmar, Bukky Bandele said "The Promo has been hitch-free and Nigerians have been given equal opportunity to win something big from the brand. It has been free and fair and draws have been witnessed by relevant regulatory authorities. This reinstates the fact that promises made by the brand will always be fulfilled and all the quality assurances are also being fulfilled, in terms of the product quality, added benefits, heart healthpromise and also in our relationship with consumers just as we have delivered in this Promo".
When Gladys Nkechi Ogboma, a nanny in Port Harcourt, received a Christmas hamper which contained a bottle of Mamador Cooking Oil from one of her clients last December, it was her twelve-year-old son who instantly recognized the opportunity and sent in an entry on her behalf before informing her of the promo. According to her, she never believed in such promos and never expected to win anything. She was however overjoyed when she was contactedand informed that she was the winner of a brand new Hyundai Accent car after her phone number was picked in the e-raffle draw in January.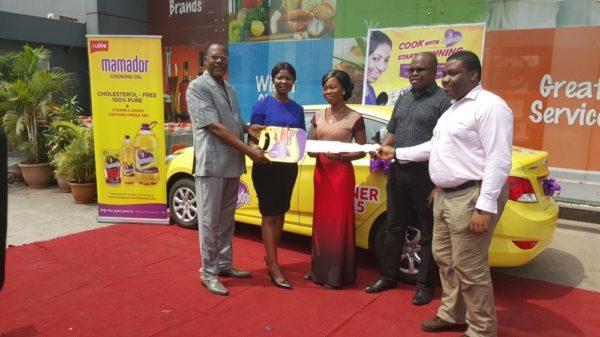 Now, Mamador has made her believe and according to her,"this car could not have come at a better time".
Another winner of a brand new Hyundai Accent car, Mercy Onuda, a distributor of school textbooks and a thrift collector in Lagos, was in total disbelief when she was contacted. She explained that she only bought Mamador Cooking Oil in the hope of winning airtime cards in the promo so she could use them to make calls. She was full of excitement as she stated that this was her first car and would aid her business of book distribution and thrift collection, which she had been doing using hired tricycles.
The winner of the third Hyundai car was a young school leaver from Akure. Enofe Emmanuel purchased Mamador Cooking Oil in company of his mum at a store in Akure and was informed of the promo by a Sales Attendant. Although his mum was skeptical of the promo, he decided to try his luck. Upon winning, the 19-year-old was magnanimous enough to say he would allow his mum to use the car free of charge.
Three consumers also won N1 million each. Anjola Ogunbodede, a staff of a bank in Lagos;  Martha Omorowa Agboniro , a chef in Benin City and Deborah Ayu, a housewife in Abuja.
All the three electronic draws were witnessed by representatives from the Consumer Protection Council of Nigeria,National Lottery Regulatory Commission, Lagos State Lotteries Board and the Nigerian Communications Commission.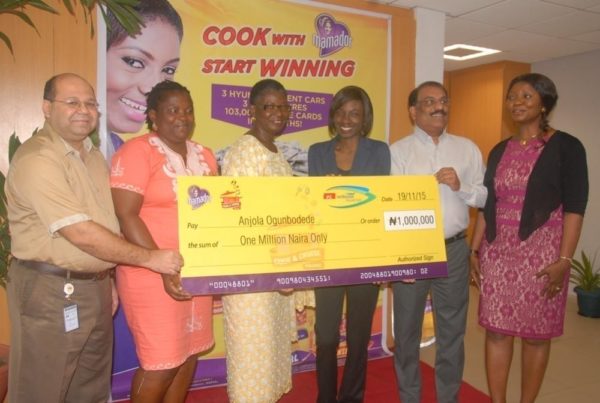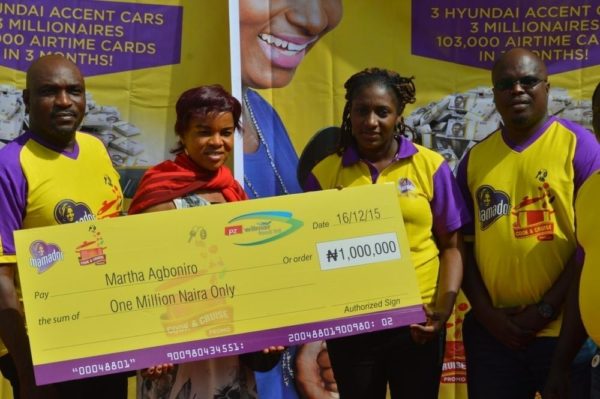 The General Manager, Marketing, PZ Wilmar, Bukky Bandele further stated that "there is no end to exciting times with Mamador. People are already getting rewarded from buying from stores even as this promo is ending, you get a branded item immediately with every purchase. There is never a dull moment with Mamador; even online consumers are getting rewarded and that is what happens when you care about consumers".
The excitement continues on our social media platforms:
Facebook:  www.facebook.com/MamadorNg | Twitter and Instagram: @MamadorNG | Website: www.mamador.com
______________________________________________________________________
Sponsored Content