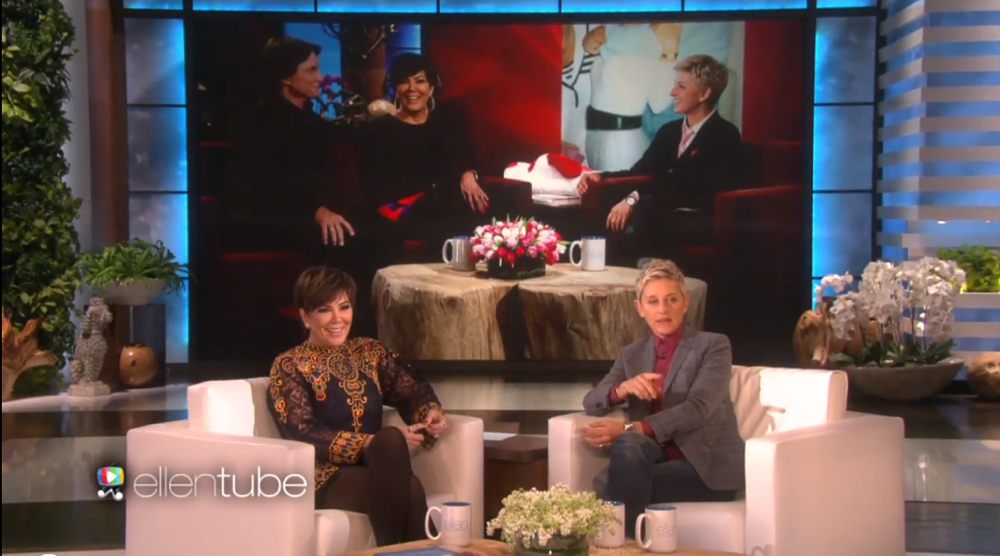 Kris Jenner opened up to talk show host Ellen DeGeneres about her ex-husband Bruce Jenner, now Caitlyn Jenner dating men.
The last time Kris was on the show, it was Valentine's day and she was seated right next to her then husband, so Ellen admitted it was "weird".
Ellen also said, "Now, she is Caitlyn, and it's confusing, because for a while she was not saying whether she was going to date women or men, and now apparently she has said that she's going to date men."
Kris agreed the situation is "confusing, for sure", but added she will remain supportive of her ex-husband of over 20 years' decision.
"I really want her to be happy and be really comfortable in all the things where she says she wasn't her true authentic self for most of her life and knew when she was four (years old) that she had felt like that."
"So you don't want somebody to be miserable or in pain or anything like that. I think for me, it's just getting used to that,"

"You know, I am human and I have my feelings but I try and it's just baby steps. It's like the mourning of somebody that you feel you are never going to be with or see again."
She also added that it is an adjustment for everyone.
That part of it I don't understand. I said to her, when this first happened, "you're so excited, you have to wait for the rest of us to catch up".
Caitlyn told a friend in her reality show that she is over dating women – "been there done that" as she has three ex-wives.
Watch!

In the rest of the interview, she also talked about son-in-law Kanye West's rants, saying she will "ground him" and he's not really in debt of over 50 million Dollars.
You know, there have been days when there should be a no-tweeting law. I feel like I'll ground him.

"When he was like, 'Oh, I am $53 million in debt,' you know that whole thing, what he was trying to say was that's what he's done to spend on his clothing line over the last 15 or 20 years. But it comes out not exactly the right way and people get it misconstrued through the media and it's just complicated."