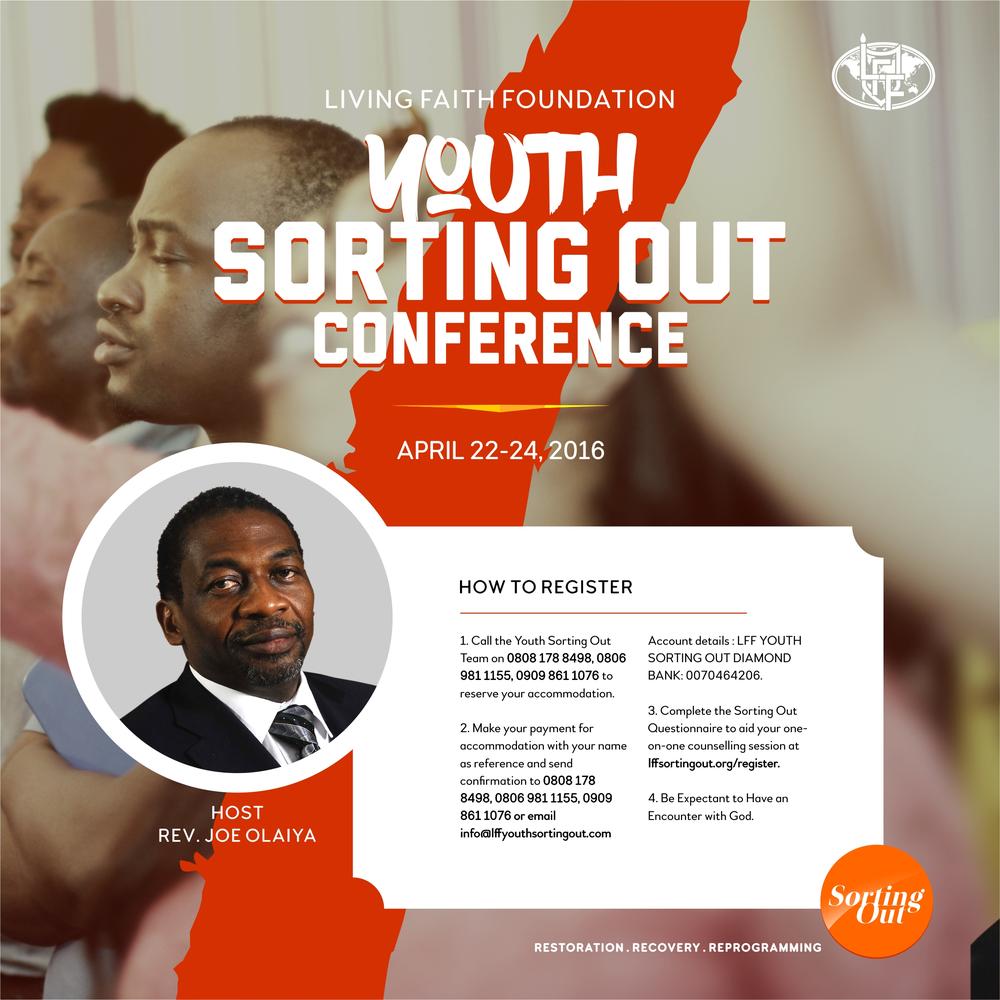 Do you desire to fulfill God's plan for your life or develop a closer relationship with God?
Are you held bound by limitations deterring you from living life to the fullest?
It's time to take control of your destiny and reconnect with purpose at the April edition of the Lagos Youth Sorting Out Conference with Rev. Joe Olaiya of Living Faith Foundation.
Sorting Out is a unique, powerful, and spiritual 3 days residential conference with the aim of facilitating a personal encounter with God. Sorting Out provides a one-on-one counselling for every participant.
Watch Videos for testimonials about Sorting Out
Shawn: Watch here
Bez and others: Watch here
Rev. Joe Olaiya expressly teaches liberating insights from God's word and provides targeted ministration and counselling to help you out of life difficulties at the conference. Testimonies abound from past editions.
Get Sorted!
Date: April 22nd-24th 2016
Venue: Orchid Hotels and Events Centre, Lekki
How to register: visit www.lffyouthsortingout.org
1. Call the Youth Sorting Out Team on 0808 178 8498, 0806 981 1155, 0909 861 1076 to reserve your accommodation.
2. Make your payment for accommodation with your name as reference and send confirmation to 0808 178 8498, 0806 981 1155, 0909 861 1076 or email [email protected].
Account details: LFF YOUTH SORTING OUT | Diamond Bank: 0070464206
3. Then Complete the Sorting Out Questionnaire to aid your one-on-one counselling session
Follow Sorting Out on Social Media
Instagram: @lffsortingout
Facebook: LFF Youth Sorting Out
Twitter: @lffyouthsort
Telephone: 0808 178 8498, 0806 981 1155, 0909 861 1076
See you there!
———————————————————————————————————————–
Sponsored Content