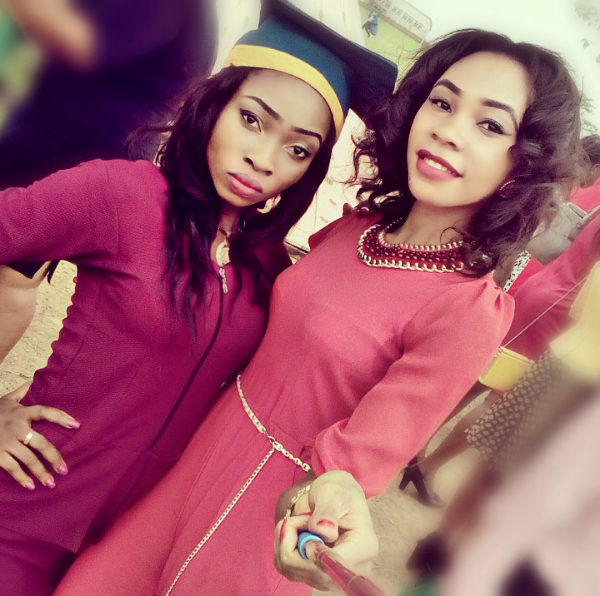 There comes a point in your life when you realize who really matters, who never did, and who always will.
I wasn't a star student. Though I always had an opportunity to shine. I wasn't like my dear friend whose brilliance is without struggle. She could read a part of a course that took us hours in minutes and put us through the whole thing. She had no problem in assimilating an entire handout; I, on the other hand, chewed myself up for using 'was' instead of 'were' when I recited a crammed handout.
Studying Microbiology at Anambra State University, now Chukwuemeka Odumegwu Ojukwu University was very difficult. Imagine a scenario where you are given admission and you say Microbiology… the first advice people give you is to change your course. The lecturers are this and that, they like failing students, but I wasn't moved because those that graduated from that department didn't have extra grace. They chose to do their own differently and I was hell bent on finding what it was.
But it was hard. I started off well though with the year one courses, but as we went further it became a battle. Would I make it to the end? Will I get by? Did I make a mistake by staying in this department? I would always ask myself these questions.
I met my dear friend in my year one. Ebony skinned with a placid but relaxed look. She was someone you could snug up to instantly. We became friends. We weren't really close and I always tried my best to carry her along due to the fluctuating lecture venues and time table, but our friendship was short lived when I entertained people whispering into my ears about what she said – true or not. A trait common among girls.
I was mad and upset because there was nothing I detested more than gossip. I carried on like a boss, with a heart filled with hate, doing things the way I thought was right. I hung out with people I thought were the real deal. The difference between us was this: I was shackled. She was free.
In due time, the repercussions came and I began to wonder how someone who was said to have dragged my name in the mud still had the most A's in the department, while I battled one problem and the other. Soon enough my grades began to suffer as well.
Something wasn't right, I needed help. I needed to free my heart, but my ego was so enormous that I couldn't think clearly. I thought I could do it all alone, yet again, I still struggled. I got to find out my dear friend organized a small study group where she handled tutorials on tough courses and summarized the others. This would go a long way for my grade but no, I couldn't give in. She had to be the one to approach me; after all I wasn't the one that gossiped. I was still fooling myself.
Sooner or later I had to wave the white flag, and to my surprise she was welcoming. She said she heard the same – a lot I said but she decided to let me be and freed her conscience. Imagine! and I bore the burden. We were already in year three. I joined the study group, we read hard…cover to cover, line by line. We took turns to ask questions. It was liberating. Reading became so interesting and for the first time in my life I saw my capability, I began to see myself as a star student.
It still didn't stop the negativity. People believed my dear friend sharing her knowledge with us would limit her abilities, make her perform lower. It didn't.
She encouraged us in every way, made us see possibility in the impossible, made us understand that one who gives would never lack, instead the cup runneth over.
The decision I made changed my life for good. I performed better, lived a life free from guilt and hate, believed more in myself and my potential. I found that sweet freedom. I redeemed myself from unnecessary abhorrence and more importantly, made a true friend.
As we celebrated our convocation, all smiles, posing for the camera and my dear friend was filled with gratitude as well wishers congratulated her for being the best graduating student. I said a prayer, no matter how far away life takes us, or the distance between us, or how we grow apart, I will never forget the dear friend who made a huge, significant impact in my life.
She made me a girl who wanted to be done with school any way possible and to score higher than I ever imagined. My friend was used to take me out of my pit of resentment into a basking light of liberation. I pray that you have more helpers you can ever think of – a thousand fold of what you did for your study buddies.
It doesn't matter how one starts, but how one finishes. It doesn't matter who you think you are, but the best version of who you should be. It doesn't matter if you were wronged by people, or you think they wronged you because you were told by others, confront the issue and let go.
Otherwise you will never achieve what you set out to achieve; you will always find yourself struggling and eventually you'll settle for scraps when you could have achieved more. When you decide to bury the hurt of people in your heart and never let bitterness go, indirectly you pay the price.
There is this distinguishing level of grace – a grace that differentiates the pure in heart. It is grace that makes you stand out from everyone. I call it special grace.
I'm glad it found me.