In November last year after King Abdul Rasheed Adele Akanbi ascended the throne as the Imperial Oluwo of the Iwo Kingdom in Nigeria, his wife of Jamaican decent became queen.
Chanel Chin now Queen Chanel of the Iwo Kingdom, is the daughter of Rastafarian reggae artiste Ludlow Chin better known as Bobo Zaro.
Her Instagram profile bio reads "Philanthropist || Entrepreneur || Humanitarian ? GlobaL Environmentalist Canada:Africa ?"
The couple got married earlier this year after the king met her in Canada where he resided before his ascension.
Queen Chanel is very honoured to represent Jamaica in such a big way. In an interview with Jamaican publication  The Gleaner she said she's proud to be fulfilling her destiny.
My ancestors were taken away as slaves, but I have returned to Africa as a queen. One's destiny cannot be altered. As a young child, I always wanted to come to Africa, but didn't know how. I feel this is a great opportunity for black people worldwide to return to their home.

Our forefathers and ancestral mothers were cast away as slaves to never return, but I want Jamaicans everywhere to know that Africa is so nice. The culture and traditions are so rich and lovely. It's truly something every black person should come and experience.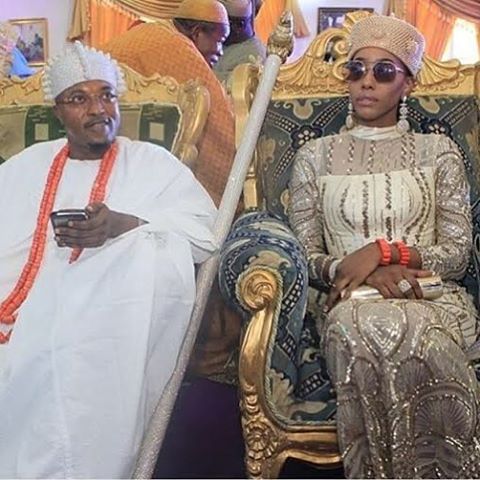 On dressing appropriately, the queen said it is her responsibility to set a proper example for young girls and women in the community and said her dressing is to be conservative and respectful.
No matter what I wear, my shoulders and full legs must be covered at all times. All of my clothes are custom made to match these requirements. Also, as queen, the king and I like to regularly visit the local schools in the community to remind the children of the importance of education and excelling in all areas of their school work and examinations.
She also said her only minor challenge is the food and not being fluent in the native language which is Yoruba.
I know some words. Everyday, I am still learning. Another challenge is that the food is quite different from our mouth- watering Jamaican dishes.
The two met in Canada long before the Imperial Oluwo became king.
Source: The Gleaner