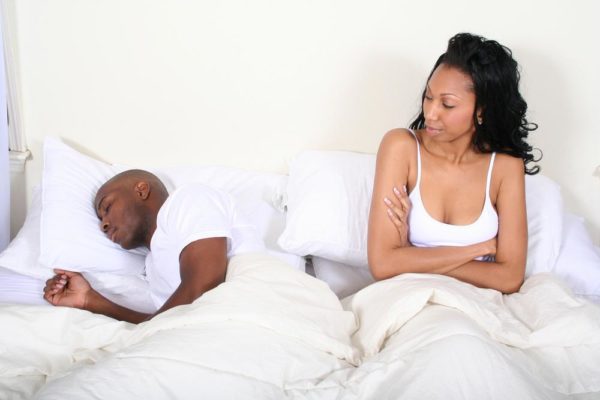 A few months after I got married, I was completely distraught and confused at the whole marriage business. You could say I never hexpected it…candidly no amount of time spent together as a dating couple prepares you for marriage. It's just not the same thing walahi.
An example was when I was dating my hubby and traveling under the radar from school to visit him on weekends; I was always bamboozled with hair-raising sexual romps that had me returning back to campus all giggly and glowing. I thought that was the way the dish would always be served. He is a lion and I always lamented to my friends saying 'I can't wait for us to get married; we would have mind-blowing sex everyday!' Who sai? Now imagine the feeling I felt when we got married and broda started dishing me the excuses. I was jobless at the time and horny every hour, ready to pounce on him the minute he walked through the door(insert shamefaced emoticon).
I did everything in the book coupled with a few creative ingenuities of mine…yet some days, nothing I did could get the Lion King to roar at me! Kai…I was beyond frustrated! Hubby would narrate all about his stressful day at work, and I would say 'ehn ehn, lemme help you relieve the stress na' No show. He would come back and lament about a bad day at work and Wonder Woman would rise to calm the tempest, broda would say it's a hot bath and goodnight's sleep that he wants! We could go an entire week and have sex only three times!! Oh yes, I had assumed that we would be having sex daily at least, then twice a day on weekends and when on vacation?….ah!!!
A few times, I brought my claws out and accused my darling husband of having an affair; in my heart I knew he wasn't, but I needed him to see how dissatisfied I was (you know how we women are). To that, he looked me and said 'how does a hardworking man cheat in this Lagos? Is it when I am rushing to get home before 7pm, or when I am on lunch break that I would rush off to bang a mistress and rush back to the office? Don't worry, you would soon start working and you would see'. I felt cheated and deceived…because I had assumed based on our sexual prowess during our dating days that we were going to be on fire every night. That was until I got a job and had to experience the legendary traffic on Third Mainland Bridge and then another hair-pulling struggle at V.I before getting to my desk at Musa Yar'adua street.
After the first week on the job, I was sorting out clothes for the washing machine when horror and dread filled me heart! We had gone an entire week without shagging! Worse still, I had not noticed! Mogbé! Mama said that's how divorce starts! Fiam! I dropped the laundry basket and dashed into the sitting room where hubby was enjoying a good EPL match. I stood in front of the TV and started to undress as he stared at me in confusion, then wonder, then pleasure. I had crazy angry sex that day! Ehn…an entire week without sex?! At this young age? When we are in our fifties what would then happen?? We had to sit down and work out a plan that involved lots of morning sex on weekdays, nightly romps on weekends and some in-betweens when the mood felt right.
On his part, there was also a part of him that felt cheated when we got married and started living together. You see, when we were dating and I spent weekends at his place; there was no room for pajamas or cute pink long nighties or comfy tees and joggers. Nope, I came fully prepared to tease his senses…shey they said men are turned on by what they see? Lingeries, negligees and lacy undies that were every shade of sexy (and uncomfortable) and in colors that reeked of scarlet and crimson. Fast forward to when the 'I Dos' were said…please who wears lingerie after series of Monday morning meetings and data analysis? The real me…the me that curls up to her laptop in oversized tee, eating Pringles and drinking soda while laughing hysterically to some romantic-comedy flick…that me, came out to play. And hubby didn't like it; he wanted his sexy wifey back. Trouble was, I couldn't play sexy everyday. So, he also felt that tinge of 'you deceived me'. But then, who packs for a weekend trip to her boyfriend's place and brings her comfy full panties and oversize tees that swallow all the curves. No, we bring on the uncomfortable thongs and lingerie that make the homie boast about our curves to his friends at their next hangout. When he complained in Darey's voice 'you are not the girl I used to know', I was quick to remind him that; back then, his place wasn't home and I was only a guest, and thus expected to be on my best sexiest behavior. Now that we share a home, I was comfortable enough to let my guard down; go to bed with a bonnet, run around in boxers and leave the kitchen sink messy for a minute while I quickly catch up on Empire or Wendy Williams. How did we resolve this issue? One Saturday, hubby gave me more than a dozen white shirts that he had just outsized (thanks to wifey's culinary expertise). Turns out he finds it sexy when I wear his work shirts, folding the sleeves and leaving the first two buttons open *bats eyes*. Turns out I also find them comfortable! Truce? Yea!
Moral of the story? No amount of dating prepares you enough for what you are going to experience in marriage. Everyone has that part of them that is only revealed by days and days and months and months of waking up together.
If you are single, please plan ahead to re-learn about your boyfriend/girlfriend when rings get exchanged. Trust me, you would see and learn new things. It helps to go into marriage with low expectations and an open mind; and give room to learn new things about each other instead of playing the victim card and trying to force your spouse back to dating mode. No, this isn't dating! If you are newly-wed and have already started to see all those little quirks nobody warned you about; don't fret. No, you were not played and yes, he is still the person you cried for while whispering 'Yes, I would marry you' as he bent on one knee with all your friends cheering.
Marriage is an adventure and a beautiful one at that. An elderly woman who has been married for about thirty-two years recently told me she is still learning new things about her hubby! You see, our own journey just dey start! The key to resolving most of these issues is communication; so keep that line open and speak up, instead of harboring resentments. Talk about the new him you are seeing, and the new you that is showing up as well…and you would discover that any issue that is brought to light can easily be resolved; as long as you keep those female tactics (arm-twisting, guilt-tripping, crying, barbie eyes, pouty-lips) at bay and be logical and reasonable in your presentation.
Please leave a comment under this post sisterly; I would love to hear about all the fun surprises that marriage brought your way!
Photo Credit: Dreamstime