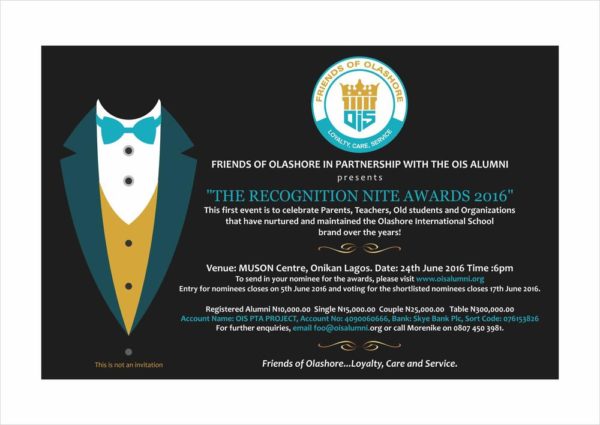 Friends of Olashore presents The Recognition Nite Ceremony Awards 2016. This ceremony is geared towards promoting and celebrating the values and people that have contributed to the Olashore brand.
These people to be celebrated range from parents, teachers, old students, organizations to mention a few.
The aim of the ceremony is to celebrate, reward and encourage all those who have helped the brand grow and are worthy ambassadors of the institution.
TO NOMINATE
You MUST be a registered Alumni to nominate your candidate/organisation. To register as an Alunmi, visit www.oisalumni.org.
For Alumni related award categories, nominees MUST have attended OIS or graduated from OIS upon completing their time there.
To send in your nominee for the awards taking place please visit www.oisalumni.org or click on this link Nominate Here
Date: 24th June 2016
Time: 6:00pm
Venue: Muson Centre, Onikan Lagos, Nigeria
Voting for the shortlisted nominees closes 17th June 2016.
For further enquiries, email [email protected] or call Morenike on 0807 450 3981.
Friends of Olashore…Loyalty, Care and Service.
________________________________________________________________
Sponsored Content