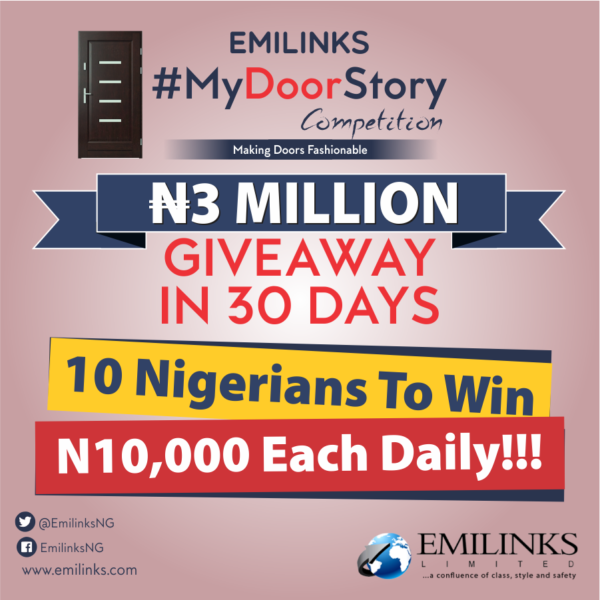 People are still winning and you can too!
The #Emilinks #MyDoorStory N3,ooo,ooo Giveaway is still on and each day for the past week, 10 lucky people have gotten N10,ooo for sharing photos of beautiful doors and the importance of the doors. More winners will be picked before the end of the month. Catch up with the previous days of the Giveaway
Catch up with the previous days of the Giveaway here.
Thank you so much for participating as we love the creative turn your short stories are taking and your creative photos. Please keep sending them in, it might be your turn to win today!
This week we are switching things up and instead of sharing a photo of your beautiful strong doors, we want to hear about the bad doors you have encountered and also see the "bad" doors. So get snapping!
***
About Emilinks
Emilinks is a global manufacturer of world-class finishing and furnishing products such as doors, beds, kitchens, dining sets, wardrobes and shelves for homes, offices, hotels, royal palaces, presidential lodge, honeymoon suites and luxury villas. Emilinks uses a variety of innovative techniques blended with exclusive designs to build premium quality products.
With a record of excellence in all areas, Emilinks wants to empower Nigerians over the next 30 days!
MD/CEO of Emilinks Limited, Solomon E. Nwadiogbu, a very patriotic Nigerian is standing his ground to see that fake and substandard products are totally eliminated in Nigeria. He pioneered a campaign to eliminate fake and substandard products by crashing the prices of doors, wardrobes, kitchens and other furniture products in Nigeria.
We may have realized that doors play a huge part in our everyday lives. Ever wondered why there are so many philosophical sayings which include "Doors", now is your time to reflect on the role doors play in your life and the disadvantage of having bad doors!
***
How to participate in the N3,000,000 Giveaway
Take a clear photo of yourself featuring a really bad or substandard door
Share a story about bad and substandard doors and their disadvantages in your home and/or the society
We are looking out for creative, interesting, inspiring, intellectual and funny stories!
Creatively linking in the Emilinks brand will be a plus. The key word is CREATIVE.
Submit your entry via Twitter, Facebook, Instagram or on www.bellanaija.com/tag/emilinks
For entries on BN, simply leave a comment on the post of the day. e.g Day 8
Remember to add the hashtags #Emilinks and #MyDoorStory to your post on social media or comment on BN
Unfortunately, we cannot view social media entries via private accounts and DMs will not be accepted
10 winners will be selected daily to win N10,000
Enter each day!
Be sure to find out more about Emilinks and explore the brand via the following channels.
Website – www.emilinks.com
Twitter – @emilinksng
Facebook – EmilinksNG
Abbreviated Terms & Conditions
Participants can enter as many times as possible
Entries reset each day at 10AM West African Time, therefore a new entry is required each day
10 Winners will be Chosen per Day
For social media entries, no Direct Messages permitted, only via Open/Public pages
For entries on BellaNaija, ensure you include an active email address in the email box
Winners will be chosen by an in-house judging panel
Assessment will be based on the photo and/or the story
Participants can only win ONCE during the 30 Day period
There is no entry fee for participation
Participants must be over 18 years old at time of entry
Winners can be based worldwide, however, MUST have a valid Nigerian bank account
Money will be paid via local bank transfer
For due diligence, list of participants names confirmed via bank account will be kept on record
List of winners' social media handles and BN usernames will be published
Winners are encouraged to share news of their win via social media
****
Here's the list of our 10 lucky winners! You will be contacted today
POST ON BN:
1.) Sarah O. August 18, 2016 at 11:12 am
So i decided to visit my fiance in his house. I was brought up with the mentality that you don't visit a man's house, especially your boyfriend, for anything can happen. He has been asking me to his place for a long time now, said he has something to show me. One faithful Sunday evening, I decided to go see what he wanted to show me. Ii took 1 hour, 24 minutes to do my makeup, cause i wanted to look good. I go there and my greatest dismay and disappointment, the first thing that spoiled the day was his door. Oh goodness! nna i haven't seen anything like this, it doesnt even qualify to be called a door. The hinges was hanging, the knob had eaten up, if you pull it with force, it is off, and a rope was tied to it up pull it along, the base of the door had a hole large enough for a rabbit to easily pass through. in fact, i almost turned back, then my fiance opened up the door along with a cry like an overloaded old lorry. He had a grin on his face. I now asked him, babe, what did u want me to see all this while, i was already disappointed and angry, as if he knew about my reaction to the door of his house. He said i can explain……I was… i cut him short, so this is how you want to embarrass ,me right. haba. Please i have to leave now, i spangled out of the compound. He just laughed, I refused to pick up his calls, i had the thought of calling it off, can't be with a man with such a door. Three weeks later, nothing from both of us, i decided to just go see him and say goodbye, one getting there, i couldn't recognized his house again, It can be, a brand new door, and not just that, from Emilinks, no way! I jumped and hugged him like never before, he said, honey, that was a test, i installed it the next day you left, look, its Emilinks door. Solid and robust. Can we go in, and i hurriedly say yes! yes, And so Emilinks doors save me from leaving my love, my man,Thanks Emilinks. #MyDoorStory #Emilinks – Day 11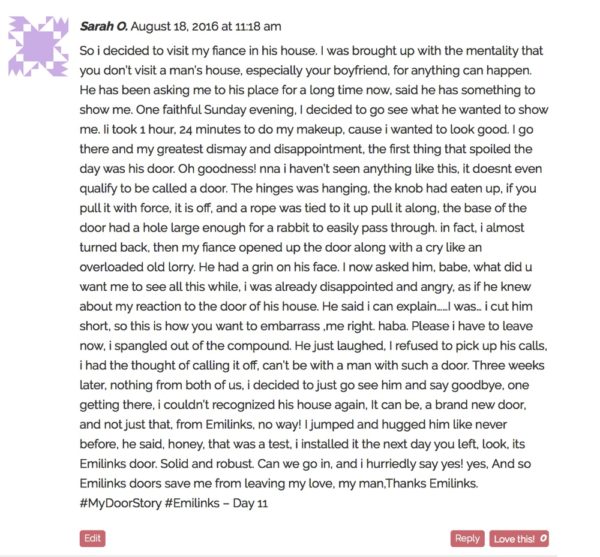 2.) Teenah August 18, 2016 at 11:19 am #Emilinks #Mydoorstory #Day11
A few years back, I was a housewife, doing chores, washing the dishes, etc. I loved buying household appliances…I also used to be a huge procrastinator. Our front door had been giving us issues for quite a while and my husband had told me countlessly to have it either fixed or changed…i always ended that particular topic of discussion with "Oh sure darling, right away"….. As annoying as it may sound right now, i didn't change the door like he instructed.
One morning, not more than 10 minutes after seeing my husband off, I was doing housework as usual, suddenly, there was a knock on the door..i wasn't expecting anybody so i didn't bother to answer the door. I continued what i was doing and guess what happened!! Without much struggle, the visitor forcefully opened the door!! I was shocked ..i mean the door was locked (that's by the way tho). Next thing i heard was "Madam, wey oga?" I was shivering, i cldnt speak…i was quietly praying for the neighbours to hear his voice but our compound is very large and it was a time when they had gone about their daily businesses…He pulled out a pen knife( i know a pen knife is small but that thing scared me like a gun would), led me upstairs, took my husband's Laptop, his shoes, a big file containing some documents and 150,000 cash he gave me for the door two weeks ago which i kept safely in the wardrobe..I cld only watch helplessly as this man took everything, i wasn't crying because of what he took, i was crying because all these wldnt have happened had it been i changed the door.
When he was done, he led me downstairs and helped himself out. Long story short, my husband and i didn't speak to each other for 1 whole week! I learned a great lesson: If only we had a strong door, we wldnt hv been robbed. Today, we are proud owners of an Emilinks brand of doors, i mean all the doors in my house are from #Emilinks doors.
Their doors will make robbers pee on themselves just cos they cldnt gain entrance into your home. Choose Emilinks today no matter how expensive their brand may be. It'll be worth all your penny. #Emilinks #Mydoorstory #Day11
FACEBOOK
3.) Ottih Chidalu Jennifer: #emilinks #bellanaija#day11 #my doorstory
It was my first day at work as the new receptionist. I have just been recently employed at a five star hotel. Being the first day I was very eager to go to work that I woke up as early as 4am to prepare for work. I decided to wear my best dress, a red flowered midi dress I usually keep for special occasions. On getting to the hotel, I worked majestically in a catwalk style feeling like Oluchi Onweagba in Victoria secret runway. As I walked past the Hotel staff room door, instantly I felt a force drawing me back as I heard the sound of my red dress tearing from the waist down to my knee. Oh God! I turned around and saw a huge nail on the door still holding some piece of my dress. That door handle was completely damaged with the nail being the only thing left in its place. I was very devastated. I cried my eyes out and wondered what a substandard door like this would be doing in a five star hotel. t was one of the worker who lived close to the hotel that lent me her dress. If only they had #Emilinks door installed, this wouldn't have happened to me..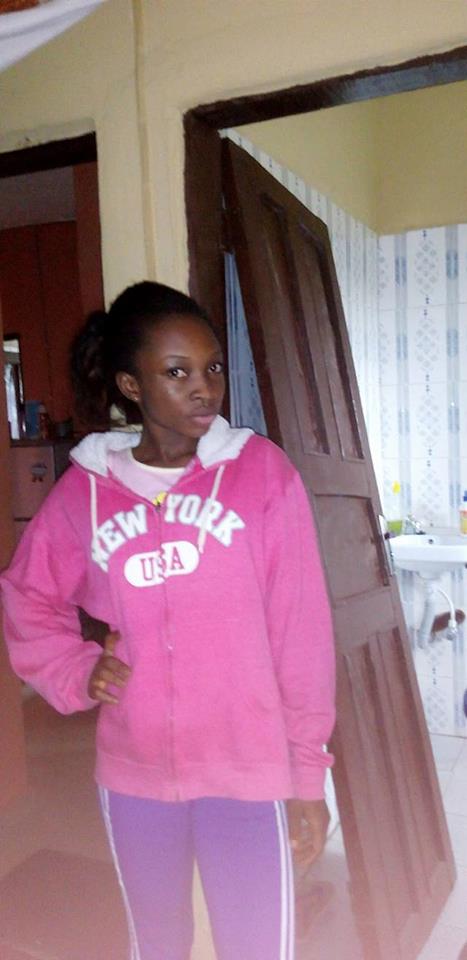 4.) Iyantan John Holuwaseun – This is a big burden to me. Who will save me from this hardship and insecurity? This bad door needs to be replaced its has caused me so much lost and inconvenience. #MyDoorStory #Emilinks Day11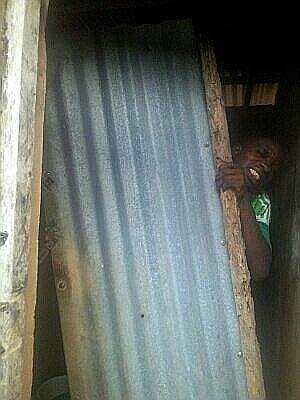 5.) Adekoya Olusegun Shittu
Day 11- 
#Emilinks
#MyDoorStory
This Experience is a bad one and funny. Just A Month ago. On this fateful
Saturday
my wife was preparing soup also frying Fish, I came back from where I was watching ball I asked her is there anything to taste there, she said come and take fish as I was eating, she remembered Phcn people brought the bill of the month as I was going through it unknowingly I used the hand that I used to eat the fish to touch it. Thats not all o. I said I ll take the bill to the office
on Monday
to pay it ooo.
On Monday
, I wanted to take the bill o as promised the bill was no where to be found. We looked for it for minutes that I was late to work. I left my wife to it, she then called me, I can't find the bill ooo. She asked me, did u touch the bill with your dirty hand with oil
on Saturday
she shouted Yeeeeeeeeeee u have entered one chance ooo. My Wife said: You told me u saw a rat some days back haaaaaaaa I suspect the rat o. When I came back we both looked for it, when we saw it. Wow it was beyond recognition pieces of d bill at d back of our shoe rack. I couldn't cry that what sort of nonsense is it. We made sure we kill the rat o, we scattered the room and something's where broken in the process. it's a terrible one. We searched for where rat came in from we found that there is a little space under the door and even a hole on the door, so we had to call carpenter to patch the door pending the time we will go for a change to #Emilinks doors when they pay my salary. So beware! It's a Lesson o. Thanks for the privilege #Emilinks gave us to share our 
#My
 DoorStory. Tell others too. Rats like sweet things, n dey do smell. Don't use clean ur hands on ur clothes or rub d oil on ur body. It's not good and dangerous. Thank You #Emilinks God Bless.
6.) 
Iyke Man:  
Having doors is not just about beautification. When choosing doors for your house, safety should be the watchword. Not just safety from robbers but also safety from accidents.
That was how I burnt my legs with the hot water that I was supposed to use in preparing tea for breakfast. That faithful morning, I mistakenly dashed my leg against a wood that pulled out from door and the hot water poured over my leg. "Holy Goodness" I Screamed holding my left leg. Out of anger, I kicked my door with my right leg And developed a worst injury.
"Wetin happen" Mr. Titus asked running into my room.
"Nail don chook me eh… Wetin carry me come here this morning for goodness sake". Mr Titus screamed falling to the ground with blood gushing out from his leg. He managed to limp out of my room immediately. I couldn't help but burst into laughter.
My laughter was cut short the moment I realised that my door had completely fallen off.
#Emilinks #MyDoorStory
TWITTER
7.) @Factor88_: Badt doors will make you spend more, you just have to fix door-net #Emilinks #MyDoorStory @EmilinksNG @bellanaija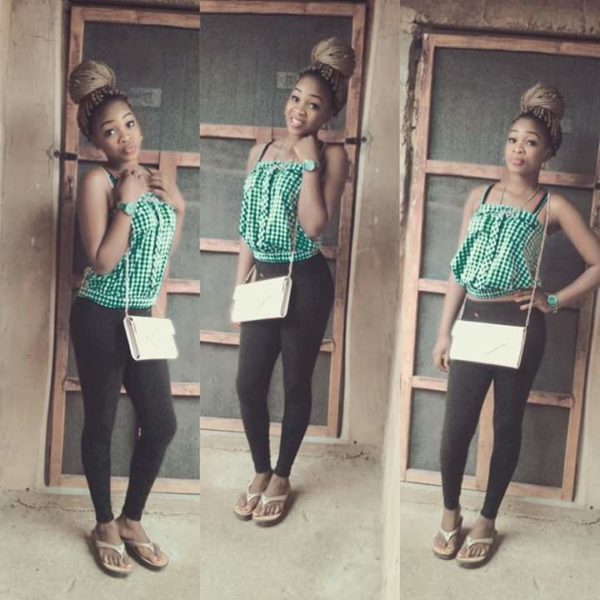 8.) @Dopeycutie – @EmilinksNG #Emilinks #MydoorStory #Day9 with a bad door like this, protection of life &properties is not guaranteed
INSTAGRAM
9.) @omolola_mbgt – #Day11 #Mydoorstory#Emilinks …. Like every other summer holiday my cousins came to stay at our place days passed the holiday was going smoothly until one fateful afternoon I had this feeling that something bad was going to happen immediately I went to lock the door so that the kids wunt go out only to find out that the handle of the door was faulty, I just had to make due with the padlocks not up to 30mins I had done that all we heard was a loud bang immediately I knew they Were robber they were pushing the door asking me to open it if nt they would hurt me I was so scared I could see the bolts shaking in other not to make them more angry I opened the door for them I was pushed to the ground a lot of things were stolen from the house but thankful no one was hurt…but all this happened because we didn't have a strong door if not I won't have opened the door myself #EmlinksThe incident got me very scared till now,cos anything can happen at anytime…..But,later on a friend introduced #Emlinks door to my Dad, and since then nothing of such has happened.Go for a strong door like emlinks cos it will help shield you from perpetrators and evil eye in the society and a good door like #Emlinks door can lead to a good story, opportunity and a glimpse in another wonderful life and I strongly believe behinde an emlinks door there is a good story to be told#mydoorstory.#Emlinks ….day 11@bellanaijaonline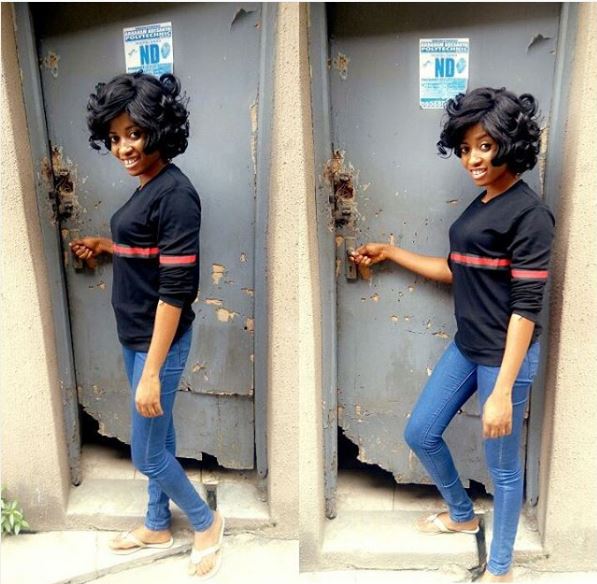 10.) @asajeffery – You might be wondering why I am in an awkward position in front of some ladies' room. Weird right, you're right. Well, I'm trying to depict a scenario that occurred a couple of weeks back.
It all happened so fast in the female's hostel in my school. It was 6 a.m. in the morning and the ladies were busy with their normal routine, preparing for classes, dressing up and making up. A Potter was also busy, not with him expected duties though. He was busy spying on the ladies through the gap on the door.
A lady from another room who was going to jog caught him and raised alarm. Upon hearing this, ladies form other rooms ran outside, each with an object to beat the Potter up. Having a black eye was the least of his worries because he was lucky not to have both eyes lost to the blows of enraged girls, it also cost him his job.
Had it been that the school authority used #Emilinks doors, the privacy of these poor ladies would have been secured and the Potter wouldn't have had the opportunity to act on his ill intention, thus he would still have his job. Thanks for reading #mydoorstory
Oh, just to clear the air. The ladies are on holiday, so there are nobody in the room I'm peeping into. I'm not a pervert oooooo