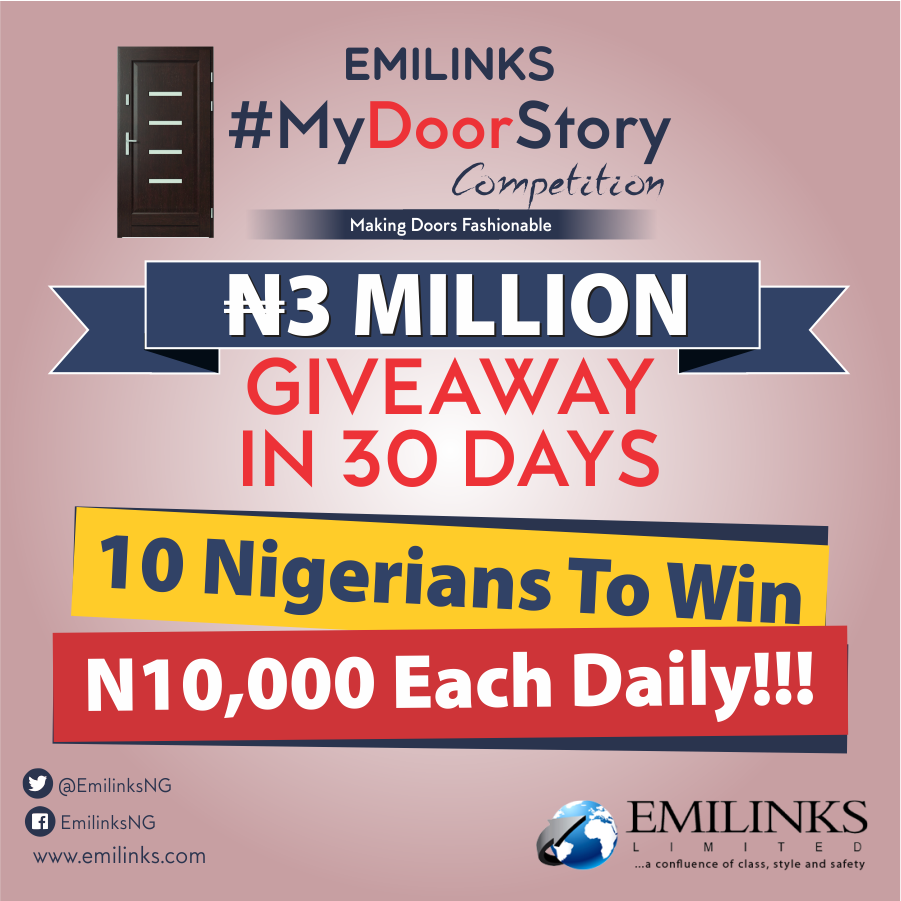 The #Emilinks giveaway is real…people are winning!
The #Emilinks #MyDoorStory N3,ooo,ooo Giveaway is still on and each day for the past week, 10 lucky people have gotten N10,ooo for sharing photos of beautiful doors and the importance of the doors. More winners will be picked for the next 22 days. Catch up with the previous days of the Giveaway
Catch up with the previous days of the Giveaway here.
Thank you so much for participating as we love the creative turn your short stories are taking and your creative photos. Please keep sending them in, it might be your turn to win today!
This week we are switching things up and instead of sharing a photo of your beautiful strong doors, we want to hear about the bad doors you have encountered and also see the "bad" doors. So get snapping!
***
About Emilinks
Emilinks is a global manufacturer of world class finishing and furnishing products such as doors, beds, kitchens, dining sets, wardrobes and shelves for homes, offices, hotels, royal palaces, presidential lodge, honeymoon suites and luxury villas. Emilinks uses a variety of innovative techniques blended with exclusive designs to build premium quality products.
With a record of excellence in all areas, Emilinks wants to empower Nigerians over the next 30 days!
MD/CEO of Emilinks Limited, Solomon E. Nwadiogbu, a very patriotic Nigerian is standing his ground to see that fake and substandard products are totally eliminated in Nigeria. He pioneered a campaign to eliminate fake and substandard products by crashing the prices of doors, wardrobes, kitchens and other furniture products in Nigeria.
We may have realized that doors play a huge part in our everyday lives. Ever wondered why there are so many philosophical sayings which include "Doors", now is your time to reflect on the role doors play in your life and the disadvantage of having bad doors!
***
How to participate in the N3,000,000 Giveaway
Take a clear photo of yourself featuring a really bad or substandard door
Share a story about bad and substandard doors and their disadvantages in your home and/or the society
We are looking out for creative, interesting, inspiring, intellectual and funny stories!
Creatively linking in the Emilinks brand will be a plus. The key word is CREATIVE.
Submit your entry via Twitter, Facebook, Instagram or on www.bellanaija.com/tag/emilinks
For entries on BN, simply leave a comment on the post of the day. e.g Day 8
Remember to add the hashtags #Emilinks and #MyDoorStory to your post on social media or comment on BN
Unfortunately, we cannot view social media entries via private accounts and DMs will not be accepted
10 winners will be selected daily to win N10,000
Enter each day!
Be sure to find out more about Emilinks and explore the brand via the following channels.
Website – www.emilinks.com
Twitter – @emilinksng
Facebook – EmilinksNG
Abbreviated Terms & Conditions
Participants can enter as many times as possible
Entries reset each day at 10AM West African Time, therefore a new entry is required each day
10 Winners will be Chosen per Day
For social media entries, no Direct Messages permitted, only via Open/Public pages
For entries on BellaNaija, ensure you include an active email address in the email box
Winners will be chosen by an in-house judging panel
Assessment will be based on the photo and/or the story
Participants can only win ONCE during the 30 Day period
There is no entry fee for participation
Participants must be over 18 years old at time of entry
Winners can be based worldwide, however, MUST have a valid Nigerian bank account
Money will be paid via local bank transfer
For due diligence, list of participants names confirmed via bank account will be kept on record
List of winners' social media handles and BN usernames will be published
Winners are encouraged to share news of their win via social media
****
Here's the list of our 10 lucky winners! You will be contacted today
Post on BN:
1) Chinedu – Day 7 MY BOSS' OFFICE DOOR
Our staff had consistently complained about the poor quality of the doors installed in our office complex. My Boss' door in particular always gave me a tough time opening it every morning. I had complained to him severally about the need to change to EMILINK doors; He always nodded his head in agreement, but like the stingy 'aka gum' He is, He never considered it a priority.
On this faithful day, He shut himself inside the office, instructing that no one should disturb Him (because He was working to meet a deadline). I and the secretary had to go downstairs to the conference room for an important meeting that demanded our phones being silent.
About an hour later, I rushed back upstairs to pick up a file I had forgotten because it was demanded for in the meeting. Reaching for my cabinet, I heard my boss banging the door – "…who the hell is out there!?" He screamed. I quickly rushed to the door and battled with it for about a minute before it opened. My Boss pushed me out of the way and raced to the toilet. After easing Himself, He came out sweating profusely. "Jude, raise an expense for this doors now", He gently said. "Yes Sir", I replied. Looking down at His trouser, I could see some drops of the pee. He had been so pressed that the pee dropped… He got back into His office gently preventing me from shutting the door with his hand. I moved back, chuckling softly… good for Him I thought… Next time He won't underestimate the importance of good quality doors.
#Emilinks #MyDoor Story #Day7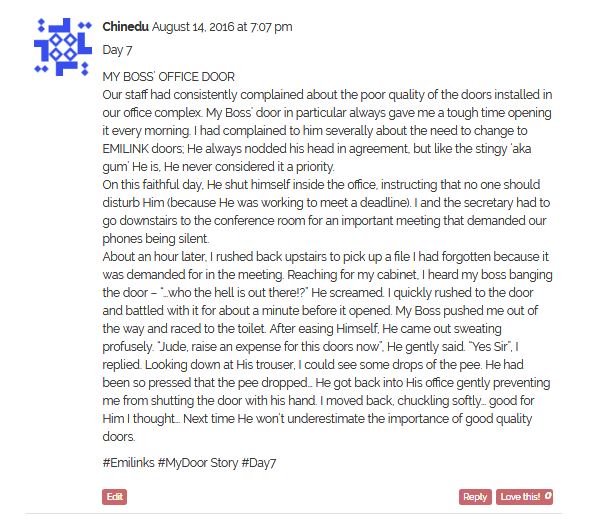 2) Atughiobi Henry – #Emilinks #MyDoorStory #Day7…
As I was getting closer to the gate of my hostel I saw a lot of people hanging around it, the looks on their faces sent cold chills down my spine. So I had to quicken my pace to ascertain what the problem is. When i got there i saw one of my lodge-mates crying, that disorganized me the more. All i could think about was my money in my room. Earlier that day i withdrew some money that i wanted to use to pay for my house rent in the sum of 85,000 Naira. I couldn't pay the money again before leaving for lectures that morning owing to the fact that our caretaker was out that early morning. So i left the money in my room with hopes that as soon as soon as i come back i will pay.
My heart beat can be heard miles away. I started sweating, "what could have happened oo", i thought within myself. Then a friend of mine, also my lodge-mate, came out, so i quickly approached him to satisfy my curiosity, I didn't want to go just yet. He gave me a rundown of what transpired. It was armed robbers. They stole from everyone around in the hostel then, i got to understand that the lady that was crying lost all the gadgets her husband recently bought for her, including an apple laptop and phone. So, that my friend continued, that when they finished robbing those found at home, he started hearing noise as though they were trying to break into a room… At this moment my heart jumped a beat, i could hardly breath i just managed to keep listening for the whole gist.
He continued, the heating and banging continued for a while and after sometime it stopped. When it seemed the whole place has quieted down he came out of his room to check where the noise was coming from, it was from my room, they were trying to break into my room. But the door was too strong to cave in, so they gave up… God!! when he uttered "GAVE UP", i was so relieved i could breathe again. Though, i did not express my happiness much before my friend since he was still grieving his own loss. I quickly rushed to my door to see for myself, My net door was already in shreds because it stood before the main door. But the door, hmm, was standing tall, unshakable. I was so happy. I later asked about the make of the doors and i was told it was from EMILINKS. Ever since then i "doff my hat" for any of their products.. I will subscribe to EMILINKS product any day anytime and i encourage all to do likewise.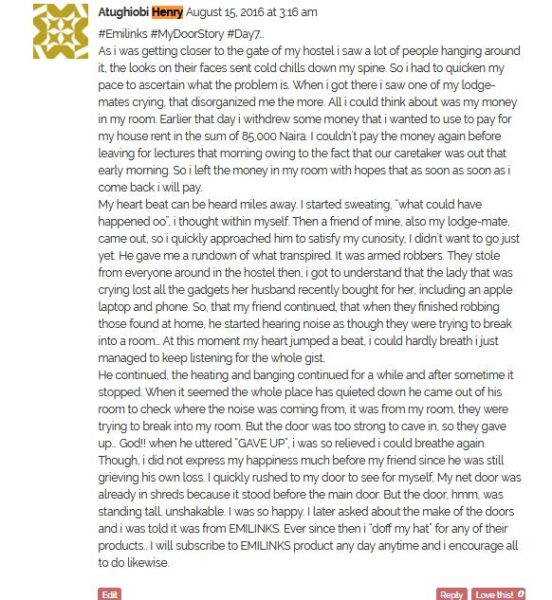 Facebook:
3) Sam N. –  DAY 7 EMILINKS IS THE ANSWER TO A GOOD DOOR The door to the house I use to live in was so bad and embarrassing that for a very long time I refuse to bring my girlfriend to the house (as I dey form big boy for school and I no won drop class) when I overheard my mum talking to my dad about the house they are building, I told them about Emilinks door, which with enquiry they bought at an affordable price..
Now that we have relocated to the New house, having a fantastic and elegant Emilinks door na me dey beg my friends to come and besides, the pic I took infront of the door gave me my highest likes on facebook. With my experience with emilinks I can say Emilinks signifies originality, security, beautiful background for selfies and pics, confidence and quality.. IF YOU WANT GOOD DOORS, EMILINKS IS THE ANSWER and if you want likes on social media snap selfies and pics with the background of Emilinks door. #EMILINKS #MyDoorStory.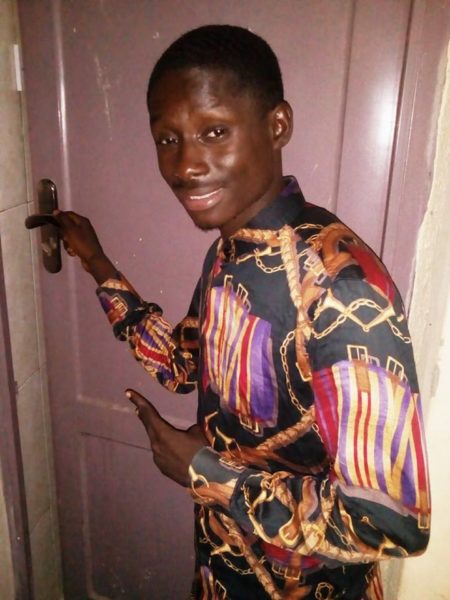 4) Okoronkwo T. – Day7 DIARY OF VISIONS WITHOUT LIMITATIONS. Clement Onuoha is a very wealthy man in my village UMUEZE in Umunneochi local government Area of Abia State. He is well honoured and respected by everyone in the village not only because he is wealthy but also because of his sagacity and generosity. He is always there to assist and encourage anyone who comes to him not only from our village but also from the neighbouring villages. His advice is well valued and productive. Clement happened to be the first person to go the University in my village. He studied Agricultural Economics in the First indigenous University in Nigeria, University of Nigeria Nsukka. All his children are well educated and live abroad. His Eldest son a Doctor (Surgeon) who lives in the USA built a mansion for him in the village. what would be considered hitherto as the most beautiful, largest and most modernised building in the village. Last year I travelled to the village After my second semester examination. My brother and I were outside the house gisting as usual when all of a sudden we heard the sound of a sporadic gunshots bangbang! bangbang!. I fell from my chair and hit my beautiful bumbum on the ground (lols!). Armed robbers had come to rob Mr Clement Onuohia. As God may have it, he and his Oriaku (wife) were inside the house when the robbers attacked. they tied the gateman with a rope (lol). They shot at the doors profusely as they tried all they could to gain entry to the house but to no avail. As they continued struggling with the door, Mr clement in his room quicky alerted the police. In a jiffy the police arrived and had a gun duel with the robbers. Two of the robbers were shot dead in the process while two gave in to the police (hahaha who wan die kwanu?). There was a great jubilation that day in Mr Clement's house. As a sharp guy I be. A guy always in a quest for new knowledge. I went to Mr clement in his free time
and asked him "Daddy, what kind of doors did you put in your house that gave the robbers such tough time?" he replied "oh my son it is Emilinks security doors oh" I smiled with my beautiful face and said "Thank you sir". that day when I reached home I went straight to my "DIARY OF VISIONS WTHOUT LIMITATIONS" and wrote thus "Emilinks security doors, a must for my house".. mmm Tochukwu lekwa gi. you are too ambitious. Emilinks doors are the number 1 kajad doors. every house should have these doors. thank you Emilinks for this great opportunity. #MyDoorstory #Emilinks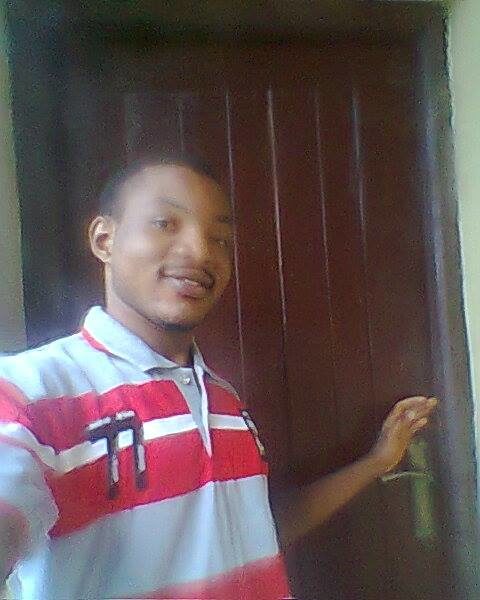 5) Cecilia O. – How This Transparent Door From Emilinks Saved Me From Being Robbed. I could see them from a distance. I couldn't hear what they were saying but their gestures showed they had evil intentions. Immediately, my mind flashed back at how 3men robbed mama shola at her shop on gun point and in broad day light.
Mama shola had always believed that her local iron burglary which was constructed by her husband was the best. "Madam Sisi" as she always addressed me, "this your glass door no better pass my iron protector o. Person fit just open your door come thief your thing o" she would always say in her Yoruba accent. But I never agreed to what she said. My transparent Emilinks door always let me see who is coming to my shop without the person seeing me.
The men were now coming towards my shop. I hurried to my door and bolted it from inside. The three dreaded men were now trying to open the door but noticed it was locked from inside.
"Madam Sisi we want buy something open door naa", one of them called from outside. I remained silent and calm. After about 10minutes of persistent knocking on my door, a police van loaded with armed police men parked in front of my shop. The three men tried to escape but it was too late as the whole place was already surrounded by police men. They were searched and disarmed of 2 guns and daggers. That was when I now came out of my shop.
"Thank You madam Cecilia" officer Ben said walking towards me. "You called us right on time. I promise you, these criminals won't go free". He added. "I trust what you can do officer Ben". I replied. "But come to think of it, how did you get to know they were robbers even as they were yet to enter your shop" officer Ben asked.
"That's the handwork of Emilinks". I replied and headed back to my shop to attend to a customer. #Emilinks #MyDoorStory…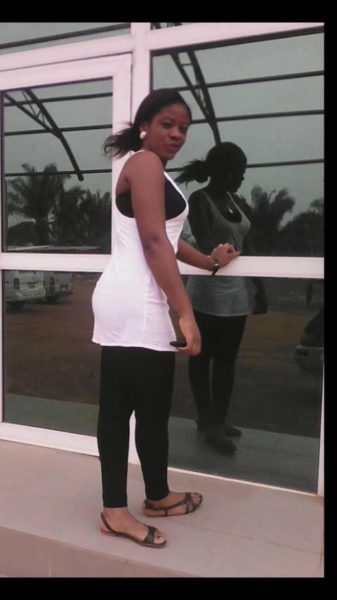 Twitter:
6) @SamailaDogara – @EmilinksNG @bellanaija my fav door is the bedroom door.That's d passage to a good nap nd lovely rest #MyDoorStory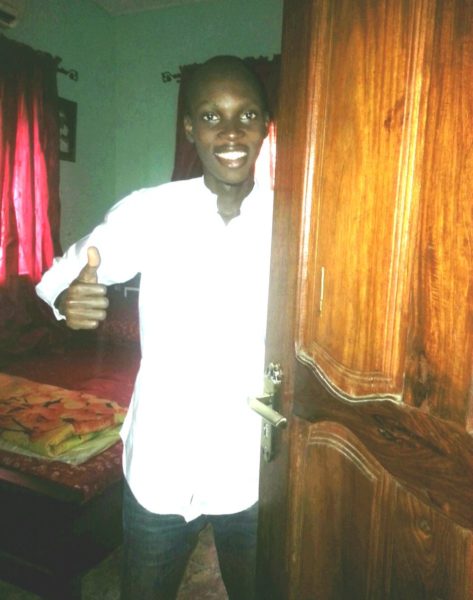 7) @PAdunola – @bellanaija there are 2 types of door in Nigeria #Emilinks Doors and the rest (Emilinks doors standout) #MyDoorStory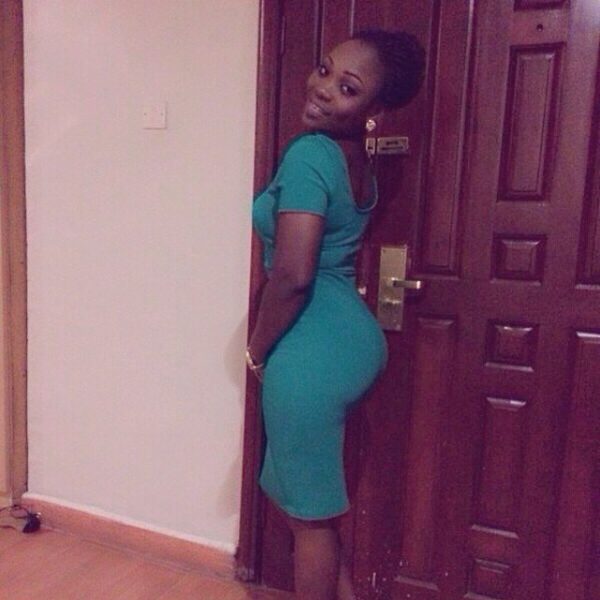 Instagram:
 8) itz_zubie – #mydoorstory #emilinks "imagine doors that can only open from the inside once slammed"…On this faithful day i was home alone with my security man.He stepped out to get petrol for the generator and I went downstairs to lock the gate after him,realizing I've not had my bath since morning I dashed into the bathroom;with my body covered in soap i heard a loud bang…who might that be now?…I hurriedly ended my bathing (make I no go keep mumsi waiting ).I tied my towel and ran to the main gate downstairs, mtcheeeww…it was the security man oh I thought it was mum.On my way upstairs I realised that I slammed the front door(which when slammed without the key at the keyhole can not be opened from the outside).What have I done?…I went round the house severally looking for a possible way in as though I was a thief;It finally dawned on me that there was no way in.I waited downstairs for 4 hours wrapped in my towel waiting for anyone to rescue me with their key.My resolution that day was if I must get a door I must get excellent doors #emilinksdoors #emilinks #ddoorofchoice #bestdoors @bellanaijaonline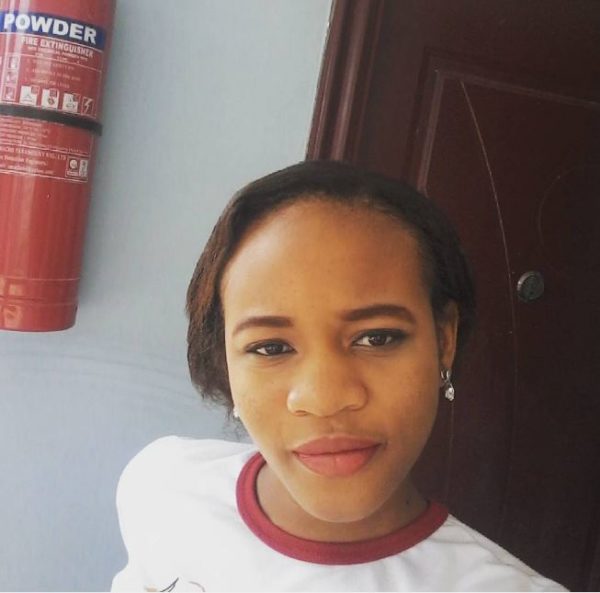 9) @fhunshore – Doors are placed at an entry for security or between two or more rooms for privacy.
The story about my door goes thus,after a long hectic semester, I travelled back to lagos from Ekiti but i carelessly forgot to lock my room. I got to know when I found my keys and padlock in my luggage. The holiday was a terrible one for me cos my documents and properties were left vulnerable at the hostel. I had to resume for school earlier than usual and luckily for me on getting to school, my things were still intact. This made me cherish my late landlady's word of wisdom she'll always say 'A travellers mind isn't at rest if he can't guarantee the safety of the abode he left behind'
For maximum security you can always trust #emilinks door. That's #mydoorstory  #bellanaijaonline #day7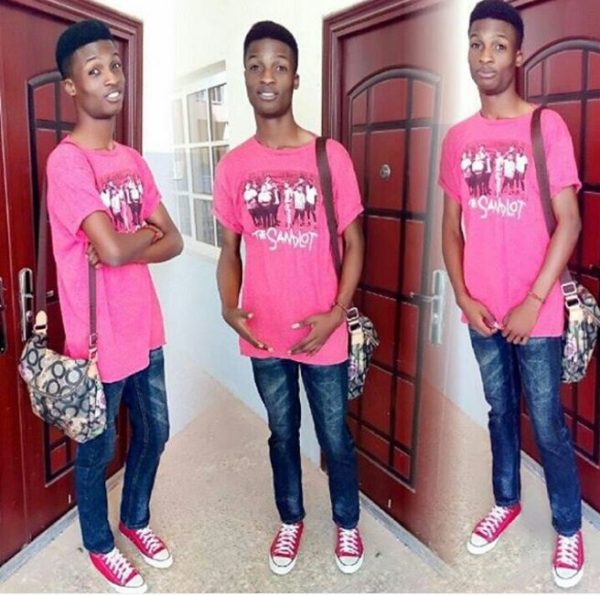 10) realpeggy – #mydoorstory day 7 I remember my experience with a broken door handle sometime ago! Each time I pass by it, the knob will fall off. I will pick it up and fix it gently. On this faithful day, I passed by it and it fell off, angrily I picked it up and fix, it fell off immediately. I said to myself "I won't bother fixing you again, remain like that". I entered the room, did what I wanted to do, on my way out, as I passed by the door, I felt something pierced my skin-just at the left elbow and then I said to myself if only I was patient to fix you just one more time! Well, now I know about #Emilinks doors, doors of high quality, doors that won't have their handles going bad in a hurry, doors that would always add beauty and class to your home or office. Emilinks doors all the way! No more falling off door knobs, no more injuries on my elbow! #Emilinks #mydoorstory day 7 #bellanaijaonline