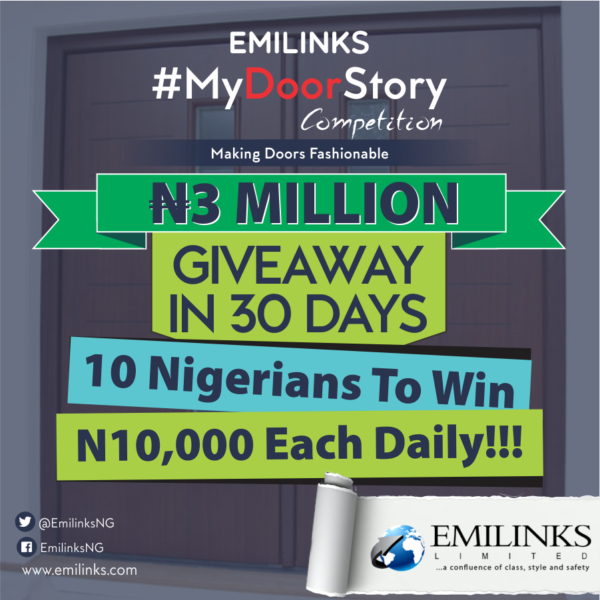 The #Emilinks #MyDoorStory N3,ooo,ooo Giveaway is still on and each day for the past 16 days, 10 lucky people have gotten N10,000 for sharing photos of doors and the importance of the doors. More winners will be picked before the end of the month!
You can catch up with the previous days of the Giveaway here.
Thank you so much for participating as we love the creative turn your short stories are taking and your creative photos. Please keep sending them in, it might be your turn to win today!
It's a new week and we are switching things up! So instead of sharing a photo of the bad doors in your home, we want to hear about the Good Kitchens (plus the aromas if you want) and your good wardrobes. So get snapping!
***
About Emilinks
Emilinks is a global manufacturer of world-class finishing and furnishing products such as doors, beds, kitchens, dining sets, wardrobes and shelves for homes, offices, hotels, royal palaces, presidential lodge, honeymoon suites and luxury villas. Emilinks uses a variety of innovative techniques blended with exclusive designs to build premium quality products.
With a record of excellence in all areas, Emilinks wants to empower Nigerians over the next 17 days!
MD/CEO of Emilinks Limited, Solomon E. Nwadiogbu, a very patriotic Nigerian is standing his ground to see that fake and substandard products are totally eliminated in Nigeria. He pioneered a campaign to eliminate fake and substandard products by crashing the prices of doors, wardrobes, kitchens and other furniture products in Nigeria.
We may have realized that doors play a huge part in our everyday lives. Ever wondered why there are so many philosophical sayings which include "Doors", now is your time to reflect on the role doors play in your life and the disadvantage of having bad doors!
***
How to participate in the N3,000,000 Giveaway
Take a clear photo of yourself featuring a good kitchen or a good wardrobe
Share a story about the importance of having good kitchens and wardrobes in your home and/or the society
We are looking out for creative, interesting, inspiring, intellectual and funny stories!
Creatively linking in the Emilinks brand will be a plus. The key word is CREATIVE.
Submit your entry via Twitter, Facebook, Instagram or on www.bellanaija.com/tag/emilinks
For entries on BN, simply leave a comment on the post of the day. e.g Day 8
Remember to add the hashtags #Emilinks and #MyDoorStory to your post on social media or comment on BN
Unfortunately, we cannot view social media entries via private accounts and DMs will not be accepted
10 winners will be selected daily to win N10,000
Enter each day!
Be sure to find out more about Emilinks and explore the brand via the following channels.
Website – www.emilinks.com
Twitter – @emilinksng
Facebook – EmilinksNG
Abbreviated Terms & Conditions
Participants can enter as many times as possible
Entries reset each day at 10AM West African Time, therefore a new entry is required each day
10 Winners will be Chosen per Day
For social media entries, no Direct Messages permitted, only via Open/Public pages
For entries on BellaNaija, ensure you include an active email address in the email box
Winners will be chosen by an in-house judging panel
Assessment will be based on the photo and/or the story
Participants can only win ONCE during the 30 Day period
There is no entry fee for participation
Participants must be over 18 years old at time of entry
Winners can be based worldwide, however, MUST have a valid Nigerian bank account
Money will be paid via local bank transfer
For due diligence, list of participants names confirmed via bank account will be kept on record
List of winners' social media handles and BN usernames will be published
Winners are encouraged to share news of their win via social media
****
Here's the list of our 10 lucky winners! You will be contacted today
Post on BN:
1) Eunice E.  – #Day15 #MyDoorStory #Emilinks
I woke up that fateful morning with a strange urge to eat my favorite food "eguisi and pounded yam".Immediately I rushed to the market. I bought food stuff and came home. The soup was almost ready when my gas got finished so I rushed to fill it,because the filling station was just two streets away. On getting home after filling my gas,i saw a group of people gathered in my compound. As usual the petty theifs in my neighborhood had invaded the house of my Neighbor and stolrn the pot of rice she was cooking.They were also seen going to the direction of my apartment.I panicked for a while because I couldn't help it if they had stolen my steaming pot of eguisi soup. But then I remembered my kitchen Emilinks door was intact. My good kitchen door saved not only my pot of eguisi soup but also my stomach..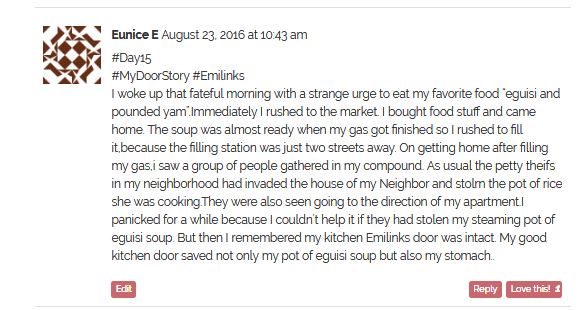 2) Amos Mercy – After SSCE examination, I came to Abuja to stay with my uncle before gaining admission into the University.
They are members of RCCG (Redeemed Christian Church of God) and Every January, the RCCG nation wide observes fasting & prayer for couple of months. It's compulsory for everyone in the house to participate on this fasting and we usually break the fast after evening service that ends 7.30pm.
On the first day, when I couldn't bear it, I went and drank some water as there's no cooked food in the kitchen. I managed to survive the first day but prepare myself against the next day fasting & prayer.
As early as 4am, I went to the kitchen, locked the door from inside. Because the kitchen door is EmiLinks door, very thick and it doesn't make noise for anyone to know when I sneacked into the kitchen to help myself. The door is so correct that not even the aroma of the food will sneak out of that kitchen until I finished cooking my breakfast & lunch, package it inside food flask and head for my room… Fasting continues. For that fasting period, the EmiLinks kitchen door was a life saver to me until I learn to fast.
Even where there's no food at home, my first target for cash is my uncle but that's before his briefcase enters his wardrobe… His wardrobe is also EmiLinks product and no matter how hard you try to open it without his concept, is always mission impossible except the day he forgot to lock up his wardrobe.
There's maximum security over your life and property with the EmiLinks Doors #MyDoorStory #Emilinks Day 16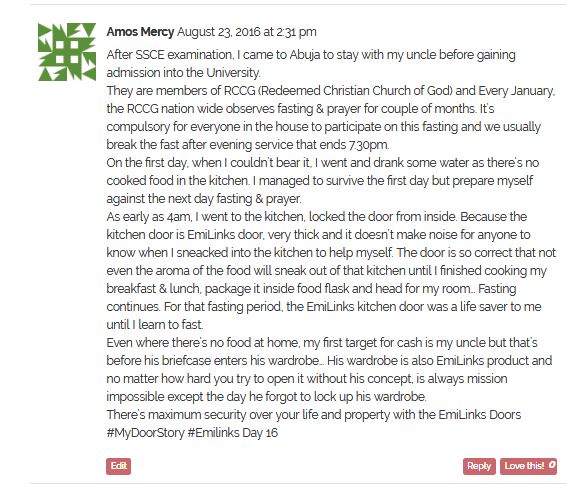 Twitter:
3) @ojomarose4u – @EmilinksNG @bellanaija my kitchen is second office. And the cabinet makes the utensils tidy #Emilinks #MyDoorStory
4) @Aretheysawla – As a lady, the kitchen is one of my fav place and as such, I don't joke with #Emilinks doors #MyDoorStory #Day16
Facebook:
5) Henry E. – #EMILINKS #MyDoorStory – Day 16
What if I told you that this is a double deck fridge, inside my bedroom!
Hard to believe, especially after seeing the pics, I guess. Well, that was my first impression. After a close look, as you can notice, it's built with such design, however it's got a fold-in storage area, hanger section and shoes.
Best of all is, it's got giant mirrors, attached to the doors as you can tell, attached to a reading table and it comes in two sets. No need for extra mirrors when preparing to go out for the day, and very creative for space management. It shows quality and creativity like Emilinks furniture and wardrobe. That's why I love my wardrobe. It's so classy.
And that's my door story. Off to finish my cup of chocolate ??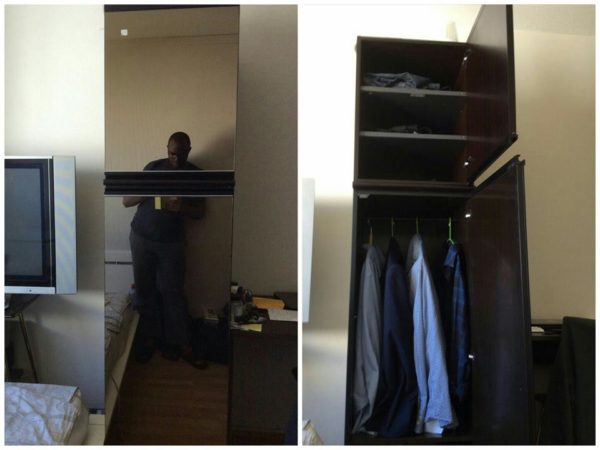 6) Chinonye A. – #Day16 #MyDoorStory #Emilinks This is the door through which I always enters our kitchen to make delicious meal for my family. I adore this door so much Because it serves as a protector to my kitchen utensils, meals and also gives me privacy from people in the sitting room. There was a day my husband called and informed me that he would be coming home from a business trip and that I should prepare his delicious meal. I prepared the pounded yam and Egwusi soup. I dished out my own and kept it on the dinning table and then left my husband's own in the kitchen and locked the kitchen door. I decided to take a shower before taking my lunch and I as was still in the bathroom, my husband's younger brother came in with two of his friends, passived the aroma of the soup and ate everything they saw on the dinning table and was still looking for more food to devour. The only thing that saved my husband's food was my kitchen door. I have heard of so many stories from my friends who doesn't have kitchen doors or the ones with bad doors, how their food items have been destroyed by rats but in my house, I have never experienced anything like that in my kitchen because I have a very strong and ultramodern kitchen door from Emilinks.
7) Zeno E. – #Emilinks #MyDoorStory
A wardrobe is one of the necessary furniture a lady should have in her house. It is like an other home in the house because it is where you store things needed for you to put on. Clothes put in a wardrobe differ a frm that put in a Ghana-must-Go or a box. The fact that you hang clothes vertically in a wardrobe straightens it and it could be worn without ironing unlike those placed in a box. When I was in school, I always loved looking good with neatly placed clothes. We know how hostel off campus are, most times there's no light but, I wasn't affected because my wardrobe helped keep my clothes arranged not rumbling them. We all know looking good is good business and that sold for me. I was nominated for best dressed female, all thanks to my wardrobe. I had two friends in school, they couldn't take it anymore and we're moved to ask me. Babe, how far? Abeg give us gist. How come ur clothes dey be like wetin you starch com iron everyday? I smiled and told them my secret. I told them it was my Emilinks wardrobe that helped keep my clothes intact. It has different partitions, and was spacious, it had whr to hang my clothes, shoes, scarfs and all. Few days later, they ordered theirs, one of them had to disturb her so much. We all used Emilinks wardrobe until we graduated and my little sister even inherited mine, and dats wat she's presently using. With Emilinks wardrobe you have no fear of insects festering on the wood, or even fear of water affecting it. It remains the way it is frm the very first day it is bought. Kudos to the brain behind this wonderful design…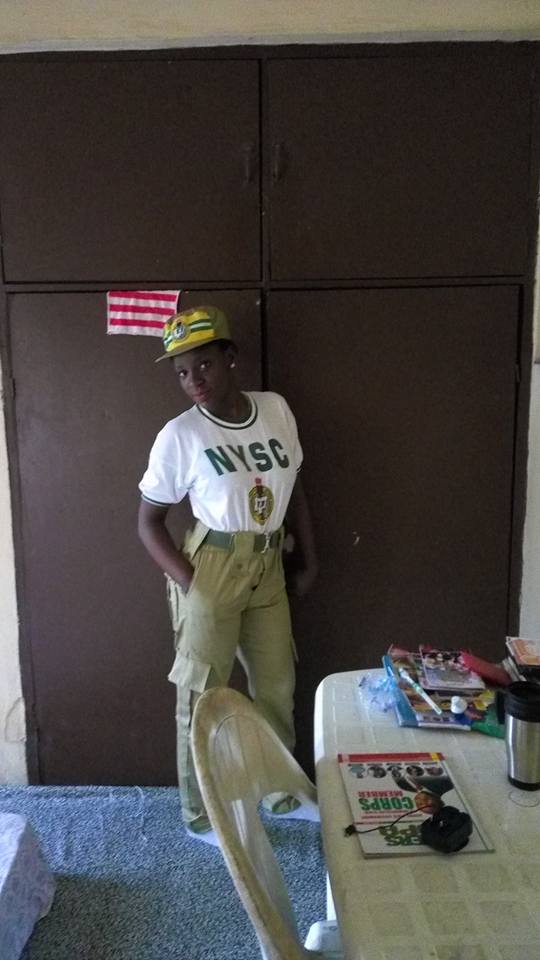 Instagram:
8) @stephdogara – One of my favorite doors is my wardrobe door, for out of it comes lovely clothes that makes me look gorgeous for the day, sliding it daily to select an appropriate outfit is just awesome! #Emilinks #MyDoorStory @bellanaijaonline
9) @_ehigiele_ – They say the door you pick can tell your future! good kitchen door assures the safety of kitchen utensils and prevents the entry and destruction of food stuffs by rodents and pests
It's also the gateway to a man's stomach  #emilinks #mydoorstory @bellanaijaonline #DAY16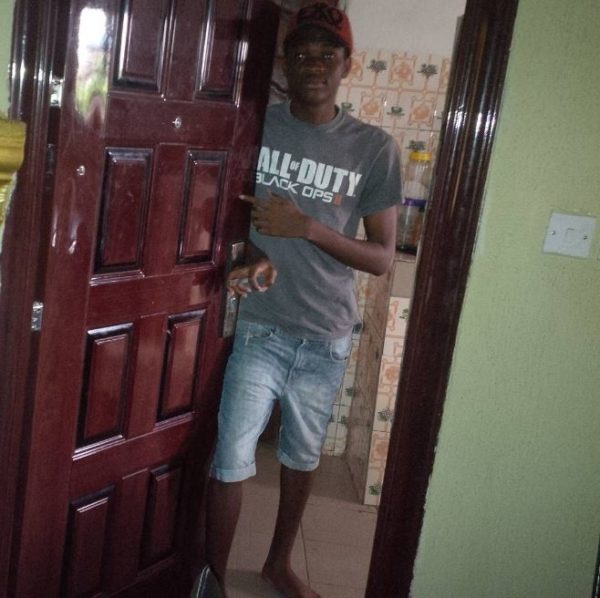 10) @donprettychiamaka – To some people, it's a waste of money to put a good and "expensive" door in the kitchen. I will be the highest pretender if I try to count myself out because I was once a victim.
I can remember how I use to be upset with my dad for putting a door that looks stronger and better in the kitchen than the door in my bedroom, Until i grew older, I came to realize the importance of not only having a kitchen door but a good and quality one.
I noticed that: #Firstly : good kitchen doors serves as a sound proof as it prevents the kitchen noise from getting into the house, You might not understand how embarrassing this is until you have a visitor the day you are preparing pounded yam … you will then understand.
#Secondly:, I was thinking our kitchen door is the best, finest and a quality one until I came across an #Emilinks doors and Furniture, it was very surprising because they had Better and Classier ones than I have ever seen…. The coolest thing ever is Where the kitchen doors shot on its own in order to prevent fire in the kitchen from entering into the living room. Therefore, good kitchen doors can actually serve as a fire extinguisher. .surprised ???..ok.
#Finally: Apart from concrete help from the doors, good looking doors beautify the house, not only does your house view look Charming, it surprisingly attract visitors more often, you will be asking yourself why all these people keep coming, my dear, who doesn't like fine things??? #MyDoorStory #bellanaijaonline #Emilinks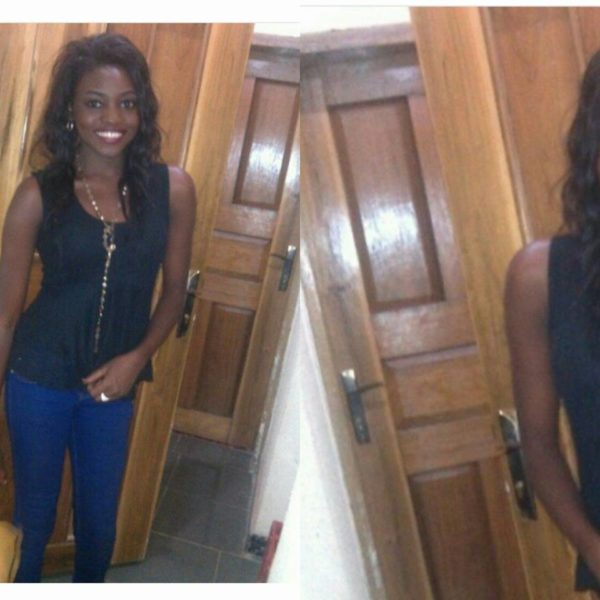 _____________________________________________________________
If you were announced as a winner on previous days of the giveaway, please check your Inbox/Message requests/Spam for all the details we need to process your reward.