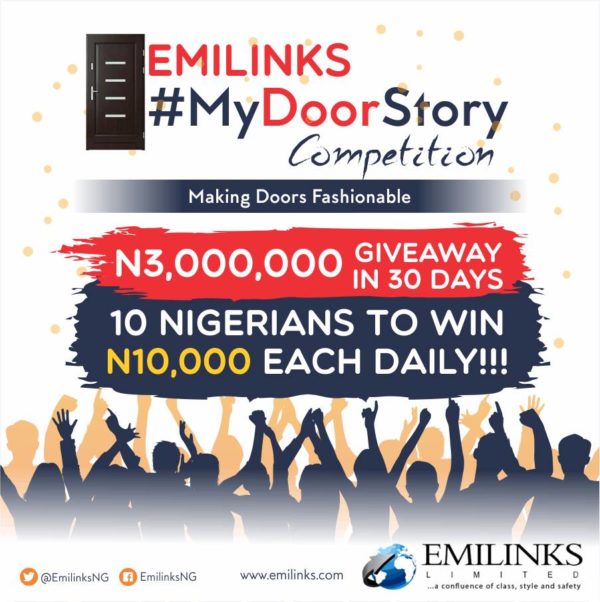 The #Emilinks #MyDoorStory N3,ooo,ooo Giveaway is still on! Each day for the last six days, 10 lucky people have gotten N10,ooo and more will be picked for the next 30 days. Catch up with the previous days of the Giveaway here.
Thank you so much for participating as we love the creative turn your short stories are taking and your creative photos. Please keep sending them in, it might be your turn to win today!
Emilinks is a global manufacturer of world class finishing and furnishing products such as doors, beds, kitchens, dining sets, wardrobes and shelves for homes, offices, hotels, royal palaces, presidential lodge, honeymoon suites and luxury villas. Emilinks uses a variety of innovative techniques blended with exclusive designs to build premium quality products.
With a record of excellence in all areas, Emilinks wants to empower Nigerians over the next 30 days!
MD/CEO of Emilinks Limited, Solomon E. Nwadiogbu, a very patriotic Nigerian is standing his ground to see that fake and substandard products are totally eliminated in Nigeria. He pioneered a campaign to eliminate fake and substandard products by crashing the prices of doors, wardrobes, kitchens and other furniture products in Nigeria.
We may have realized that doors play a huge part in our everyday lives. Ever wondered why there are so many philosophical sayings which include "Doors", now is your time to reflect on the role doors play in your life!
Enter the Emilinks #MyDoorStory giveaway
Over the next 30 days, 10 Nigerians will WIN N10,000 Daily!
Meaning a total of N3,000,000 will be WON.
How to participate
Take a clear photo of yourself featuring a beautiful door of your choice
Share a story about doors and their importance in your life and/or the society
We are looking out for creative, interesting, inspiring, intellectual and funny stories!
Creatively linking in the Emilinks brand will be a plus. The key word is CREATIVE.
Submit your entry via Twitter, Facebook, Instagram or onwww.bellanaija.com/tag/emilinks
For entries on BN, simply leave a comment on the post of the day. e.g Day 1
Remember to add the hashtags #Emilinks and #MyDoorStory to your post on social media or comment on BN
Unfortunately, we cannot view social media entries via private accounts and DMs will not be accepted
10 winners will be selected daily to win N10,000
Enter each day!
Be sure to find out more about Emilinks and explore the brand via the following channels.
Website – www.emilinks.com
Twitter – @emilinksng
Facebook – EmilinksNG
Abbreviated Terms & Conditions
Participants can enter as many times as possible
Entries reset each day at 10AM West African Time, therefore a new entry is required each day
10 Winners will be Chosen per Day
For social media entries, no Direct Messages permitted, only via Open/Public pages
For entries on BellaNaija, ensure you include an active email address in the email box
Winners will be chosen by an in-house judging panel
Assessment will be based on the photo and/or the story
Participants can only win ONCE during the 30 Day period
There is no entry fee for participation
Participants must be over 18 years old at time of entry
Winners can be based worldwide, however MUST have a valid Nigerian bank account
Money will be paid via local bank transfer
For due diligence, list of participants names confirmed via bank account will be kept on record
List of winners' social media handles and BN usernames will be published
Winners are encouraged to share news of their win via social media
****
Here's the list of our 10 lucky winners! You will be contacted today
Facebook:
1) Mary D. – Day6 , Doors are of great importance, they open opportunities and offer security to lives and properties. On a fateful day, while we were busy with our office works, we heard noise and gun shots not far away from the office, we rushed out to see what was going on, lol n behold, a mob was been chased after by police officers, we quickly jumped back to office , shut and looked the door to take cover, before we cld say jackrobin, the mob entered our compound and dashed to the door to come in, they tried all they could to open it but the door stood still like rock of gibrater, while we were inside shivering, they were there until the police got there and rounded them up. We were extremely happy and we gave kudos to the quality, resilient and reliable door just like #Emilinks doors. Don't joke with your security, go for #Emilinks doors….you will be glad you did. #MyDoorStory #Emilinks
2) Osas F. – #MyDoorStory #Emilinks It was a Friday, A day I will never forget, at about 11pm, I was awoken from sleep when I heard footsteps at the window. There is a curfew at 7pm and at that late hour, it is expected that people are in their various houses. This is not the fist time robbers have attempted to break into my house but this was intense. I quietly got up from the sitting room floor I was laying on and moved to the bedroom to join my mother and baby cousin on the bed.
Gradually, the footsteps heightened and from the room window I could see men standing. My heart sank and I suddenly, I had a hard time breathing. My mom tried to calm me down and it seemed to worsen. They started to spread out. A number of them moved the front and some went far out to the background. The ones at our window kept talking in whispers. I really couldn't fathom what they were saying as my heart was racing faster than I could ever
imagine and suddenly I heard these words 'pass me my gun.' I think I died! Immediately I turned into a prayer warrior, mumbling incoherently in whatever tongues I could speak. I asked God to forgive my sins, I thought of hiding under the bed or inside my mother's wardrobe. But what about her and my cousin of 4years? I tapped mom to tell her what I just heard and she assured me to keep calm, my cousin on the other hand was very much asleep. I instantly wished I could turn into a child and be unaware of what was going on in my surrounding. Taking a pillow I covered my head and put a finger in each ear. Their voices grew louder and just then, a dog started to bark. I heard a gun short "gbosaaa", I couldn't hear the dog again.
When they got to my door outside, they pushed the door with force, one of them said " this door strong o".
Another replied " na true o"
Another one said " which kind door be dis self"
My heart silently whispered " NA EMILINK PRODUCT O". Something passed through my legs, I hurriedly woke up and then I realised that it was just a dream. Aww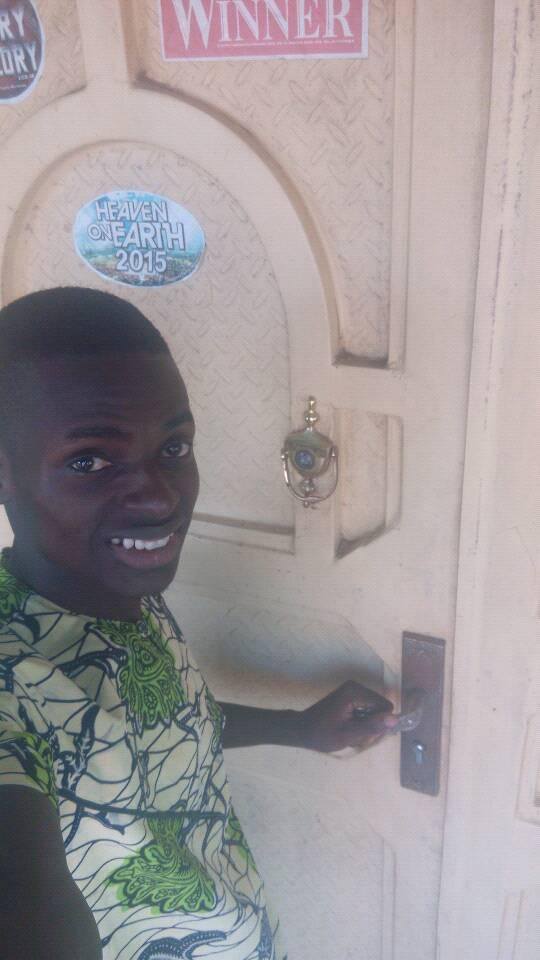 3) Linda K. – Day 6 BABA MOKU I never knew him for anything than being a begger that always sits on the road side, lying his back to an electric pole along the street where I live. You might know him if you are conversant with "Eri street North bank Makurdi" because he stays in that position from morning till evening. I was returning home after getting akara for breakfast and I saw him in his usual point. He smiled at me and I reciprocated. He beckoned on me to come closer, I did. He pointed at my leather of akara saying, "I want to eat akara." I was touched by his request, so I gave him the leather of my akara. He was so happy and I knew, this is the right time to ask him, the single question running in mind any time I see him. So I stooped down and said, "Sir what of your wife or children? " he paused and as if his eyes were waiting for that question, tears rolled down his cheek. I immediately apologize for asking such question, but he looked at me and said "life was fair to me until, last three years December. It was actually a "black december" for me, I lost my two sons… "How did it happened?", I interrupted," and he continued, "As a tradition, they came to visit me during the Christmas celebration. On the eve of Christmas, we were sleeping and I suddenly heard voices from my sons room telling them to lie down, I peeped into their room from mine and i saw to men pointing guns at my sons. I couldn't help but remained quiet for safety inside my room, I heard two simultaneous gun shot and I never knew who shot who. I locked myself inside praying that my sons should not be killed but the door was flunged open by a kick from one of the men and without hesitation, they both shot me on my legs, I fell to the ground and they both left, leaving me in pains on the pool of my blood. I was taken to the hospital but my wound persisted because, I am diabetic. My sons were gone and I spent my money on treatment until I saw myself here. If my sons hearkened to my plea of getting a standard door like Emilinks premium quality doors for our house, it wouldn't have been easy for the hoodlums to break in that night. And I wouldn't have being sitting here. His eyes were flooding with tears, passer by were wondering why. Today, Baba Moku is dead but his story taught me a great lesson: TO BE SECURITY CONCIOUS! And as you read hearken to the advice of Baba Moku, so that you will have a different door story to tell. Go for Emilinks premium quality doors, go for the best. #Emilinks #MyDoorStory.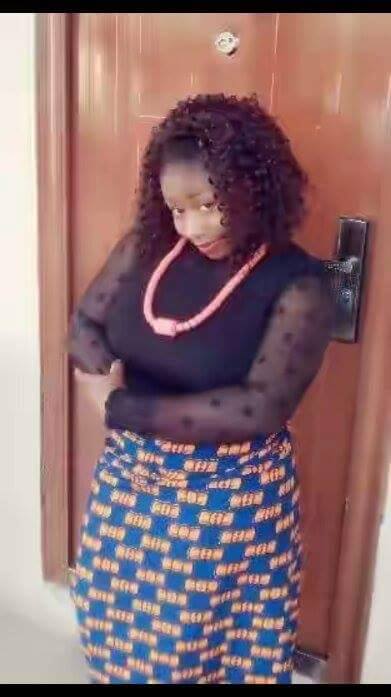 Twitter:
3) @Therealzeez77 – @bellanaija #Emilinks doors are not Made 4 privacy alone,taking pics in front of them is also lovely #mydoorstory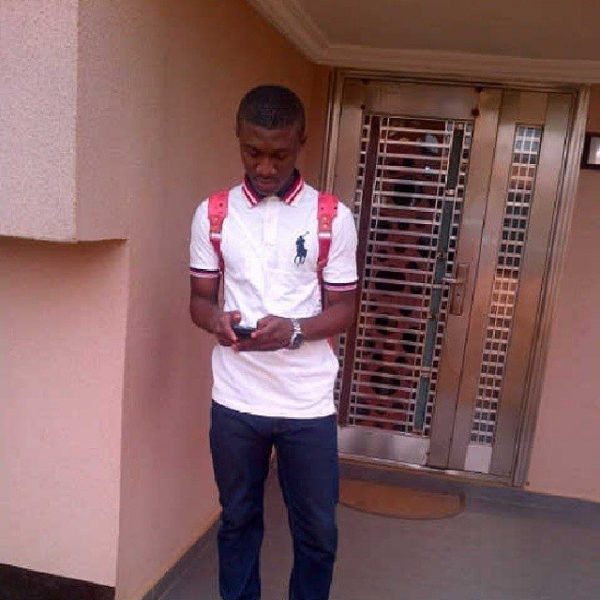 ‏4) @asajapheth – @EmilinksNG When you hear you can get up to 50% off any #Emilinks door you buy, you'll be like oya dab ?#MyDoorStory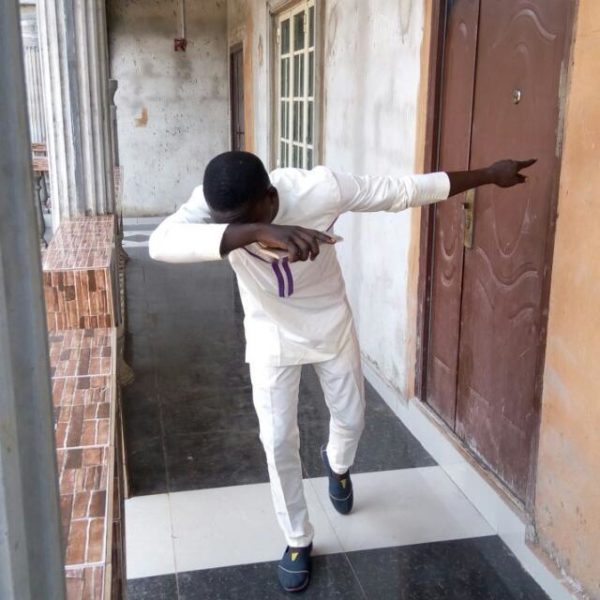 Post on BN:
6) diane – I never invited people to my place. The door was always bad, no matter how many times I changed it. The rain did a good job at making my door smell. The smell ruined the whole house. I did not visit anybody. I did not keep friends, I didn't want anyone to get tempted to offer me a visit. My door caused me enough shame. Even the harmattan made it peel off.
When our new boss arrived, he wanted to change our perception of him. We heard really bad things about the man. He invited us for dinner. There I saw Emilinks door. At first, I thought it was for the rich but his wife assured me that it was not only affordable but the best. I tried my luck again and I will tell you, the rain has enjoyed two seasons and I have organized seven dinner parties here. The rain does not cause my door any irritation. My door forms an equal resistance. I have a dinner party next week. I am more comfortable having people come in because I have a welcoming entrance. #emilinks #bellanaija #day6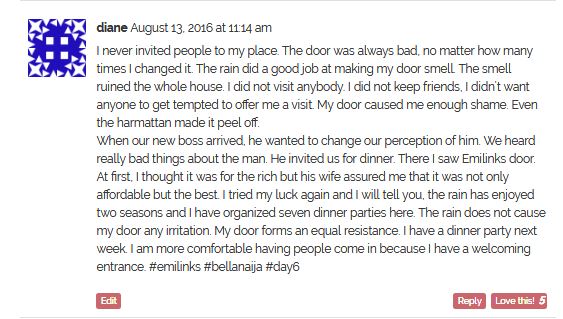 7) Oyinkansola – Do you know that a burglary occurs every 15 seconds? People usually underestimate the importance of doors in our homes. I see doors like the mouth of the home. I know that sounds funny but that's just how I see it! As you wouldn't put just anything in your mouth, the door helps you filter the energy that comes into your home. The door plays an essential role in the home by shielding us from things as little as harmful insects to playing a major role in saving our lives and that of our loved ones. That is why when installing doors in our homes, you should make an extra effort in ensuring that you install the the right kinds of doors that not only gives you security but also gives you rest of mind. That is why you should choose #Emilink as they not only provide you with doors that guaranty security and rest of mind, these doors also beautifies the home. #Emilink is the best in the field!!!! #Emilink #MyDoorStory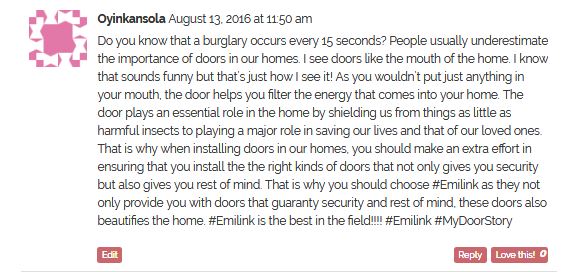 Instagram: 
8) lilianadjarho – Sometime in the 90's, we woke up to the sound of someone trying to tear down our front door. Mum was so brave and started calling out for help, the civil defence people who were on duty that night from afar responded to mum's plea and asked for address, mum said it. We were at rest thinking they will come to our aid. Umfortunately they actually asked for the address so they will know which direction to run through. We kept hearing the heavy sound of trying to tear down the door, we were just there in mum's arms while she prayed. After a while we didn't hear it again. In the morning we went with mum to check and saw that there was a tear on it but because of how strong it was, they could not break in. Only place to get such strong and protective doors these days is at Emilinks. Stay safe and protected with Emilinks Doors. #emilinks #mydoorstory cc @bellanaijaonline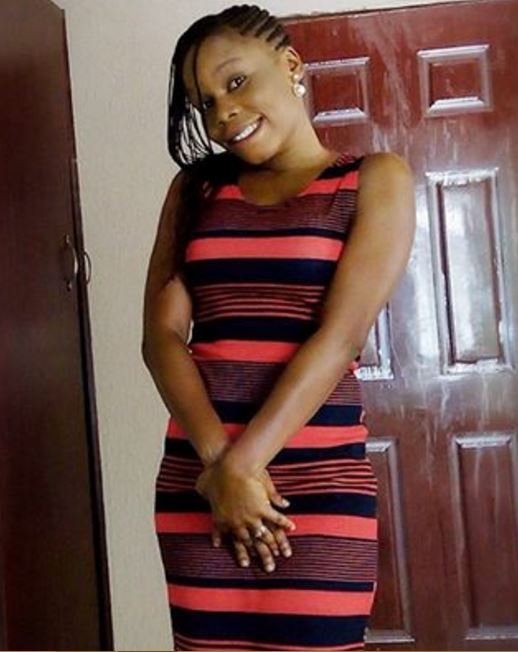 9) mzz_favvy -Day6 #emilinks #MyDoorStory…my door has been a protection from day1 especially my front and back door…my door protected me from criminals one quiet morning,it happened that I was home alone that morning in my room when I heard a noise from my neighbours apartment I was scared at first but then I didn't panic becus both my front and back door were locked and they are very strong…minutes later my neighbour came out crying saying she was robbed of her things and said they would ve succeeded in my ous if my door wasn't strong and locked..I was shocked because if then we had an older poorly constructed wooden door no matter what lock we have on the door the intruders would have easily kicked the door to circumvent the lock and succeeded….
A door is a protection to the home.
A door acts as the primary barriers against the unwanted intruders.
A door sure enhances the uniqueness and elegance of the home.
….Go for a strong and durable door go for emilinks….Try emilinks and tell a friend too #MyDoorStory @bellanaijaonline #day6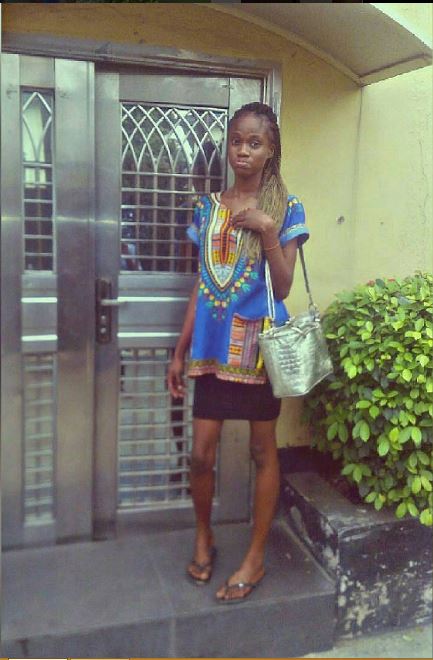 10) frenchcola1 – While apartment hunting, told myself I wanted a place where I can take beautiful selfies. Lo and behold, I come across this apartment with a beautiful door. The way the sun reflects on the door, gives my selfies a beautiful background. What got me attracted to my apartment was the DOOR (my secret is out lolzzzz). Friends always ask where the beautiful door on my dp is? My door is posh, hehehehehhe! I love pictures a lot so what better background for my selfies… I love my DOOR selfies. #MySelfieDoor #Emilinks #Mydoorstory #Day 6 @bellanaijaonline‎