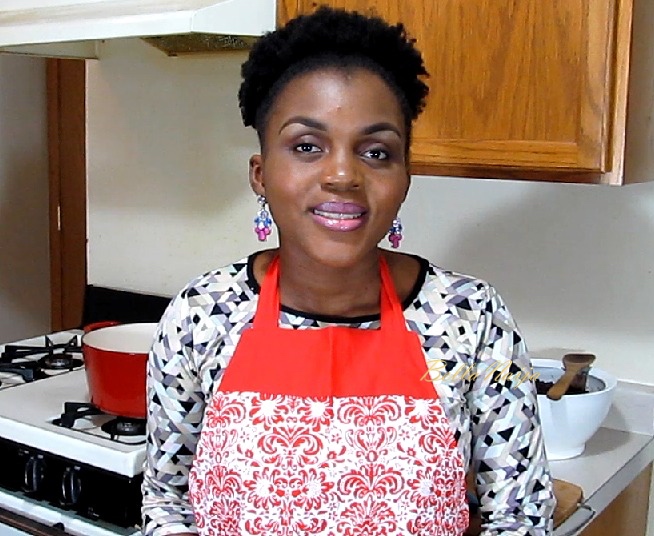 9 years ago, I visited Nigeria for the very first time. When I got into the bordering Cross River town, Ikom I was shocked to hear a Nigerian speak my mothers' native language. And no, he wasn't Cameroonian like me. He was a full-fledged Nigerian who happened to come from one of the villages sharing borders with Cameroon.
I learned fast that we are basically the same people, separated by territorial boundaries. From traditional regalia to names and accent, I noticed a lot of sameness between the Cross Riverians in Nigeria and the Bayangi people of the South West Region of Cameroon. But the overall thing that struck me most was the similarity in the meals of both countries.
I quickly related to Akara that was sold on the streets. While that in Cameroon is called Accra, that in Nigeria is referred to as Akara. But it is basically the same thing: peeled and ground black eyed peas deep fried in oil. I was enthralled by the abundance of white yams in the Nigerian markets. I painfully separated from the yams, which I love so much and went back home to Cameroon to await my admission into the University of Nigeria, Nsukka (UNN).
It was in school that I met Joy, my sweet friend from Benue state. Joy would take me to her room and scoop out some of the food she cooked into a single plate for both of us to eat. We would eat and laugh together like we had known each other from Adam. Then one day she came into my room so we could cook together. The ingredients were Waterleaf, Ugu leaves, (known in Cameroon as Okongobong) and Ukazi (known in Cameroon as Eru).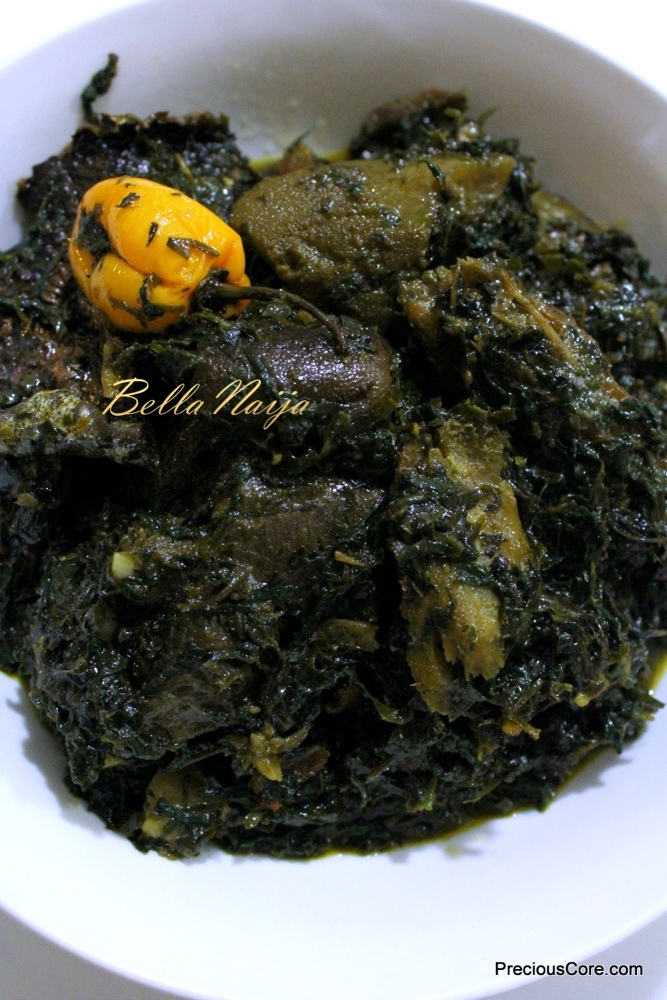 In Cameroon, we use Waterleaf and Eru to prepare a widely loved "dry soup" called Eru. Eru is a meeting point between the Nigerian Afang Soup and Edikaikong. On seeing those ingredients, I quickly wanted to diss the Okongobong and prepare Eru. But Joy wanted the Ugu in there. We joined everything together and prepared a phenomenal soup that smelled like Eru but wasn't quite Eru, tasted like Afang Soup but wasn't quite Afang.
Years later, I have decided to dub it Cameroonian-Nigerian Soup or "Camer-Naija Soup" for swag's sake. This is more than a vegetable soup to me. It is a symbol of our oneness, a symbol of friendship that goes beyond borders. A proof that no matter where we come from, we are the same.
The taste of this soup is hard to forget. It is a vegetable party in the mouth. It is fresh, meaty and rich. My Head of the Tasting Committee kept licking his fingers after he tried it. I'm sure you would too. Joy, this is for you, boo.
Prep: 20 minutes
Cook: 40 minutes
Total: 1 hour
Serves: 6
Ingredients
4 bundles or bags of waterleaf (or spinach) – about 1 kg
1/2 kg Eru/Ukazi
1/4 kg Okongobong/Ugu
2 kg assorted meat and fish (I used canda (beef skin), goatmeat, beef and smoked fish)
1 1/2 cup palm oil
1 1/2 cup crayfish
4 seasoning cubes (Maggi)
Salt to taste
1 hot pepper (optional)
Here are the vegetables I used:
I used dried Ugu/Okongobong but you can use the fresh one if you have access to that.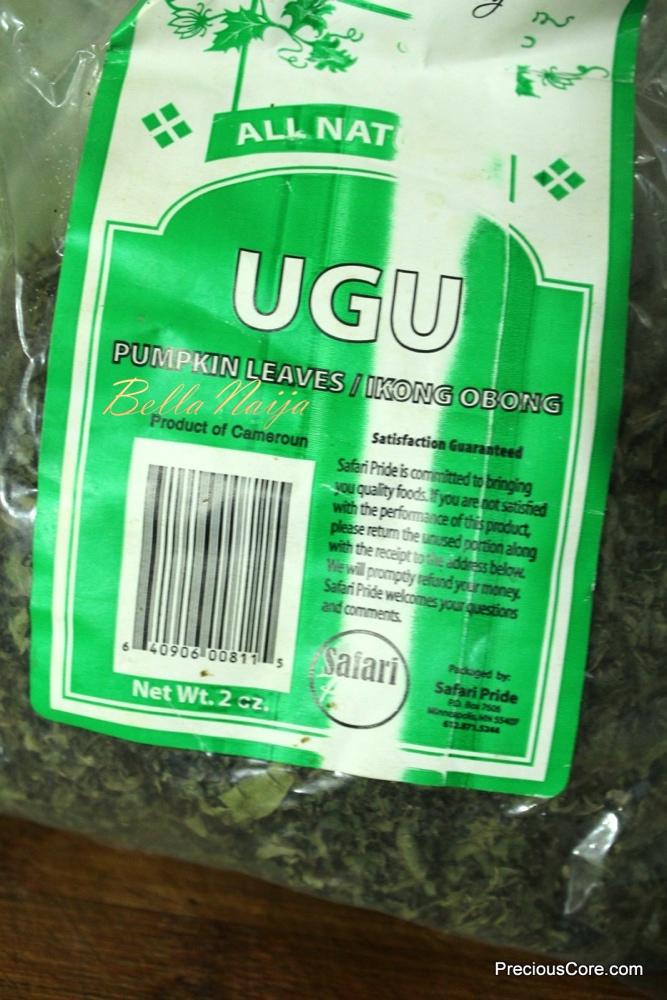 Please note that crayfish is a must in this recipe. It is what gives it that authentic ethnic flavour that is to die for.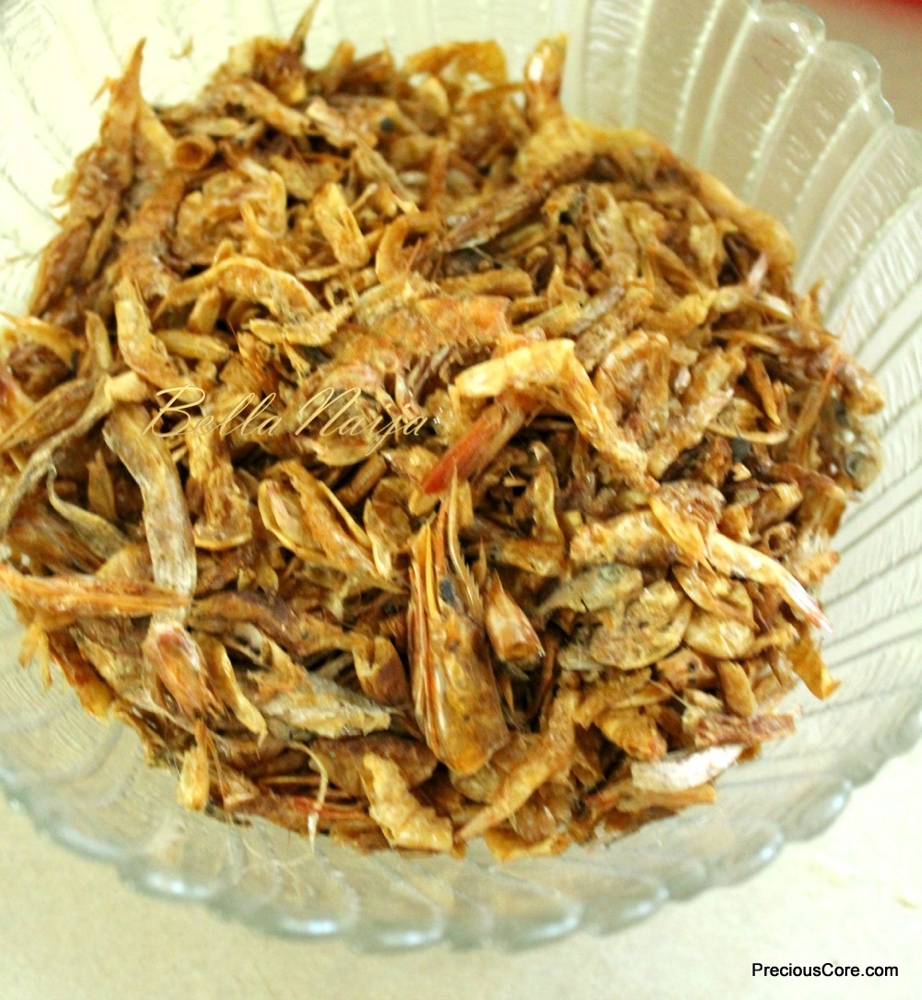 Now let's make some Camer-Naija soup, people!
And that my friends, is how you make the soup of your dreams! Could you suggest a fitting name for it?
Serve warm with any Fufu of your choice. I had mine with some yellow garri/Eba, which was purely divine. You could have yours with Pounded Yam, Akpu or even oat fufu if you like.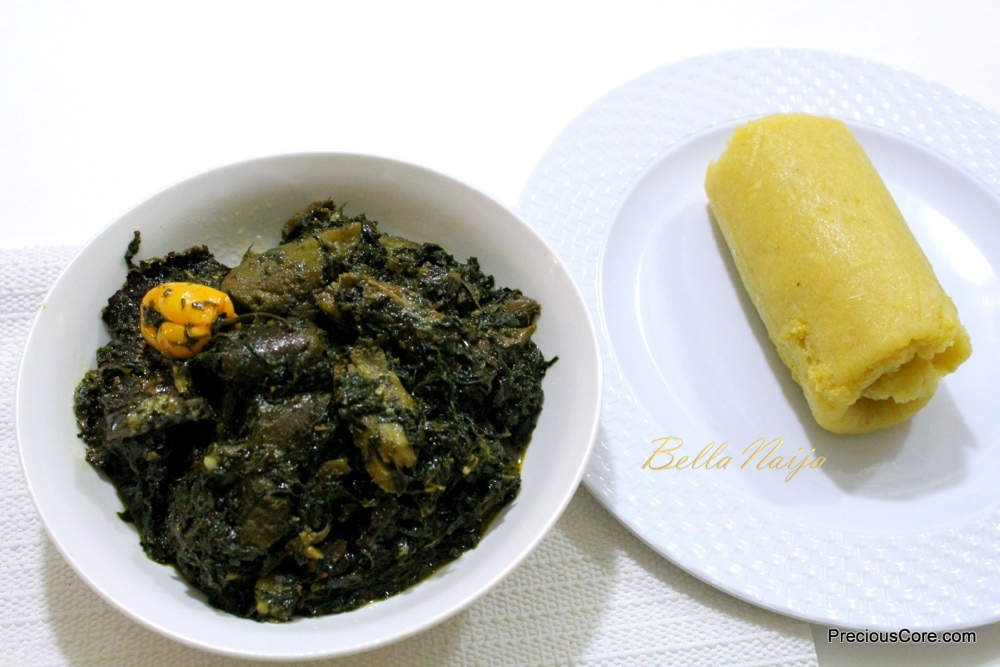 I hope you enjoy this soup as much as I do! Sending hugs to all my Nigerian friends.
For more exciting recipes, check out the kitchen section of my blog, Precious Kitchen.
Bon appetit!