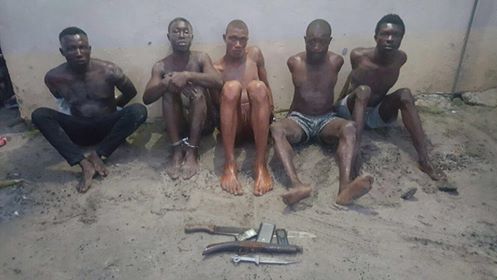 Troops participating in Operation Crocodile Smile have arrested five suspects known to be terrorising East-West road, between Ughelli and and Patani, Delta, during a reconnaisance exercise in the area.
This is contained in a statement signed by Colonel Sani Usman, Acting Director, Army Public Relations, and made available to the News Agency of Nigeria (NAN) in Abuja on Wednesday.
According to Usman, troops of 222 Battalion, 4 Brigade, Nigerian Army involved in the field training exercise of Operation Crocodile Smile carried out patrols in Ughelli South and Isoko South local government areas of Delta.
"Following intelligence report, a robust patrol team was dispatched to raid suspected criminal hideouts at Ehweru community in Ughelli North Local Government Area, this morning.

The team was able to track down and arrest hoodlums known for terrorising commuters plying the East-West road between Ughelli to Patani.

The team arrested 5 suspects which include Oruno Egbede, Atiyoyo Rewemuesere, Peter Kehinde, Wilson Godbless and Friday Odede and recovered 1 Locally made gun, 1 dagger and a cutlass from the suspects.

As part of the training programme, the exercising unit would continue to dominate the general area with patrols and raids of reported or suspected hideouts of criminals," he said.
Similarly, Usman said at 3.45AM, another patrol team of the unit raided house number 4, Temile Street off Egor road in Ughelli, which served as the residence of Gabriel Ogbudje,a supposedly ex-militant leader.
"Ogbudje is now the leader of the Otugas Fire Force, a new militant group in the Niger Delta.

Although still at large, he is suspected to be responsible for the recent acts of economic sabotage perpetrated at NPDC/shoreline major delivery trunk line within Ogor-oteri communities on Aug.29," he said.
However, Usman said Vincent Ekeke and Henry Koko alongside Racheal Abbah and Amaratefa Odada were found at the residence and were invited for questioning.
"The troops will continue to maintain vigilance, carry out raids and patrols as part of the training exercise in the general area as part of their routine activities to improve proficiency and professionalism.

Reconnaissance is also ongoing to detect the site of economic sabotage on NPDC/shoreline pipeline along Ogor-Oteri swamps in Ughelli South and Ughelli North local government areas by some criminals," Usman added