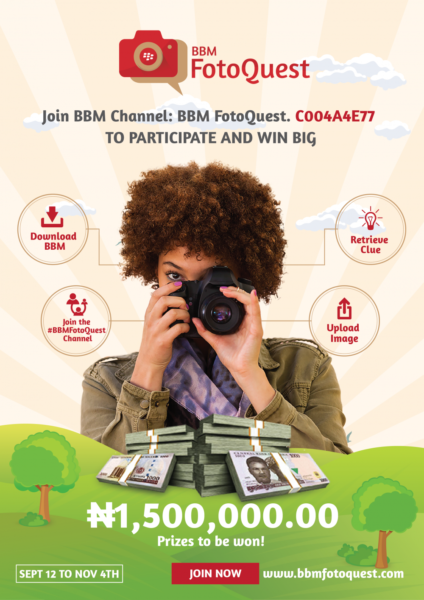 BBM knows how much Nigerians love taking pictures and capturing moments, from posting workout selfies to wedding aso-ebi bella posts, Nigerians thrive both in front and behind the lens. BBM is calling on all the cool and creative Nigerians to channel their inner photography skills and openly express themselves through the #BBMfotoquest challenge.
Each week for seven weeks, contestants can submit their images of everyday Nigeria, according to the weekly clues revealed on the #BBMfotoquest BBM channel (Pin: C004A4E77).
This competition opens the opportunity for talented individuals to freely express themselves on the platform. BBM encourages contestants to think outside the box and let their imagination run wild using the clues provided.
All submissions will be judged by fellow BBM users, so submit creative photos that bring the week's theme to life in an unusual eye-catching way. There will be N1, 500,000 worth of cash prizes to be won and mobile airtime for many lucky voters, so everyone wins something!
Think you've got what it takes? Follow these four easy steps and awaken your creative side!
Visit www.bbmfotoquest.com and download the BBM app (If you're not currently a BBM user)
Join the #BBMfotoquest channel (Pin: C004A4E77)
Retrieve the clue
Upload your images to www.bbmfotoquest.com and don't forget to include a short description of your photograph and where it was taken.
Good luck to all contestants!
 ___________________________________________________
Sponsored Content