In recent times, twitter has been awash with the "How Many Retweets" trend.
Last month, DJ Cuppy went on a date with a fan, Dammy, who had asked her to go on a date with him if he gets 500 retweets. Cuppy responded by saying he should make it 1,000 and in no distant time, Dammy gathered over 1,000 retweets and they went on a date.
A couple of days ago, another guy asked for 5,000 retweets to go on a date with actress, Dorcas Shola Fapson and he got well over 5,000.
Today's "How Many Retweets" story is a very inspiring one.
A twitter user, Olayinka Fajimite, who was apparently catching fun, tweeted at Oando PLC asking how many retweets it will take him to get a job with them.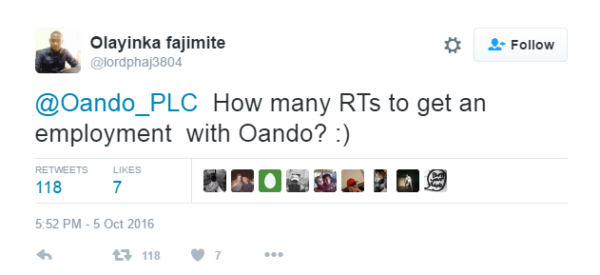 He got his reply from the oil and gas firm that 2,000 retweets will get him a month internship.

Yinka quickly got to work and in less than 24 hours got about 3,000 retweets.

He also got a shout out from the firm's CEO, Wale Tinubu.

Thumbs up to Olayinka for his daring move.