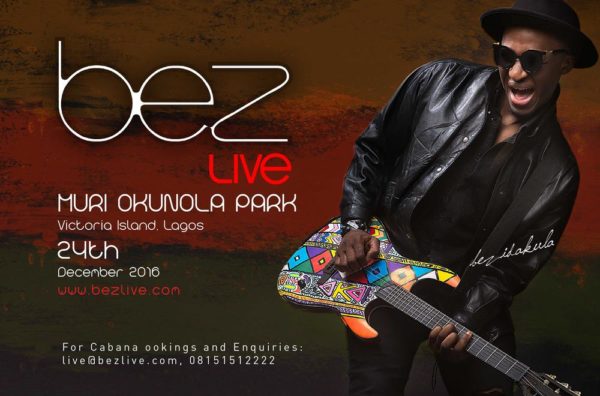 This December, Nigerian Alternative Soul singer, Bez is set to thrill music lovers with the Bez Live  2016. The music festival has been announced to hold at the Muri Okunola park on the 24th of December, 2016.
As has been the norm with all of the celebrated singer's performances, the festival will see electrifying  performances of a variety of music genres. It will be the perfect way to celebrate the holidays especially for music lovers and fans of Bez . In his words " I will be showing my fans the different parts of Bez. Expect an electrifying performance, the biggest and best music festival ever hosted in Nigeria"!
Bez' ability to keep his audience spellbound every time he hits the stage remains his ace in the hole. Since his breakthrough album Super Sun released in 2011, Bez  has successfully made his mark as one of Nigeria's biggest music exports and this is evident in his international and local relevance over the years with classic songs like Stupid Song , More You , Zuciya Daya all from his history-making album Super Sun which topped the Boston Globe Top Ten World Music Album of 2011 and most recently his There's a Fire and You Suppose Know which continues to receive amazing reviews.
The renowned artiste's unique music style might not be the everyday club sound but if being having his Stupid Song single premiered on American Hip hop and R&B TV show BET's 106 & Park, being the first African act to world premiere his single on BET and have it featured on US  TV networks, getting first-rate features on Vogue Italia, Essence.com, Rolling Stone Magazine SA, BBC Focus on Africa, MTV Iggy Hall of Fame, being the first Nigerian artiste to do a solo show at the iTunes store in Soho, New York are anything to go by, then his abilities are simply extraordinary!
Although supporting acts are yet to be revealed, this concert will have a host of Nigeria's leading music stars.
In addition, Bez has also hinted that his fans and music lover alike should look out for his sophomore album which he plans to release before the year runs out. The date of the release will however be a surprise.
More details of the concert will be announced soon!