Douglas imagines Vice President Yemi Osibanjo, a diligent acting President, filing a report of noisemakers for Pres. Buhari, while he's away on vacation.
***
Good Morning Sir,
I hope this meets you well. How's London?
Our meteorological agency is reporting it is quite cold. I hope you are dressed very warm. We cannot afford for you to have even catarrh right now. You know rumours are already going round that you are not well. They are saying that is why you left the country 2 days after an IDP camp was bombed. I trust the English hospital check-ups are going very well. I am sure you will come back with some vital knowledge sir, to share with our Ministry of Health, and Nigerian hospitals. Maybe next time, you may be treated here at home.
As you've put me in charge of the country, sir, it is important that I give you reports of what's been going on as they happen. In light news, a Cameroonian helicopter helping us fight Boko Haram has crashed. It was not immediately apparent if it was the fault of our Air Force once again or another accident.
Also, our incredible 11 different exchange rates system is still intact, with dollar almost going for N500 on the black market.
In more urgent news, while you have been away sir, I have been noting the names of noisemakers. These people have unnecessarily been heating up the polity.
They are:
Joe Abah x2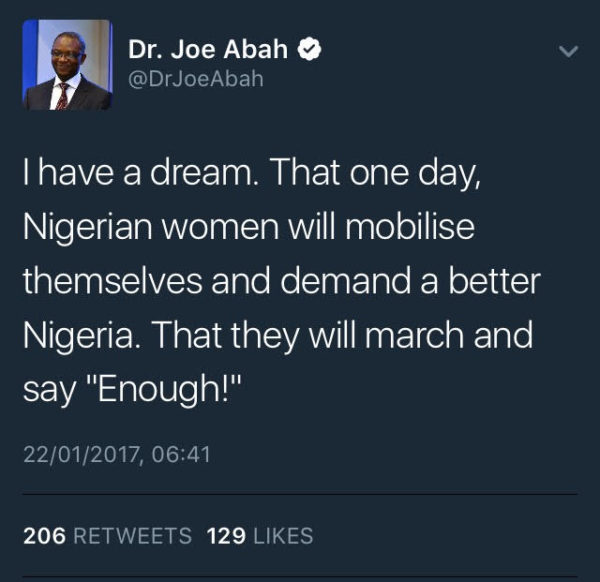 It seems we may have made a mistake placing Dr. Abah in the Bureau of Public Service Reforms. We may have more use for him in our company of Digital Media Special Assistants. I think he will be best suited to head the Twitter Department. This weekend, the good doctor, adept at treating and administering hashtags, tweeted that he was waiting for a day that Nigerian women will protest, march and say 'Enough!'
Not only is he inciting women against our administration sir, he's not even being factual about it. The noisy Bring Back Our Girls has been advocating for the past 1000+ days. Not to even mention more recently Ughelli women protesting against Fulani herdsmen that our brother Mallam El Refai has yet to move against. If we decide to move him to our digital team, we should know though that while trending on social media is one of his strengths, recalling history isn't.
Garba Shehu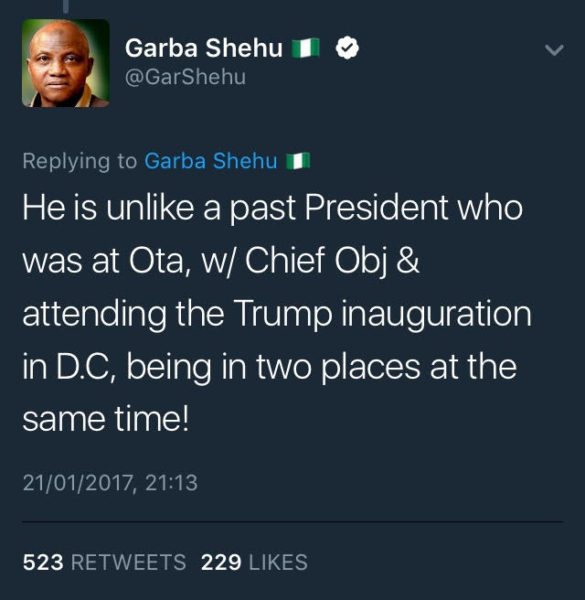 For this one, sir, I am pretty sure you did not order this tweet. While we both admire Mr. Shehu in his capacity as Spokesperson on Media and Publicity, finding work for himself in a crowded office with Mr. Femi Adesina, Special Adviser on Media & Publicity, surely this is too much. We may think the lowest of the opposition, but we must voice our thoughts in a statesmanlike, mature manner.
I understand why Oga Shehu may have gone down this route sir. You know this #Petty thing is now trending amongst our youth. He may have been trying to connect with them. In which case, we must also congratulate him for the initiative. You know 2019 is only two years away now, and we need their votes.
Tolu Ogunlesi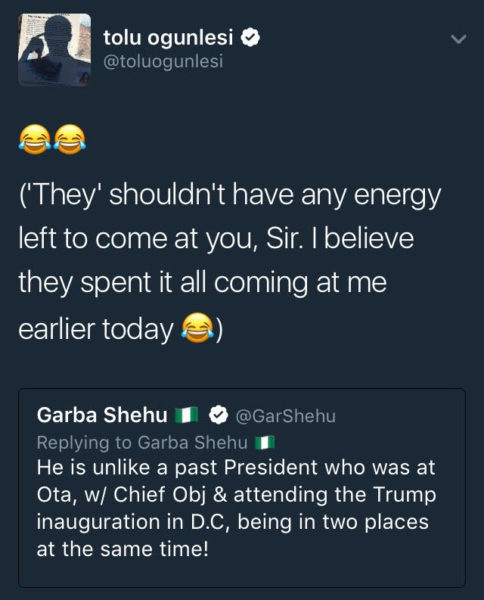 For echoing his Oga and encouraging bad behaviour. Also, he could have been a bit more discreet about enjoying the thing.
The Nigerian Army v. Premium Times
Sir, these two groups are probably the noisiest on the list. Your old comrades, instead of directing their energies to the fight to end 'Boko Haram' and uphold our slogan that they have been 'technically defeated', they are setting the Police on the newspaper. They even had the Publisher and a reporter arrested over the weekend. Sir, I know your plate is full, and things tend to slip, but we are still in a democracy.
Kayode Fayemi
Minister Fayemi has been giving unauthorized advice to Nigerian youth. Telling them that they must work hard, that we don't owe them anything. He said he was once a taxi driver and security guard before he made it in life. This is as good as saying we want them to suffer, sir! You know they are already complaining about the price of rice and kerosene going up. We cannot be seen to be giving costly advice like this, sir.
These are the names of noisemakers so far. I will continue to update while you remain away. Please continue to enjoy your holiday. In terms of holiday gift sir, I humbly ask only for one thing…
Pounds.