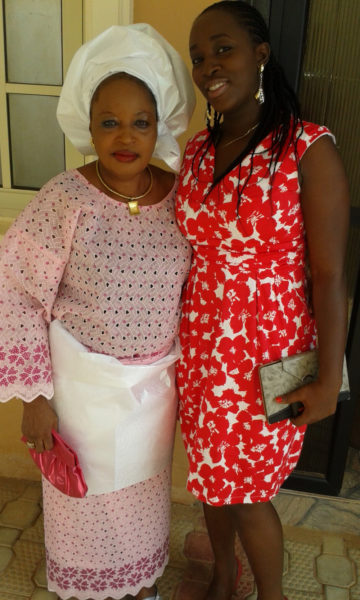 I remember that day quite vividly, it was a cool evening sometime in July of 2013. I had just come back from work and was in the process of making supper when my mum's close friend burst into the house. She was a bit disoriented and confused. She had been talking with my mum on the phone when she heard a loud scream and the phone had gone off.
Any further attempts to reach either of my parents proved futile, until dad eventually called an hour later. They were in the hospital. My mum had slipped and fallen on their way out of our former house (we were moving houses). She had fractured her thigh bone and it had to be operated the next day with a leg brace fixed in. The surgery went well and recuperation began. I had to move into the hospital to help her out and we spent about 1 month there before she was finally discharged to begin physical therapy at home.
For the first time in my life, I saw my mum being dependent. She required help constantly for the minutest stuff. This was strange, because my mum is one of the most active persons you could ever meet. She is fiercely independent and prefers to do EVERYTHING herself. She has always refused to rely on anyone.
She had just clocked 60 when the accident occurred and yet there was no slowing her down. By the grace of God, she pulled through and started walking albeit with crutches at first and then a stick until she could finally walk without aid.
So many things could have gone wrong during and after the accident, but God in His infinite wisdom made it all work out well. Today, that period is but a bleak memory. We indeed came close to losing her that day, but today she celebrates another year in the land of the living. I choose to celebrate my mother and friend today especially and always.
My mum is a nurse, consultant, fashion designer, business woman all rolled into one! She's a voracious reader, always has been and still is – even though Tinsel does not want that ministry to expand. I started reading novels pretty early in my teens because of my mother. She had all sorts and kinds of novels and would keep on buying, borrowing and exchanging which made her pretty cool to my fellow bibliophile friends.
She is also a very dedicated and consummate professional. I remember nights she would bundle us all up to sleep over at the hospital, because she was on night-shift and my dad was out of town. The next morning she would be off duty at 7am, rush us home to bath. She would prepare breakfast and still get us to school before 8am. She would barely catch her breath and a nap before coming back to pick us from school, then lunch, then night duty till the next morning. And the cycle continued.
She was involved in several businesses. She was a licensed chemist with a shop where she sold certain approved drugs in the neighbourhood and would often be found there after work hours. She had shops in the central market selling household goods, had a poultry business for many years, was a soft drink franchisee, health consultant etc all in a bid to make all those ends meet.
All these did not and could not derail her from having fun. She is a true fashionista. She loves looking good, being trendy, partying, taking photos, clothes, jewellery and make-up. I am a learner next to her in any of the above listed areas.
She and my dad make the most hilarious combination and there is always a joke to make light of any situation. Indeed iya ni wura (a mother is gold). She has a wonderful personality, is an awesome giver (she still sent me my Christmas lace last year), supporter, friend and helper. Here's wishing her many more years of grace, wealth, peace, health and many, many grandchildren.
PS; I forgot to add, my mum is so social-media/smart phone compliant. It is a wonder to me atimes ☺ ☺. There is still so much to write, but so little space.
Happy birthday Mummy! Mrs Olufunmilayo Eunice Idowu (nee Kafi) Ijesha-princess turned Egba-wife and now Mama-Kaduna.