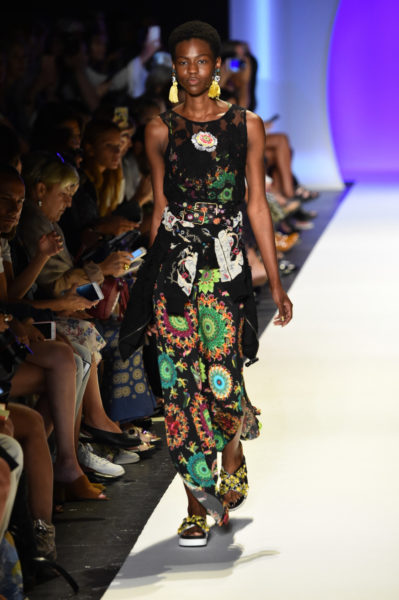 'Who are you wearing?' is the most asked (and the most important) question during awards season. It is probably more important than why the attendee asked is present at the show. I mean, he/she probably spent thousands of Dollars or Naira on a stylist to look good, so why shouldn't the said attendee be asked the question?
To me, if a person looks very well put together, do I really care to know who made the garment the person is putting on? Not really. I guess your perception of a person changes when you hear the following words from his/her mouth: 'I'm wearing *insert high-end designer here*'
A very good friend of mine who happens to be the fashion editor at a top Nigerian magazine told me a very interesting story about what happened to her at a recent outing. The event was the launch of the new Carolina Herrera fragrances. She, dressed like the true editor that she is, donned a crisp white shirt tucked into slim well-cut black pants with a cummerbund-like detail and styled the look with black pumps. A couple of attendees complimented her dressing and asked who made the pants. The moment she mentioned the word 'Céline', they became more drawn to and found her more interesting, simply because she said the name of the Phoebe Philo-helmed label. That's ironic, seeing as the whole point of Philo's Céline is anonymity. Wasn't she smart-looking enough or interesting enough initially? Why did the label on her back make her more endearing?
More often than not, people who end up on worst dressed lists actually wear these high-end labels, so why do people still care anyway? Isn't the whole point of fashion to look chic no matter who made it?
We live in a world where branding has to be visible to be validated. The double G sign on a croc Gucci handbag receives more stares of approval than a minimal intrecciato tote from Bottega Veneta, even if the latter costs more. Why does that happen? What is it that we are trying to prove? Fashion is supposed to be an expression of self, not an expression of worth.
When designers are asked why they make clothes, their answers are often around the fact that they want people to look and feel good. Some designers make clothes that have a purpose.
Christian Dior's 'new look' for instance, is constructed to give women waists. Chanel's tweed jackets transcend time and seasons. Donna Karan's '7 easy pieces' is a basic wardrobe women can build on. These are examples of clothes that make a point. But in today's world, it is less about the actual clothes and more about the selected brands, which isn't even the point the designers are trying to make.
So when did we let it get like this? By doing this we give skeptics the ammunition to render fashion as shallow, which it clearly isn't.
A little mystery is chic, no?
Photo Credit: Fashionstock .com | Dreamstime.com