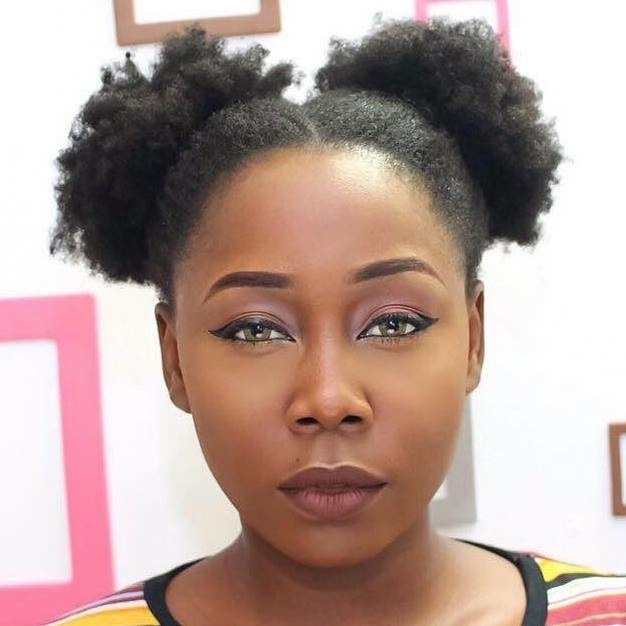 For today's edition of #BNFroFriday our light shines bright on Ellen Atulomah, she is a nurse and natural hair blogger on kinkynigeriancurls.wordpress.com. She describes herself as a natural hair enthusiast and a person who loves to cook and bake. She also has a YouTube channel Ellpuggy and today she will be sharing her journey with natural hair on BellaNaija Beauty.
***
BellaNaija: Tell us about your hair
Ellen Atulomah: I am fully Nigerian, I have type 4C hair texture. My hair color is naturally black. Yes I've colored my hair several times, about 7 times lol! The only texture altering treatment I used in the past were relaxers.
BN: Why did you decide to go natural?
EA: My hair was uneven because I cut off the back and sides, it became annoying when it grew out. Also, seeing how beautiful and versatile natural hair is made me fall in love with it and go through that path.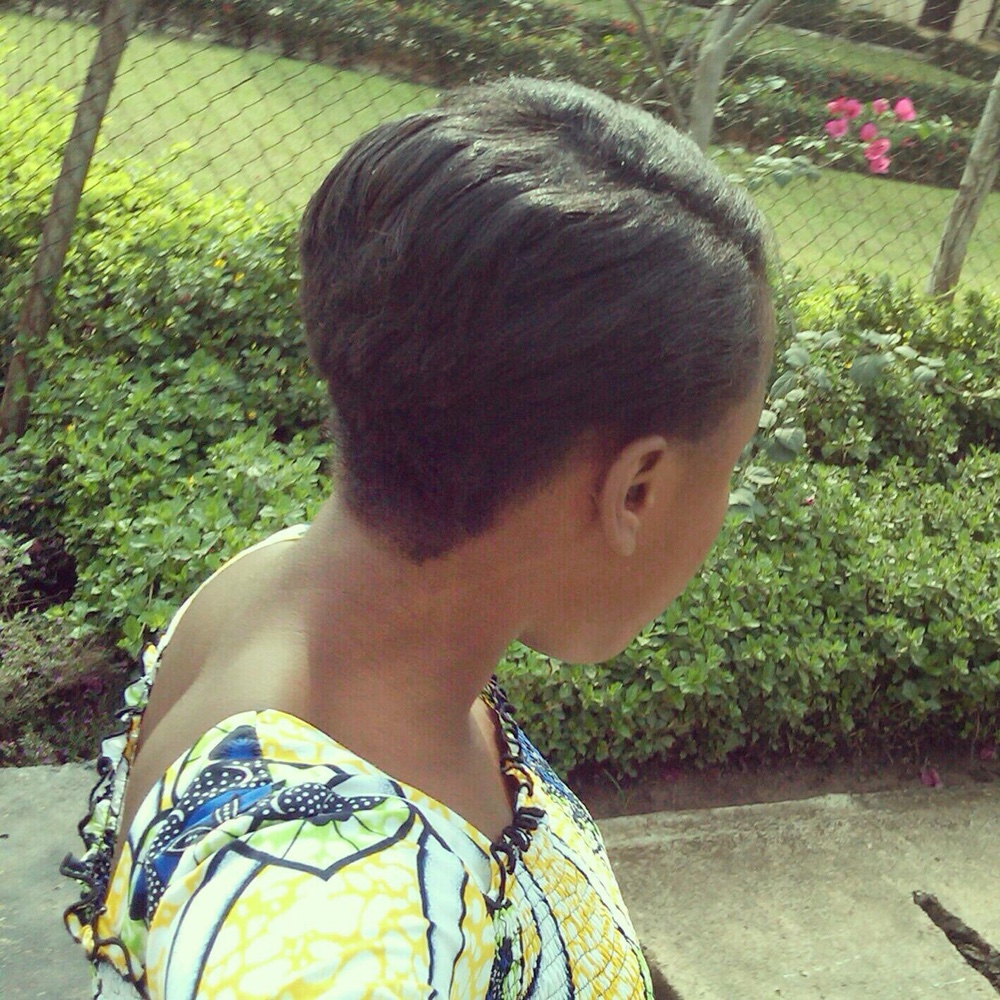 BN: How did you make the change? 
EA: I big chopped. It was an interesting and exciting experience for me, I was excited to see the new me on low-cut (TWA). I didn't get any negative reaction at home because they all loved my haircut.
However, in school I remember when I rocked finger curls and a lecturer called me and said "why is your hair like this? It's so rough and untidy, hope you know dreadlocks isn't allowed here" and I was like "I'm sorry Sir this isn't dreadlocks" my friends with me where like "haa sir this is her natural hair o, it's not locked."
My friends loved it, in fact a couple of them were inspired to go natural after my big chop.
I wear my Afro to work (hospital) because it's allowed, and some of my colleagues there also went natural.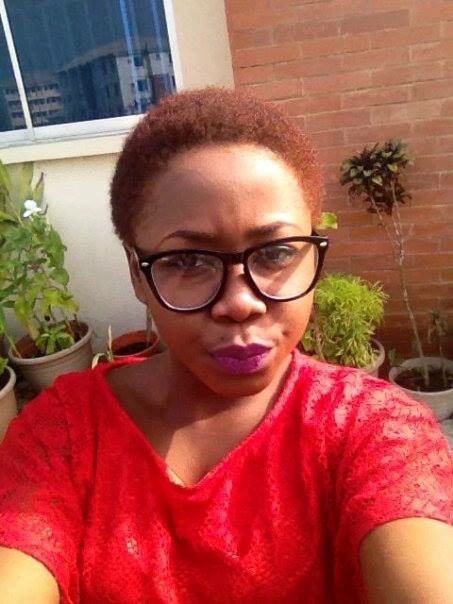 BN: Are you tempted to relax? 
EA: Nope I'm not tempted to relax my hair
BN: Ever hidden your natural hair?
EA: No, I never hide my natural hair, I'm so proud of it. In fact I'm always rocking my natural hair. Last attachment added to my hair was 8 months ago.
BN: How long have you kept your natural hair? 
EA: My natural hair journey began in December, 2013, I have been natural for 3 years and 1 month! But had a second big chop in March, 2016. I trim my hair every 6 months or when I see split ends I trim them off.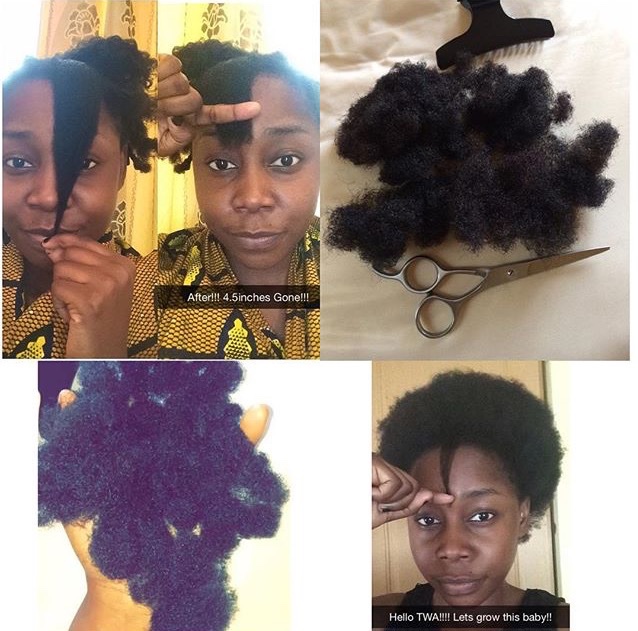 BN: How does climate where you live affect your hair?
EA: Nigeria is humid during rainy season and also extremely dry and hot during harmattan season, styles hardly stay stretched and defined when it's humid, It becomes frizzy and shrinks back up that's the negative part.
Furthermore, during dry season my hair gets dry, I tend to moisturize up to 3 times daily and deep condition weekly because I also have high porosity hair. The positive part is the humidity keeps my hair moisturized.
BN: Do you have any other hair problems? 
EA: No.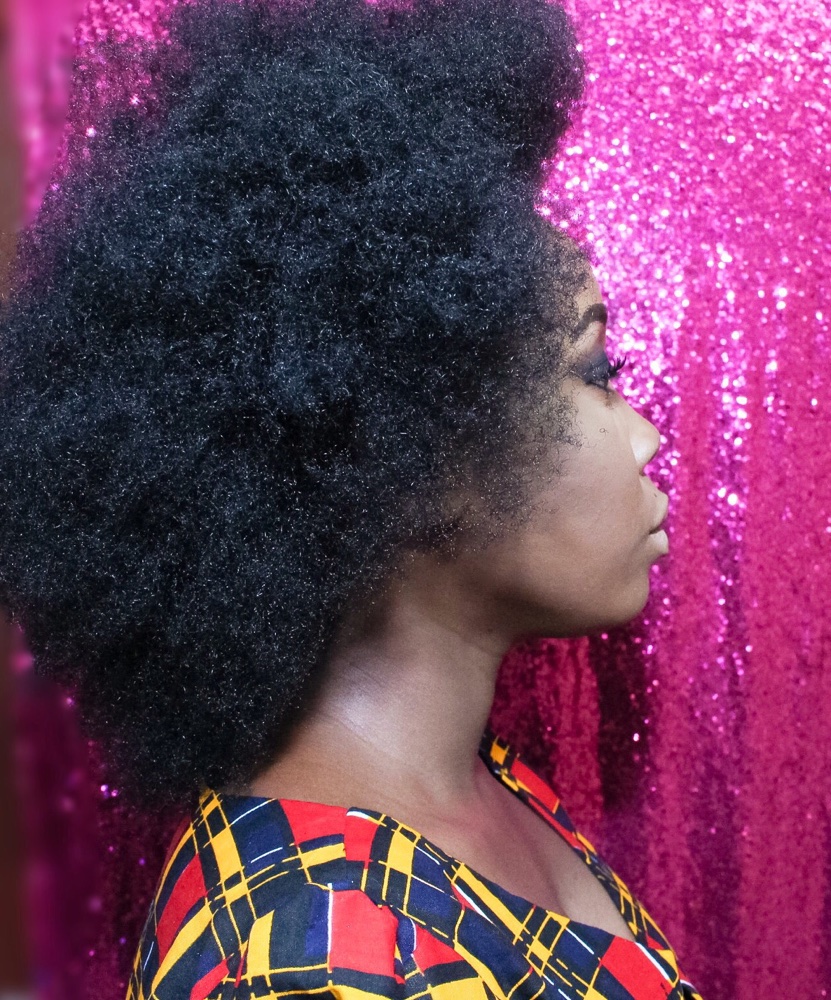 BN: How do you deal with the negative effect of climate and the hair problems you face as a natural?
EA: Take for example when I style twist out during humid seasons as I said earlier it becomes frizzy in no time and shrinks back, because of this I tend to use stylers with a hold of 10.
I also make sure my hair dries completely before taking it out, I unravel with oil, I minimize separation and re-twist my hair every 2-3 days to maintain the twist out.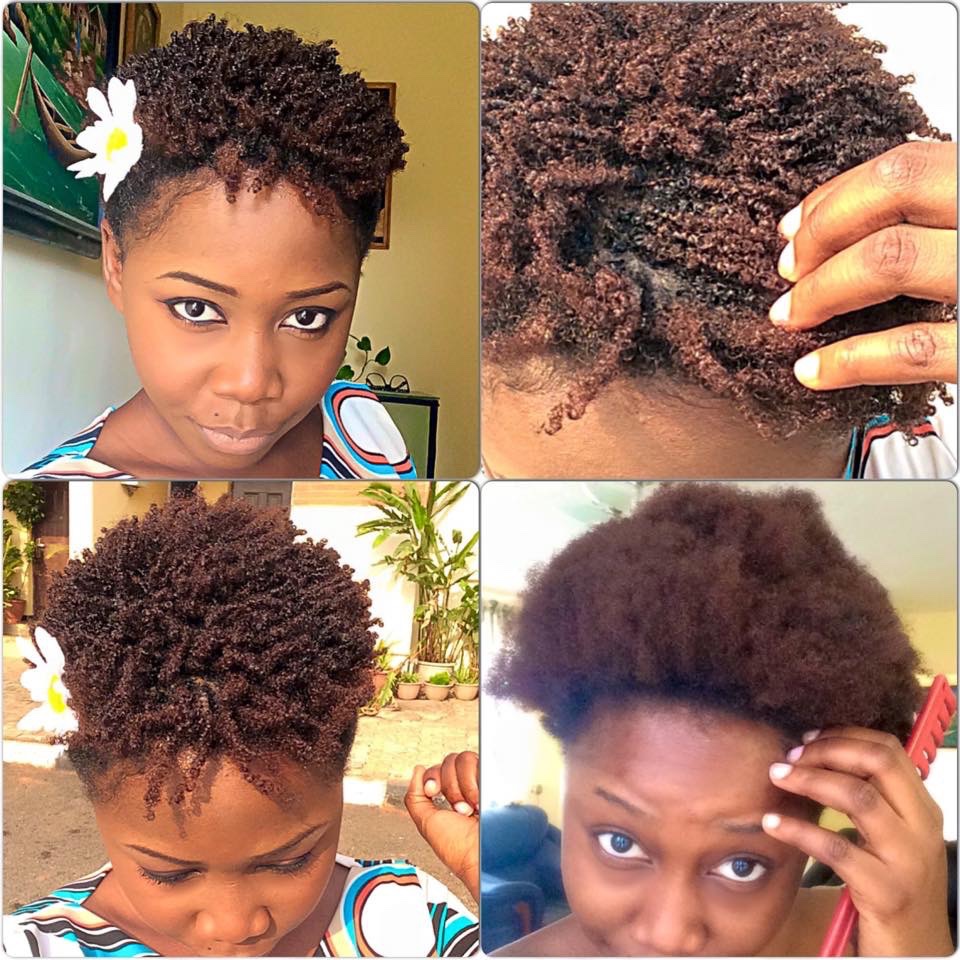 BN: What's your stance on natural vs chemical products?
EA: Natural products contain natural ingredients that will benefit our health as a whole while products with chemicals can be harmful not only to the hair but the entire body. Whatever we put on our scalp can be absorbed directly into our blood stream, which can be harmful to our health. In that wise, I'm pro natural products.
BN: What's your daily, weekly and/or monthly hair routine? 
EA: My regimen is a 'bundle' that consists of a lot of things I do depending on my mood lol, and I'm consistent with it. (You can checkout the full detail on my blog).
Here is a summary:
Daily or Every other day – I moisturize my hair
Weekly – I co-wash and deep condition my hair weekly or biweekly depending on how my hair feels, this is done on Sundays or Saturday night.
Monthly – I shampoo wash, protein treat with aphogee 2 minutes reconstructor and do other special treatments like hot oil treatment. Black tea rinse, Etc.
I can't live without my Shea Moisture with Jamaican Black Castor Oil leave-in conditioner because it keeps my hair moisturized like no other product. Also my DIY Hair butter mix, this is my all in one product for styles like twist outs, braid out, and also to lock in moisture after I moisturize my hair.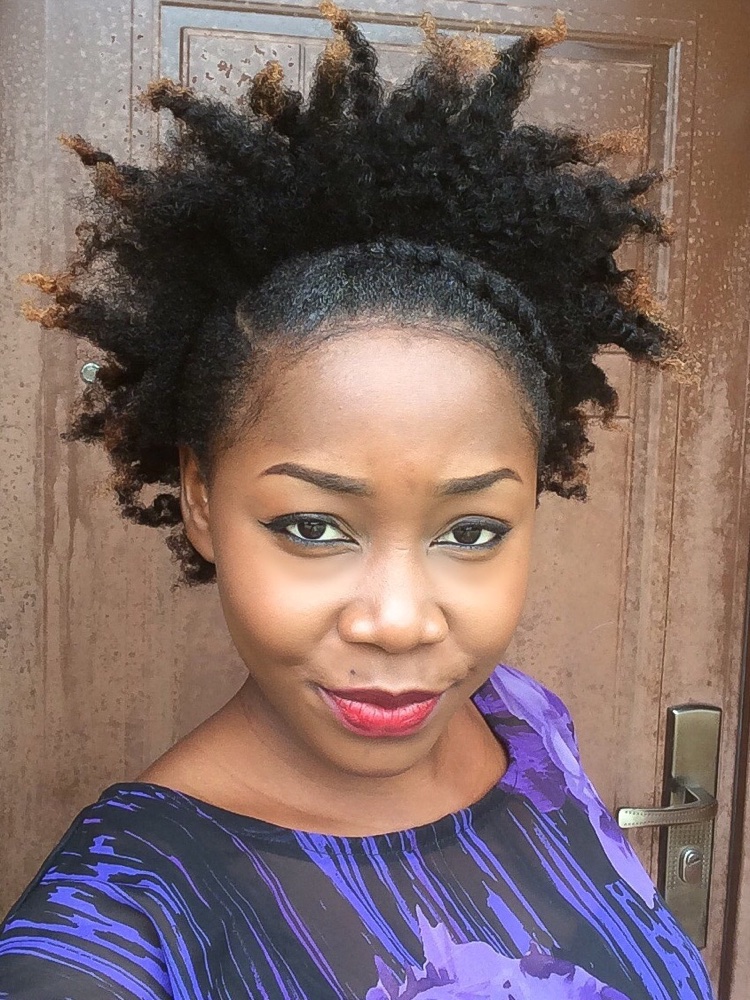 BN: What advice would you give to people thinking of going natural?
EA: My advice for new naturals, love your hair and it will love you back. Accept it for what it is and how it is, don't get caught up into trying to make your hair do what someone else's hair does, it will only frustrate you… Find what works for you and don't become a market for everyone who has something to sell… Be happy with who you are and the hair God gave you and love life!
BN: What do you like best about your hair and being natural?
EA: I love everything about my hair especially the growth rate and the thick KINKY look.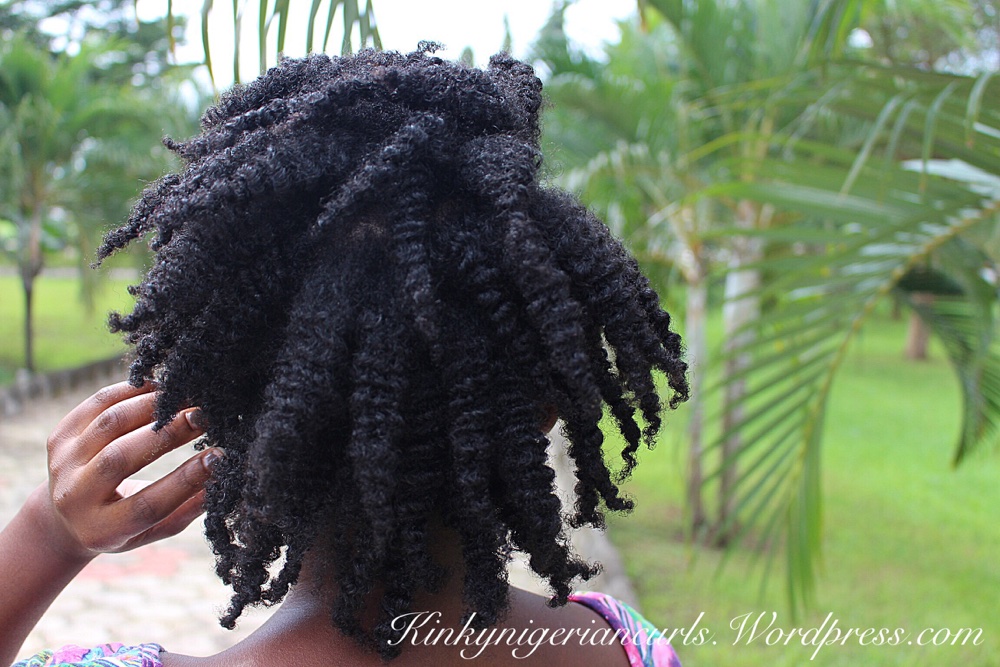 BN: What are your favourite styles to rock and why? (if any)
EA: I'm either rocking two flat braids or a high puff, cos its quick and easy.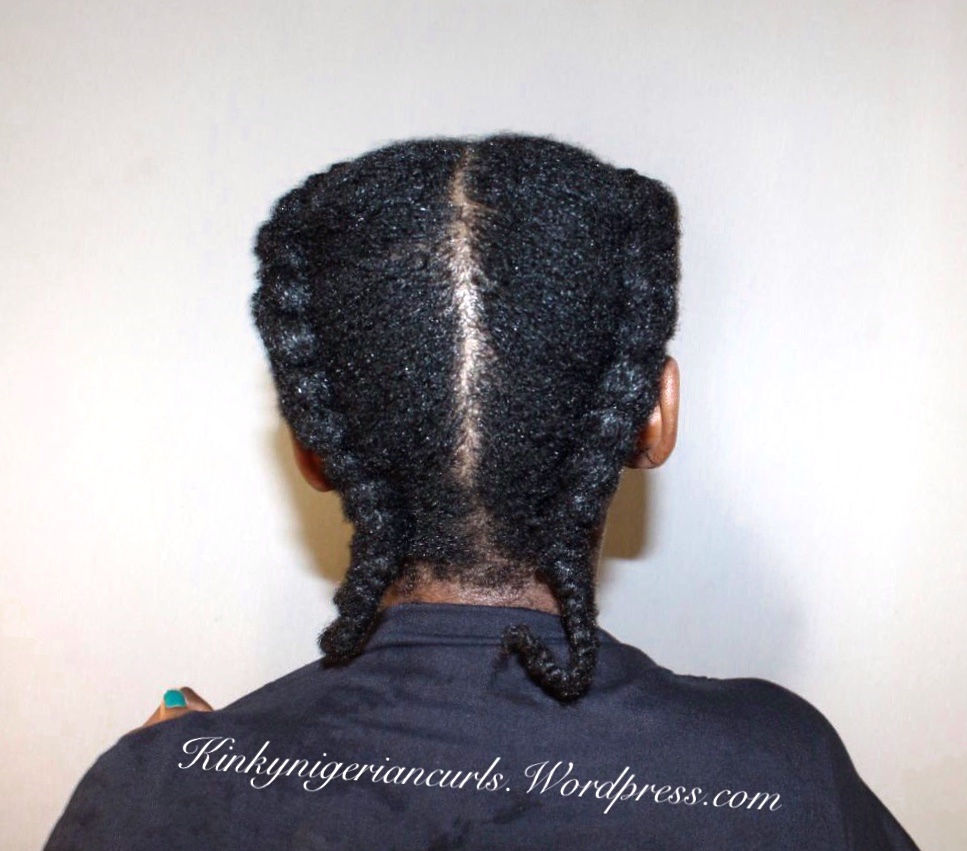 See More photos of Ellen's hair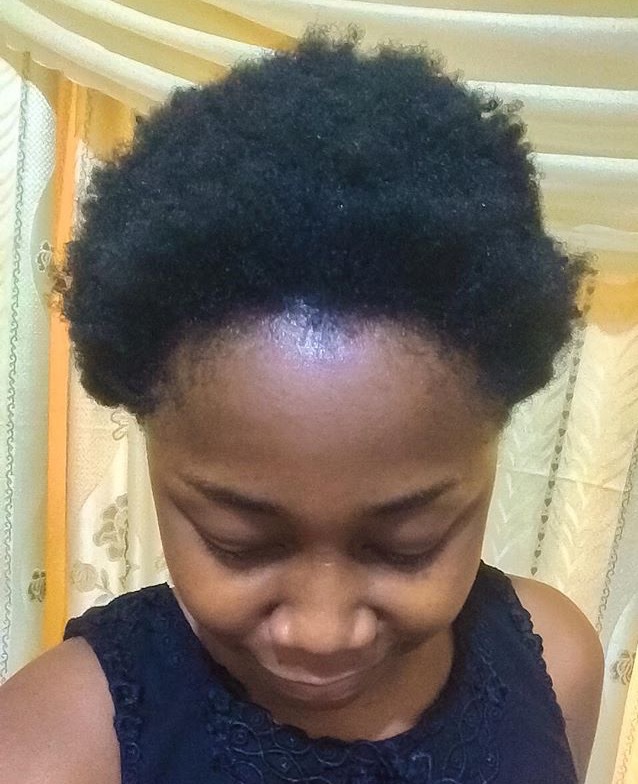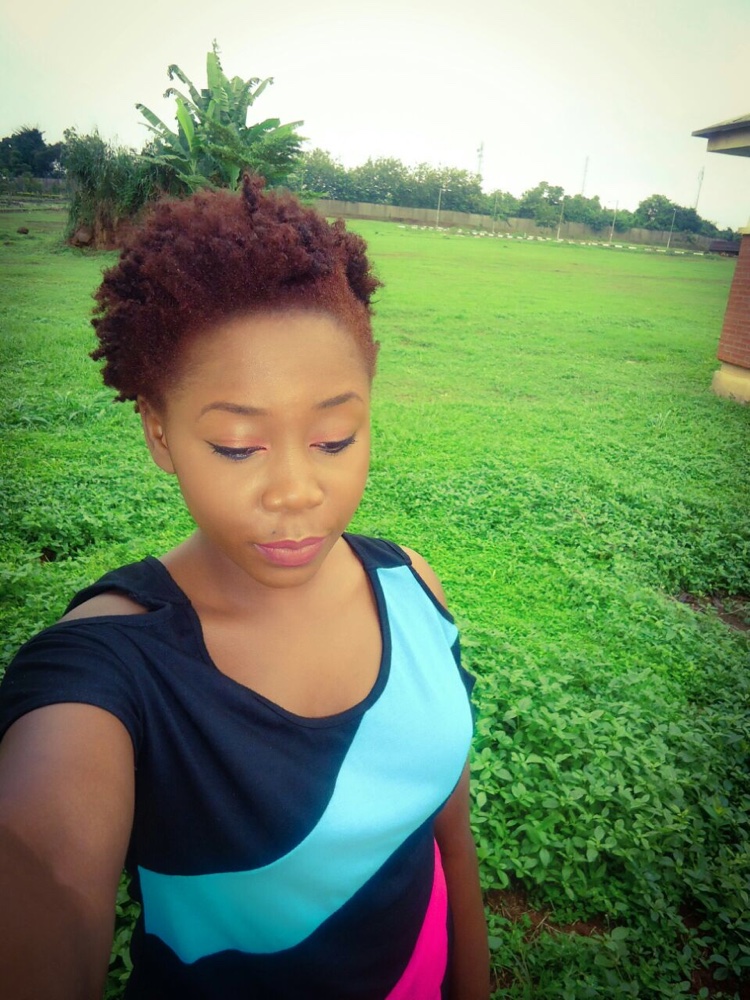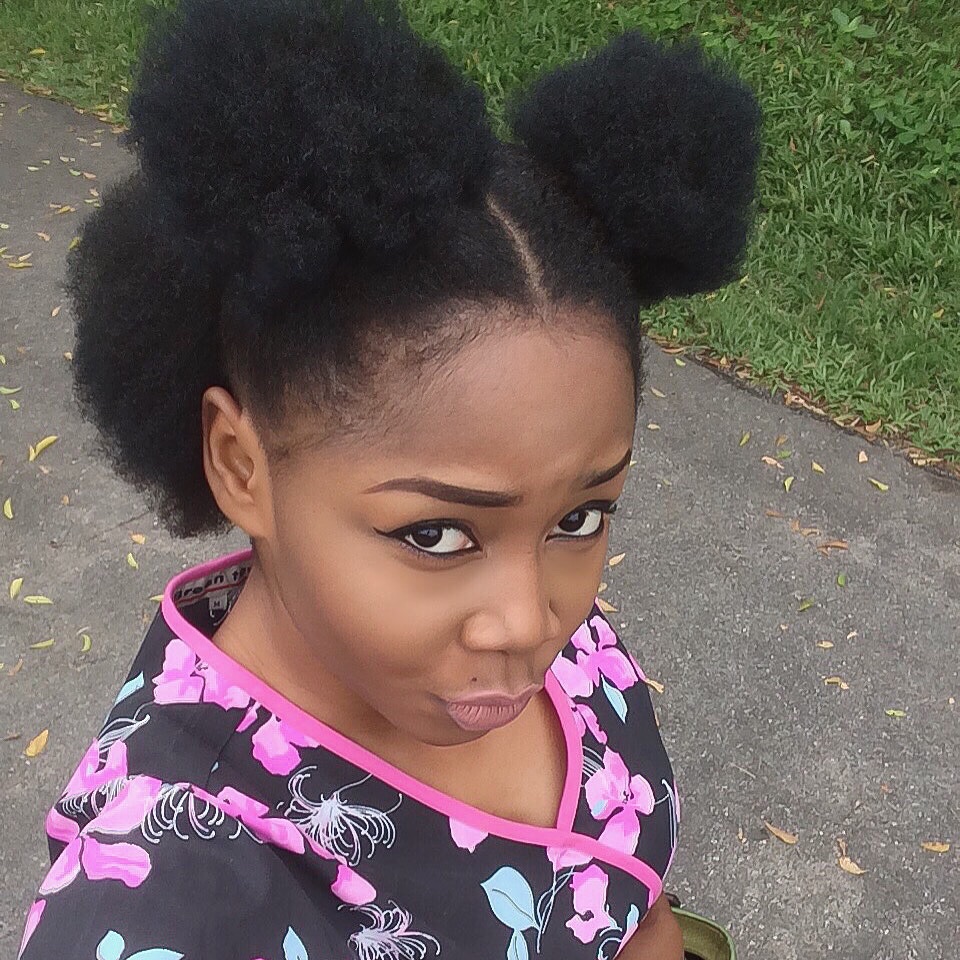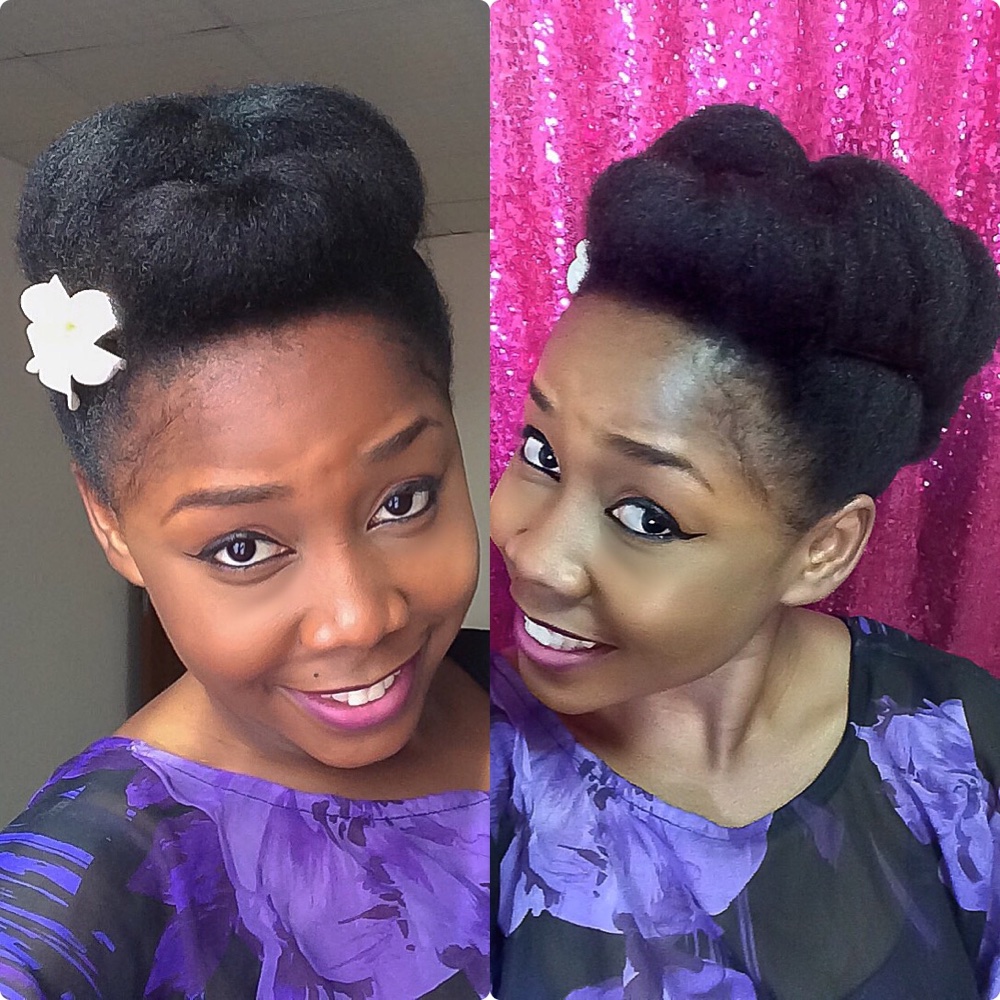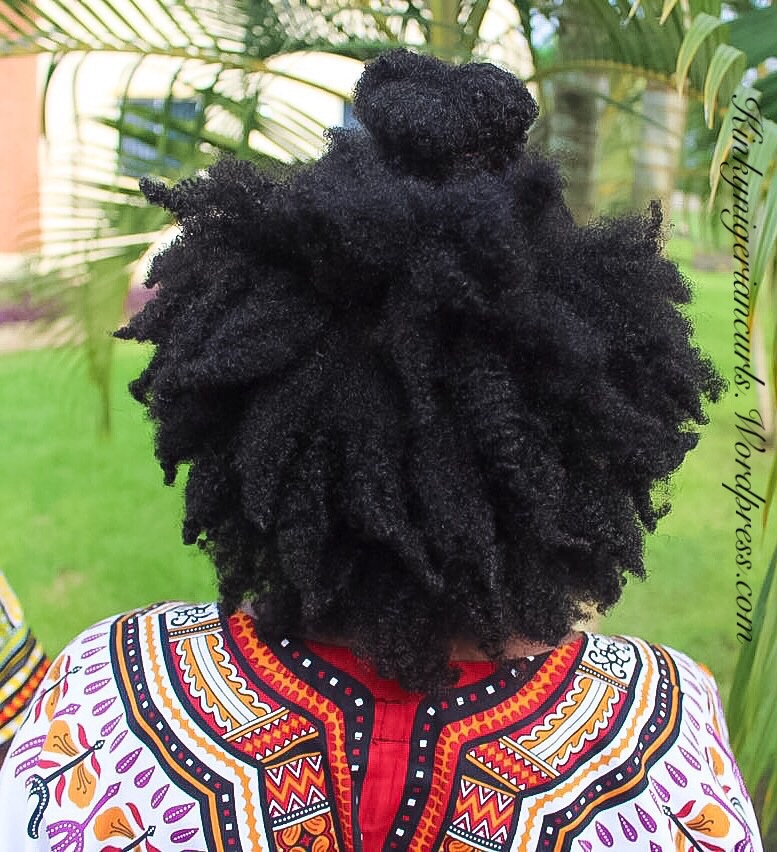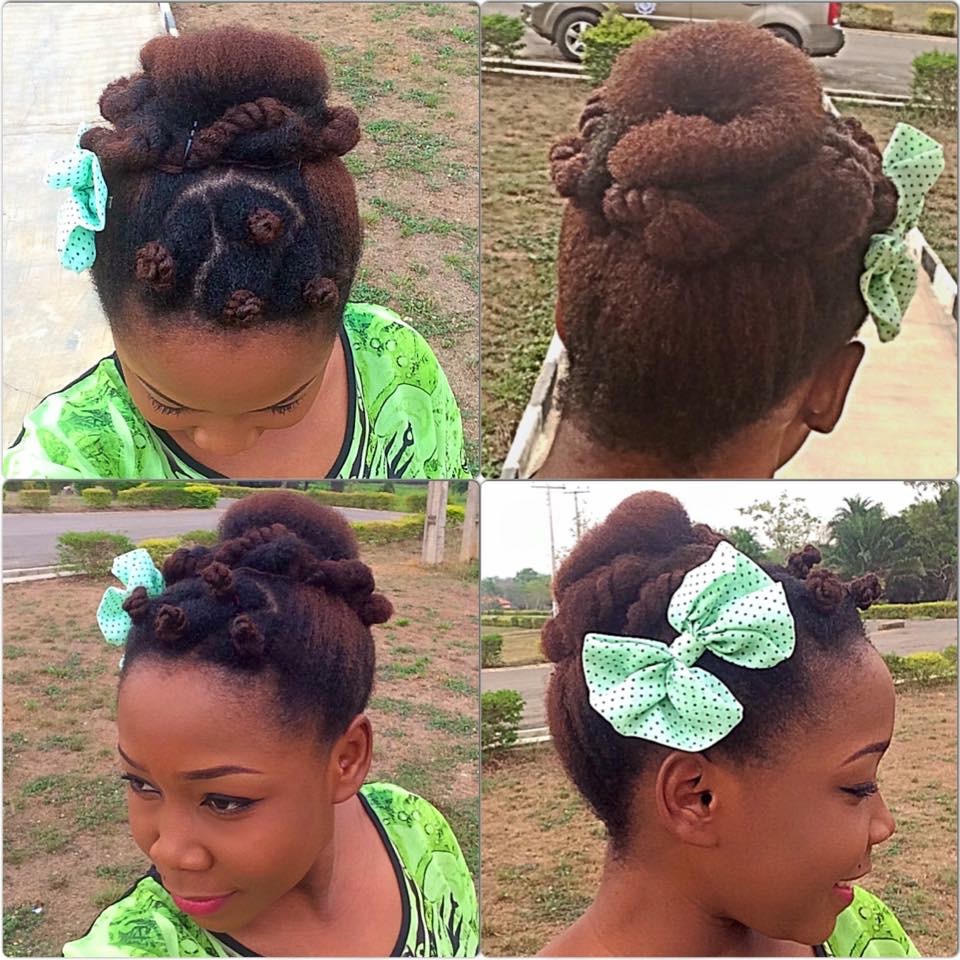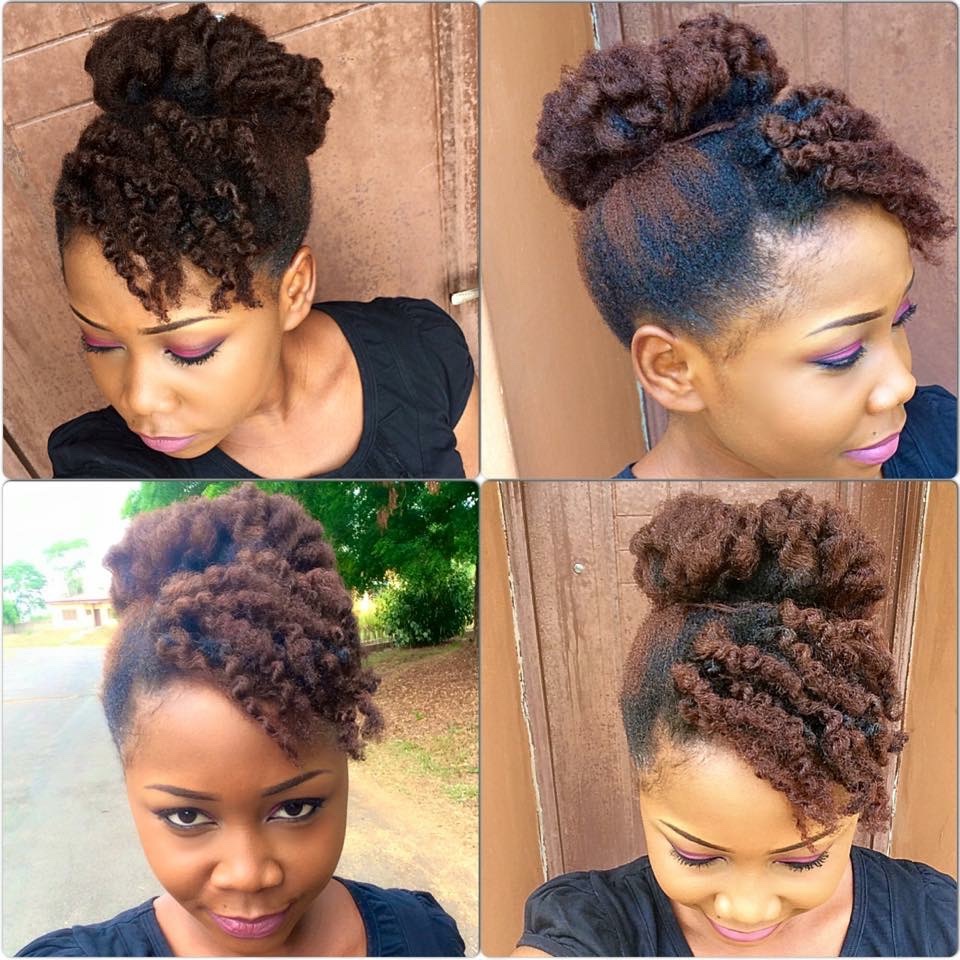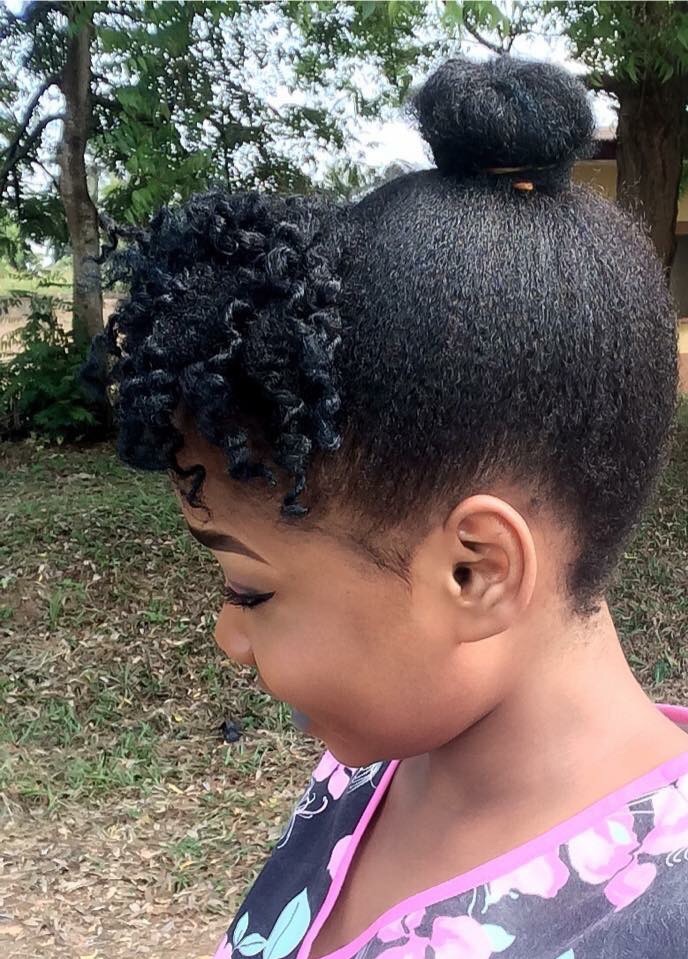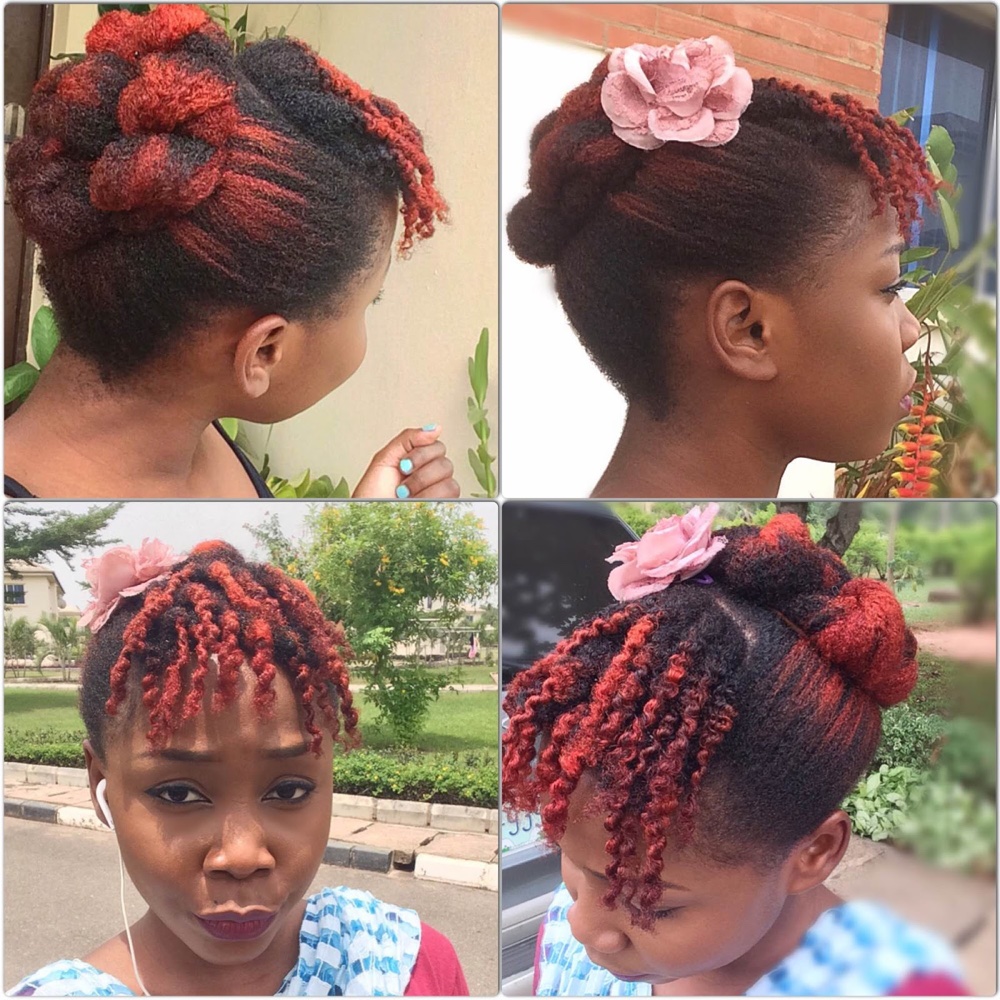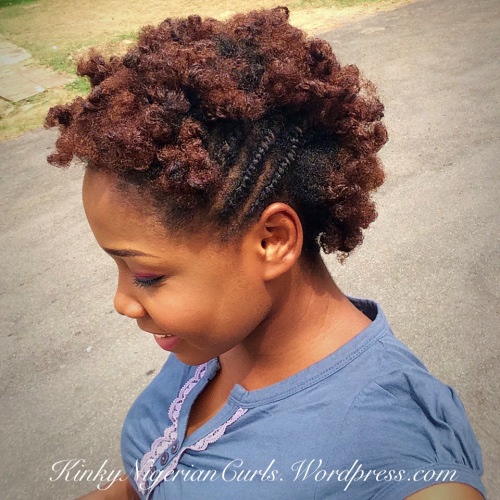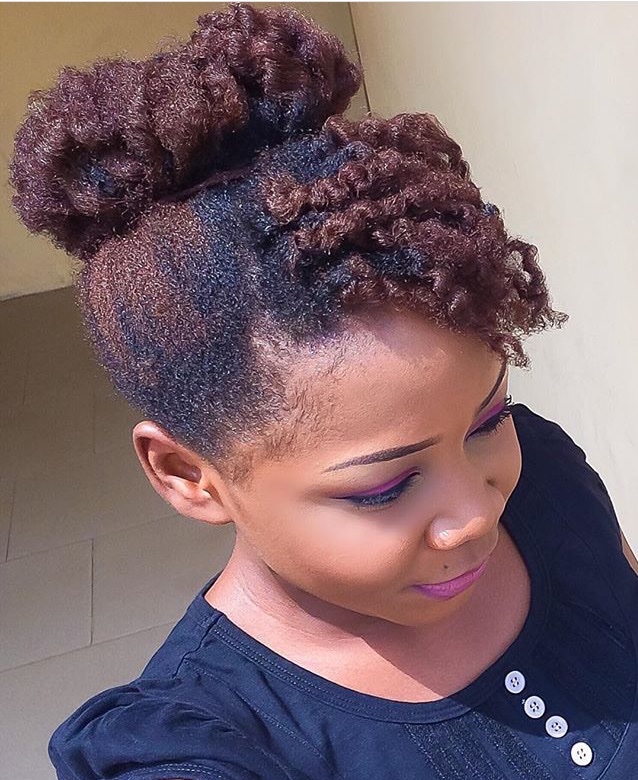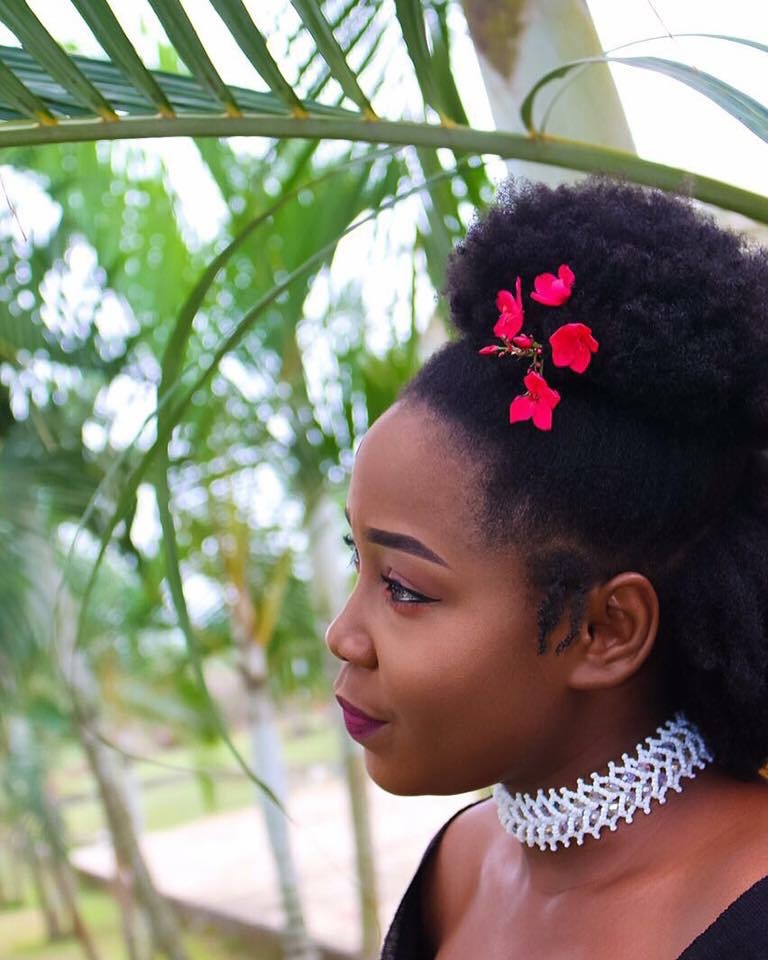 Thank you for sharing Ellen!
…
If you'd like to be featured, send an email to [email protected] and let's make it happen!