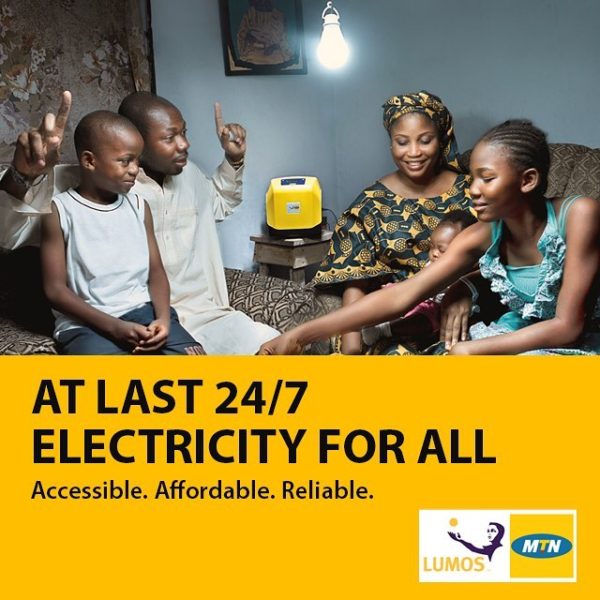 So, it is time to say goodbye to epileptic power supply, frustrating estimated electricity bills, high cost of petrol/diesel and noisy generators.
It's time to switch over to the Mobile Electricity device, or your very own 'Power in a Box'. The Mobile Electricity device is an alternative power supply device that only needs solar energy and an active MTN line to supply power for your appliances at home or your small business. It doesn't need the regular electricity or fuel to function. It works purely on solar power.
The Lumos Mobile Electricity Service powered by MTN provides up to 80 watts which can conveniently power household items like a small television set, radio, fan, PC or laptop, hair clippers, mobile phones, and 4 powerful LED lights strong enough to light a room for 5-6 hours.
The Mobile Electricity device comes with a converter that changes the power type from DC to AC to enable users plug in highlighted appliances without causing damage.
The project, which is part of MTN Nigeria's unwavering commitment to keep improving the lives and businesses of its esteemed customers, was recently launched in Abuja.
To get connected and experience uninterrupted and affordable power supply, existing and potential MTN subscribers can walk into MTN outlets across the country to purchase the Mobile Electricity device.
The service is provided on a lease-to-own basis with the cost spread over a 5-year term, payable in affordable payments via mobile phone from an MTN line. Customers also receive a full product warranty and after-sales service during the lease period, providing peace of mind and quality assurance.
__________________________________________________________________________
Sponsored Content