"He showed no mercy…said to me that I was going to drown in my blood" – CEO of Foston Musik's Wife Ajoke opens up on Domestic Violence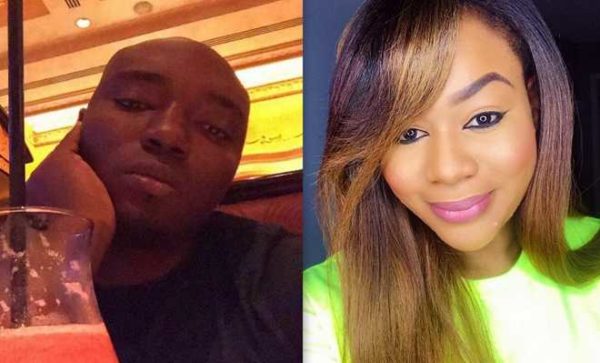 Yesterday, Patoranking's label boss, Foston Utomi (CEO of Foston Musik) posted a photo on Instagram with a caption that read:
When you're holding on to someone who doesn't want to stay. – There are certain people who aren't meant to fit into your life no matter how much you want them to. And the only ones truly worthy of your love are the ones who stand with you through the hard times and laugh with you after the hard times pass. Maybe a happy ending doesn't include anyone else right now. Maybe it's just you, on your own, picking up the pieces and starting over, freeing yourself for something better in the future. Maybe the happy ending is simply letting go and taking a bold step forward. MARC AND ANGEL
Following the post, Ajoke, took to her own page to open up on the domestic violence she suffered while they were together. Someone had left a comment on the post saying "Domestic violence is not allowed" and Foston sent her a DM asking if it was her that posted the comment. He went further to say that the post was not about her.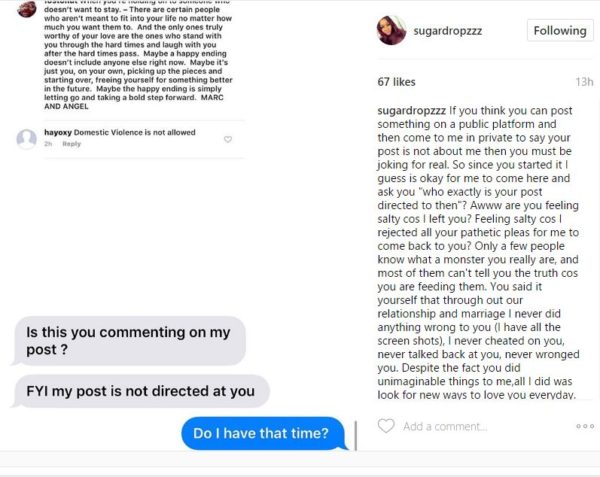 His estranged wife posted the exchange on her page and captioned:
If you think you can post something on a public platform and then come to me in private to say your post is not about me then you must be joking for real. So since you started it I guess is okay for me to come here and ask you "who exactly is your post directed to then"? Awww are you feeling salty cos I left you? Feeling salty cos I rejected all your pathetic pleas for me to come back to you? Only a few people know what a monster you really are, and most of them can't tell you the truth cos you are feeding them. You said it yourself that through out our relationship and marriage I never did anything wrong to you (I have all the screen shots), I never cheated on you, never talked back at you, never wronged you. Despite the fact you did unimaginable things to me,all I did was look for new ways to love you everyday. I walk around smiling, trying to be strong for my son but only I know how You have destroyed me, if my scars ever heal it would be a true miracle. Now to whoever this ghost account "hayoxy" is (I swear on my life and my entire family that I have no idea who it is, I'm not following Foston so I didn't even see the post until he sent me the screenshot) thank you but you honestly don't even need to fight for me. I haven't cried in almost 4 months now, that's enough proof that God has already fought for me. Now back to your post sir Uba, you will not have a happy ending oh! What happy ending? Let me just tell you right now- it's impossible! You beat me nothing less than 20 times in 3 yrs and attempted to murder me (MURDER) 3 times and you think you will know peace? It doesn't matter how much you have, unless your parents take you to a mountain for deliverance you will end up killing yourself mark my words. You bought me a Range Rover so you may buy your next girl (victim) a Bentley when you find her sure she will enjoy financial bliss but she will pay dearly for you are cursed. You know I'm your heart I was never with you for money, when we started I didn't even know who you were, I hadn't even heard Patoranking's Alubarika, my intentions and love was pure until I finally saw that you didn't deserve it. Respect yourself!
The mother of one then revealed how she was physically abused after they got married and how during a particular episode she was beaten to a point where she was nearly killed. She also shared proof of the abuse.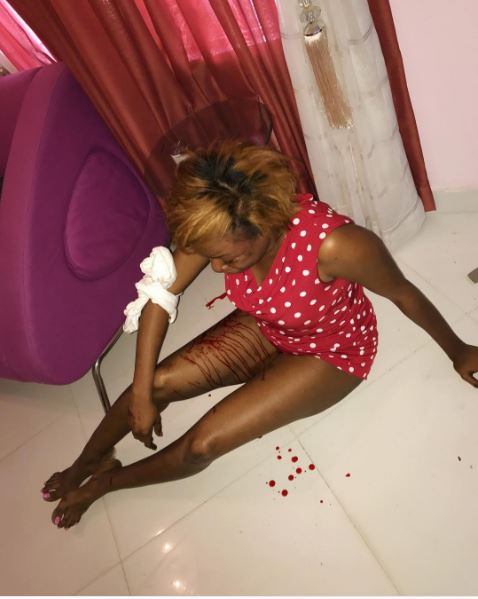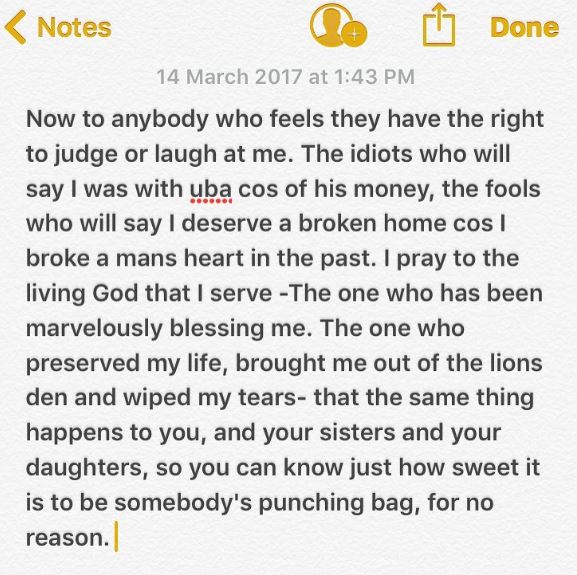 In a post she wrote:
In this day my darling husband saw his wife and mother of his child bleeding on the floor but was still hugging and puffing. Swearing on his mothers life that that was going to be my last day on earth. Swearing that he would "enter Instablog" as the next man who killed his wife. I can't help but imagine 2 conductors on the street fighting, 2 strangers. When one starts to bleed the other would think "ha make I calm down oh" talkleas of beating your defenseless wife who did Nothing to you (or please ask him, what I did, I would love to be able to make sense of this, love to know my offense). He showed no mercy,still said to me that I was going to drown in my blood. He locked all doors, even balconies invade I wanted to jump out! The man I loved striped to his underwear in front of my friend and the abuse went on for hours, he had 2 of his own friends in the house and even they weren't enough to stop him, he was exchanging blows with them, just to get to me. It was as though he had 5 men inside him,determined to kill me. I excaped only by the grace of God. My friend and I were running on the street with blood on me like this and people wondering what happened to us. And this was just one day. I can write a book on the living hell I lived. And it's you, who has the guts to bring this to instagram? You are not even worthy of being a role model to your son yet You think you a motivational speaker now?
Foston is yet to respond to these allegations.
Foston and Ajoke had their introduction in December 2015.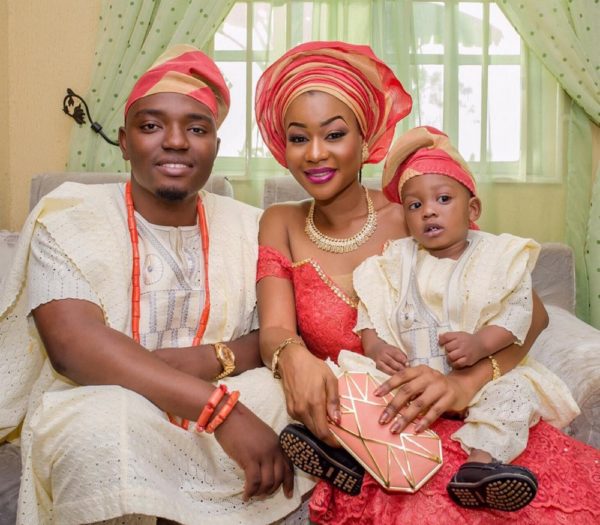 Photo Credit: Instagram – @sugardropzzz | @fostonut