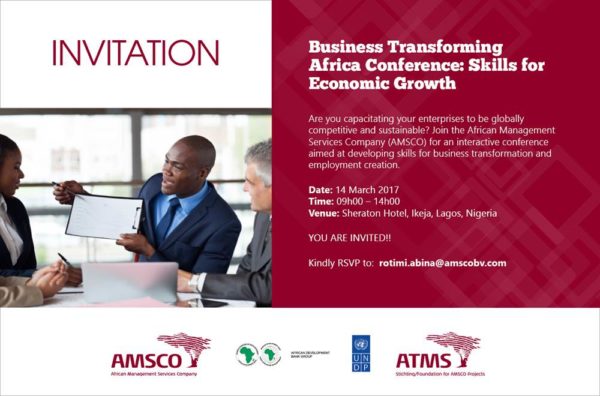 The African Management Services Company (AMSCO) is honoured to invite you to a thought leadership discussion conference aimed at supporting businesses in Nigeria to enhance skills for economic growth. This conference is ideal for senior executives and managers who hold management/decision making roles at various levels in an organization.
The AMSCO 2017 conference series is holding in seven Sub-Saharan African nations including; Nigeria, Ghana, Zambia, Kenya, Tanzania, Cameroon and Mozambique, the conference will give intense exposure to delegates on skills required for economic growth around the region.  Below is the schedule for Nigeria;
Date: Tuesday, March 14th, 2017.
Time: 09:00am – 03:00pm
Venue: Sheraton Hotel, Ikeja, Lagos
Cost: Free entry (by invite only)
The conference will have the following keynote addresses:
Session 1: Homecoming revolution: The future is now, a look at the African Diaspora
Session 2: Employee training: Cost or investment? Assessing the ROI of training
Session 3: The Changing Role of Human Resources in Business: From Service Provider to Strategic Partner
The keynote addresses will be delivered by experts in the field with wealth of experience; who are capable of effectively and efficiently handling the subject matter. The conference will also attract professionals in both public and private sectors.
Kindly confirm your attendance by sending mail to [email protected] or call +234 903 779 3455.
_____________________________________________________________________
Sponsored Content