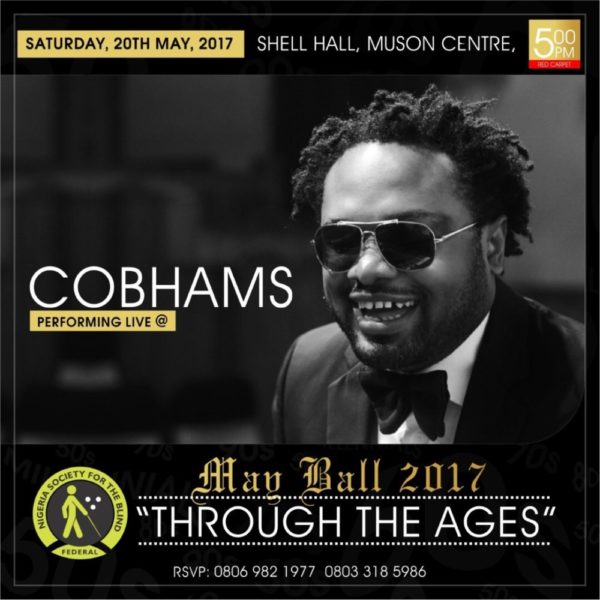 The Federal Nigeria Society for the Blind welcomes you to its annual fun-packed May Ball on Saturday, May 20th with the red-carpet starting from 5pm. The theme for this year is "Through the Ages", depicting how far we have come through the generations since inception in 1955.
Dress-code is "Fashion Through The Ages." We look forward to seeing you in your old-skool 50s, 60s, 70s, 80s, 90s and millennial outfits. Bring on the afros, bell-bottoms, clogs, clutch bags, bright colours, hippy, groovy and psychedelic outfits.
Date: Saturday, May 20th, 2017.
Time: 5.00 pm
Venue: Shell Hall Muson, Onikan, Lagos
Tickets are N20,000 and can be purchased online through www.nigsocblind.org. Attractions include performances by Cobhams, multiple raffle draws, comedy, dance and a 5 course meal.
In line with the Lagos at 50 celebrations, we will also be celebrating our heritage and our journey so far with a great compilation of our cherished history.
We look forward to seeing you as you come party with us. Through the Ages – the ultimate old-skool party!
The NGO, Federal Nigeria Society for the Blind, is a foremost boarding institution for rehabilitating those who go blind in adulthood whilst teaching them new skills to empower them to be independent entrepreneurs. Kindly visit our site for more details www.nigsocblind.org to find out more and purchase tickets or make donations. Alternatively, kindly call 08033185986 for more details.
—————————————————————————————————————–
This content has been published for free as part of BellaNaija.com's commitment to youth, education, healthcare and community development as part of our corporate social responsibility programme.