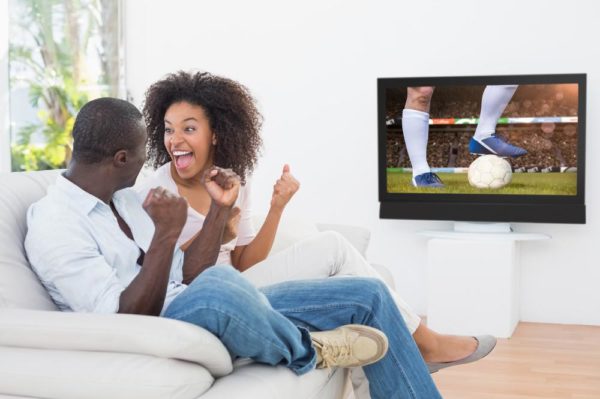 Football: the weird game where grown men/women in short shorts and a jersey, run around a large field, chasing after a small and inflated round object – spitting and tackling each other…all in the bid to kick the object into some kind of net-like cave. Usually, a person stands inside this cave hoping to stop the object from entering the space. Another person, perhaps a kind of prefect, also stands outside the lines of the field watching the players, waiting to blow a whistle, and possibly wave a yellow or red card at a select number on the field who are being a little too naughty.
The game sounds completely lame, but a number of people actually pay to watch it live; others gather friends and watch it on TV with chicken wings and beer. Yes…a large number of people around the world, mostly the male folk adore the game. It is a sort of language, tribe and religion all rolled up into one too, and as such, the inability to remotely care about it whatsoever severely makes one a social handicap.
The undeniable truth is that some people are not really into football…even when they claim to be. They just do not see the point of the game. This does not make them weird or boring either, however it tends to make things a little difficult for them, seeing as we live in a society where football is adored by so many. Here are 6 struggles of those who hate football.
Too many boring terminologies it's hard to keep up
Corner Kick, Offside, Penalty, Indirect Free Kick, Dribble, Back Pass…there are so may terminologies used to describe the game, it just makes everything so boring – you get a headache, or you are put off entirely. It's not an exam, so, why should you have to memorise all that? All in the name of understanding a game! Life should not be that serious, please.
You've never understood the point of the game
So, a number of grown men run around a large field shaking their 'slippers' behinds and showing off hairy legs chasing, kicking a ball and tackling each other. Eventually, a person kicks the ball into the opponent's net and a goal is achieved… Really? How does that even make sense? How is this "game" even remotely entertaining? It would be understandable if music is played in the background and a few of them take off their t-shirts and sway to the music…but no. They just run around chasing the ball…that's it.
Bae expects you to support his/her team
You do not like football; you are also tired of Bae zoning you out and not paying attention to you when the match is on…so you decide to compromise and support his team anyway. You endure a game with him/her, pretend to know who the players are, who the competing teams are, and even listen to Bae talk about them for hours.Bae then takes it a step further and requests that you do "and co" and wear the Man-U jersey with him. Uurggh
He also starts to kick up a fuss when you do not celebrate every win, or defend the team with as much fervor as he does…. this in turn gets you wondering why you even compromised in the first place.
You lose access to the TV you…because of Football
There is a match between Nigeria and Cameroon, and so every channel on the TV has to show patriotism by airing the match live. You favourite shows are cancelled or pushed to the next week, as a result… and that really upsets you. Other times, it's simply that you can't have access to the TV because everybody else wants to watch a game. You have no other option, than to sit and watch; or, at most entertain yourself in another way until you can gain access to the TV again.
Video game night also turns out to be FIFA night
Must everything be about football? Why make a video game too? Your friend invites you over for a video game night and you are excited. You already flexed you thumb and recounted the best ways to "finish him", but then you get to the crib and next thing you see on the screen is FIFA and you are asked to select your team. Really?
People assume you don't like sports because you don't like football
"You don't like football? Oh..I guess sports is not your thing then". Gosh. They do not like football. Period.
It can be so frustrating when people react that way after you reveal your loathing for football. Football is not equal to sports. The fact that one does not like football does not mean they do not like basketball, volleyball, swimming, e.t.c. Perhaps they just have a preference for a game that is more interesting or has more meaning.
Have you ever met anyone who does not enjoy football? No. Are you one? What are the things you can relate to?
Photo Credit: Wavebreakmedia Ltd | Dreamstime.com