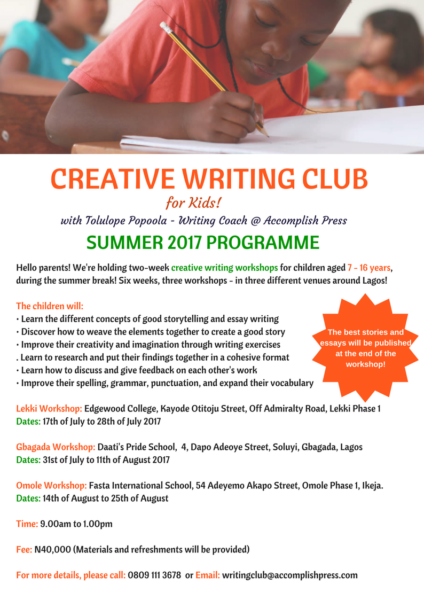 Hello, parents!
What are your plans towards engaging your children this summer break? Should they spend all the six weeks watching TV and lazing around all day? Or will you involve them in a fun and creative activity that boosts their skills and confidence? I think the second option is much better, don't you?
To achieve this summer break, Creative Writing Club has put up a Creative Writing Workshop for children aged 7 – 16. The purpose of the workshop is for them to engage their minds creatively, and improve their writing, reading and public speaking skills for two weeks.
In the first week, they will write a "fictional" story. They will create their story from scratch, given a concept. They will brainstorm, create characters, create an engaging plot, write a story, edit it and rewrite it. Then on the last day of the workshop, they will read their work to the class, and learn how to give and receive criticism.
During the second week, they will work on "non-fiction" writing. They will research into a topic, compile facts and figures, and write a detailed essay or report on their findings. They will also present this report to the class, and receive feedback, and suggestions for improvement.
At the end of the workshop, the best stories and essays will be published in a writing magazine that each child will receive at the end of the year.
During the workshop, the children will:
Learn the different concepts of storytelling and essay writing
Discover how to weave the elements together to create a good story
Create their own characters
Write a story of featuring their characters going on interesting adventures
Learn how to conduct research on a given topic
Learn to listen, read, discuss and give feedback on each other's work
Improve their grammar, spelling, and vocabulary
Improve their punctuation, especially with writing dialogue.
Ages: 7 – 16 years
Venues: 
Three workshops will run in July and August in three different venues, Lekki on the Island, Gbagada and Omole Phase 1 on the Mailand, so you can choose the one that is most convenient for you.
Lekki Workshop: 
Date:  Monday, July 17th – Friday, July 28th, 2017
Venue: Edgewood College, Kayode Otitoju Street, Off Admiralty Road, Lekki Phase 1, Lagos
Gbagada Workshop: 
Dates: Monday, July 31st – Friday, August 11th, 2017
Venue: Daati's Pride School, 4 Dapo Adeoye Street, Soluyi, Gbagada, Lagos
Omole Phase 1 Workshop:
Date: Monday, August 14th – Friday, August 25th, 2017
Venue: Fasta International School, 54 Adeyemo Akapo Street, Omole Phase 1, Ikeja, Lagos
Time (for all workshops):  9.00am – 1.00pm
Fees for Two weeks Workshop: N40,000 (Materials, snacks and drinks will be provided)
**Siblings who register together will get a discount.**
Please have your children/teenagers come along with a notebook, a couple of pens/pencils and perhaps a favourite book they enjoy reading.
Don't delay! To register your child (or children), please go to Summer 2017 Creative Writing Workshops to fill out the form now.
For any inquiries, please call 08091113678 or Email: [email protected]. We look forward to welcoming your children to the writing workshop!
For Payment: Acc name – Tolulope Popoola
Bank– Guaranty Trust Bank
Account number–  0011968574
Payments can also be made online via SimplePay Link. 
We look forward to welcoming your children to the writing workshop!
PS: If you're interested in a regular creative writing practice for your child/children after the summer workshops, we run a Saturday Creative Writing Club that your child can attend every week. Click here for more details.
————————————————————————————————————————-
Sponsored Content