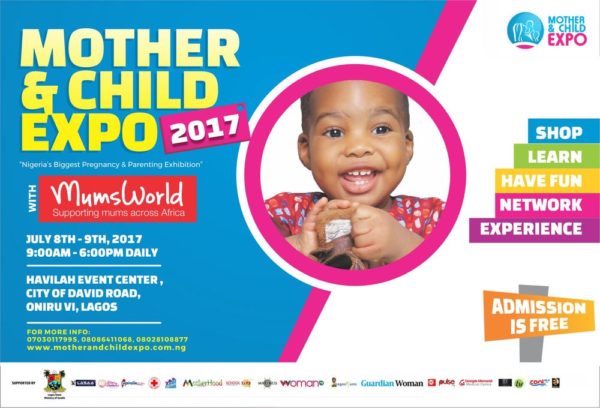 There are moments that create long lasting memories!!! The 4th edition of the Mother and Child Expo with Mumsworld (www.mumsworldafrica.com) is one of such event. Here are 5 exciting and captivating reasons spiced up with experiences to make the exhibition memories.
The Exhibition is billed to explore a mix of inspiring speakers and more demonstrations from highly regarded and beloved figures in the world of parenting and pregnancy, who will be addressing various issues and shedding light on how to handle pregnancy, parenting and nutrition.
If you love great bargains and want to get all your maternity, babies and children products at a great discount? Then the Mother and Child Expo is the place to be. You will meet over 50 various brands, dealers and exhibitors who would be selling at unbelievable prices. So get set and loaded to shop all you want.
Mother and Child Expo 2017 will be loaded with various experiential feature zones, created particularly to engage every attendee. We have children play area, mother and father's Lounges, diaper changing area and so much more. Fashion Show… you don't want to miss!
There will be several games and competitions to engage the entire family and great gifts to be WON. Get set to win with your Family!
Goodie Bags will be shared with all attendees coming for the Expo, and guess what….? Admission is free! So ensure you tell all expectant & actual mothers, friends & family to come to Shop, Learn, Experience and have fun with the entire family.
Exhibition Details
Date: Saturday, July 8th & Sunday, July 9th, 2017
Time: 9.00 – 6.00 pm daily
Venue: The Havilah Centre, by RCCG City of David, COD Road, VI, Lagos
For more information on Mums World Africa or to join the biggest community of mothers, please visit www.mumsworldafrica.com
For more information on Mother and Child Expo, check us out on social media:
Facebook: www.facebook.com/motherandchildexpo
Twitter: www.twitter.com/macexpong
Instagram: www.instagram.com/motherandchildexpo
——————————————————————————————————————
Sponsored Content