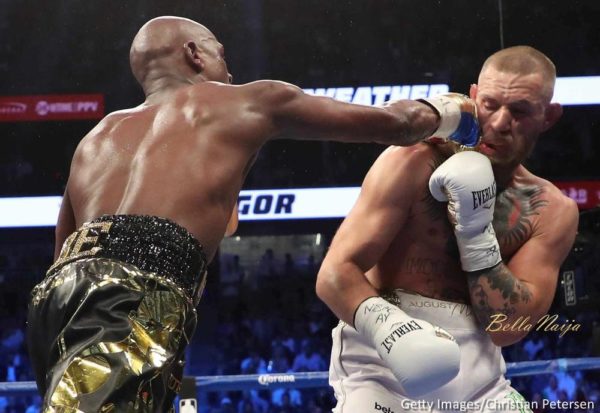 One of the biggest fights in the history of boxing took place Saturday night at T-Mobile arena and it was between boxing champion Floyd Mayweather Jr. and mixed martial arts star Conor McGregor.
40-year old Floyd, who retired 2 years ago after beating Manny Pacquaio to claim his 49th professional victory, began dominating from the fourth round and wore McGregor out up until the 10th round before taking him out.
Like everything in life, lessons can be drawn from this fight. Here's what I think are the unpopular ones.
Making "Noise" isn't Always Bad…
…If not there'll be no PR practice! People saying McGregor was a noise maker who couldn't deliver on the promises he made.
Well, look at it from another angle. He made noise about winning the fight, trained the hardest, but in the end couldn't get the victory. That is life. You can be so sure and yet lose. Take it in good faith, and keep pushing.
Moreover, the noise making got millions of people interested which is equal to millions of money. Maybe that was his goal after all! This takes me to my next point.
Success is Relative
McGregor's definition of success Saturday night may be to get in the ring with a boxing legend, maybe that's why he was so happy and making noise about it all the while.
It may be to make money, which he did. Well, at the expense of a battered face and the symbol of internet memes for time to come. Or it may be to last to the 5th round. Who knows! If any of the above is the case, dude is a success.
In case you didn't know, McGregor landed more punches than his counterpart in the opening portion of the fight and significantly more than Pacquiao managed two years ago.
Yeah, some may want to say "set big goals" e.t.c. While that is true, it doesn't make setting small goals false. You feel fulfilled when you get something you want to be done, done, no matter how small. You need that positive feeling to also get more things done.
I remember when Nigeria played Tahiti in the Confederations Cup of 2013. We beat them 6 – 1 but when they scored that goal, it was as if they lifted the trophy. The Tahitian players on the pitch were not professionals, they came there to have fun, and then they scored a goal against the reigning African Champions at the time? Bruhhh that is success.
Learn to Stay in your Lane but Don't Fear Trying Something New
McGregor, a mixed martial arts star, entered the ring with a boxing champion with no defeat but 49 professional wins! The only odd in his favour was age, but that wasn't enough. Mayweather's experience trumped the MMA don.
It was Mayweather's turf, Boxing (Mayweather's) rules, and Mayweather's crowd.
If this happened in a cage? Well, we don't know what the outcome would have become, but the odds would have been more on McGregor's favour. You can be good at many things, but don't forget to be a Master in one. Keep your eyes on that one!
Entertainment Sells
It's very simple: people are interested in it. If you find what people are interested in and give it to them, you'll make money.
There are talks in some quarters that the whole fight was a script. Whether that is true or false, people paid to watch the match because they wanted to see what will happen and not want to be told.
There are definitely may things to learn from this. Do you have more? Please share.