For years, I dreamt of visiting Seychelles. Being seated on pristine white beaches, watching the sun paint the sky magnificent hues of gold as it said goodnight; star gazing snuggled into a single entity with the love of my life – these thoughts filled my imagination. Yes, I'm a hopeless romantic, but have you seen the pictures? Seychelles is an enabler.
That my dreams were crafted within the lap of luxury, all lovey dovey is justifiable, given that Seychelles is well known for its luxury resorts and romantic ambience. Alas, 2017 rolled in with my 25th birthday in tow, with no 'bae' and millionaire status still pending. Still, I enjoyed 5 days in paradise, on a budget. Here's how you too can plan the perfect holiday to Seychelles.
Getting There
Not even my wildest imaginations prepared me for the arrival I was privy to, fastened on the third best seat on the plane, right behind the Captain and copilot. The clouds parted revealing what could simply be described as breathtaking; a type of awe and speechlessness a mother experiences when holding her new born child for the first time.
As a Nigerian citizen who is affected by waka waka (wanderlust), I'm constantly frustrated by the restrictions of my passport. I bet you are too. Relax, this isn't a "woe is our life fest" I come bearing good news: Seychelles is visa free for us! Immigration requires that we arrive with a valid passport, return ticket, hotel booking, proof of sufficient funds, yellow fever vaccination card, to  guarantee us an entry permit for 30 days on arrival. The process is a walk in the park and doesn't require third party companies; save your money for the adventures ahead.
Flying directly may cost you an arm and a leg. I found connecting flights to be a cheaper option – Kenyan Airways or Ethiopian Airline being my preferred choices. Avoid traveling during the peak period of May to August, the best bargains are between the December and March off-season. Date flexibility, and booking months in advance will also save you a lot of cash.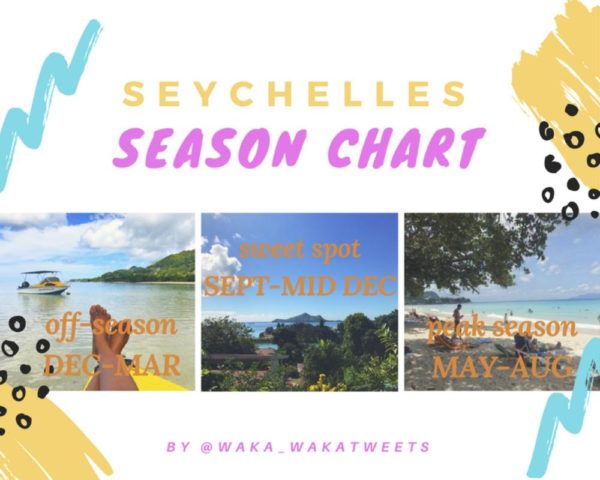 Flight – $355
Visa – Free
Where to Stay
The biggest mistake intending budget travelers make during travel prep is googling "accommodation in Seychelles". You're directed to pricey resorts first; trust me, the cost per night is frightening – runs into thousands of dollars.
Exploring affordable options as low as $50 dollar per night on AirBnB is assured to be kinder to your bank account. Worry not! Every nook and cranny of Seychelles is picturesque, you don't need to stay in the resorts to enjoy and capture idyllic ambience.
I'm a certified CouchSurfer. Being hosted for free by fellow members from the travel community platform is one of the many perks I enjoy. On Mahe Island I didn't pay for accommodation, but on La Digue I found a creole-styled cozy self catering called Vanilla Guest House for about $38 per night
La Digue – $76
Mahe – Free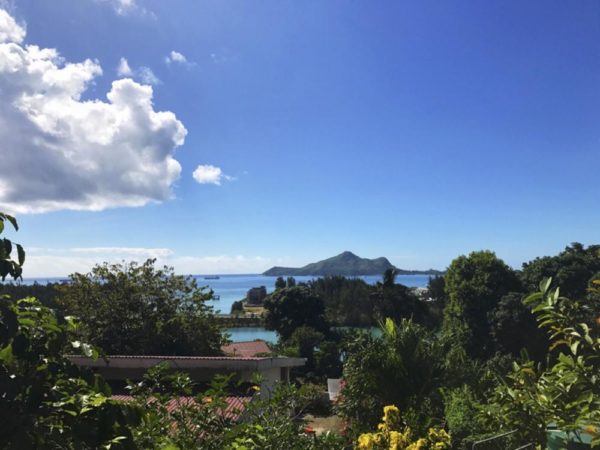 Getting Around
Seychelles is one of the safest places I've ever visited. I'm talking scantily clothed women moving freely in public transportation without harassment or catcalls; evening strolls without fear, doors to homes left open. Public transport is as safe as it gets.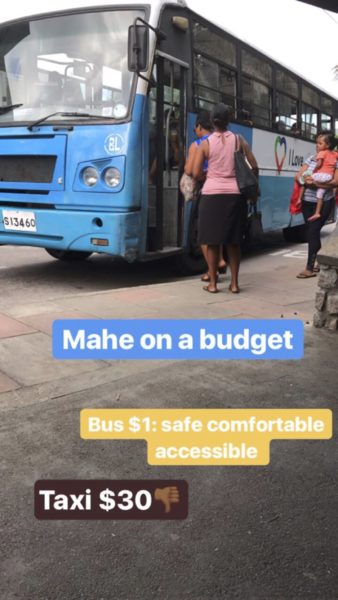 Mahe and Praslin operate accessible bus services that run through the islands daily. The bus schedules are duly updated on the Seychelles Public Transport Corporation website. One trip costs less than a dollar, which is quite a steal in comparison to $30 charged by the taxi drivers.
La Digue, Seychelles' third largest inhabited island resembles a frame stuck in slow motion, especially if you're visiting from a city like Lagos, where everyone is in a hurry. The island's only means of transportation is bicycles. Once upon a time ox-carts could be found carrying people and goods, but uninvited modernisation snuffed it off the cobbled streets and trails. Bicycles can be rented per day at the jetty.
Island hopping between Mahe, Praslin & La Digue isn't budget friendly to say the least, I would have spent less if I remained on Mahe.
Bus fares – $11
Inter Island Ferry – $165
Bicycle fee – $15
Food
Filtering your accommodation search to display self catering options can save you about $200 over 5 days because you get to cook your own meals.
If you're like me who wouldn't travel over three thousand miles to continue slaving away in a kitchen, buy Take Away. Take Away is Creole food sold at local eateries for as low as $5. I washed down the tasty meals with inexpensive drinks bought from the supermarket.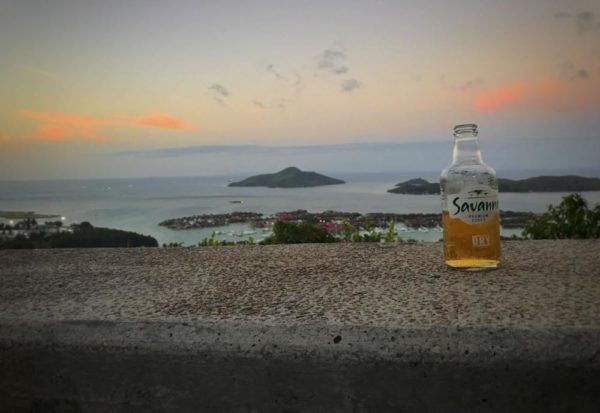 Maybe splurge on one fancy, fine dinning experience. Do it for the 'gram. Pepper dem. How will that your nosey bad belle friend know you're living la vida loca.
Food – $99
Drinks – $42
What to Do
Activities on Seychelles range from the chilled out to adrenaline pumping: beach bum on the world's most beautiful beaches; see the giant tortoises during nature walks; hike through tea plantations up to the 667 meters peak of Morne Blanc; snorkel alongside Whale Sharks and more.
A lot of activities are priced for parties larger than 1, so if you're alone there's no shame in flashing your best smile and asking for a bargain. Another tip I found useful was seeking out smaller operators rather than the big names. Better still, engage in activities that don't require guides or operators.
I paid $38 to Belle Petra for snorkeling instead of the $100 being charged by the bigger operators.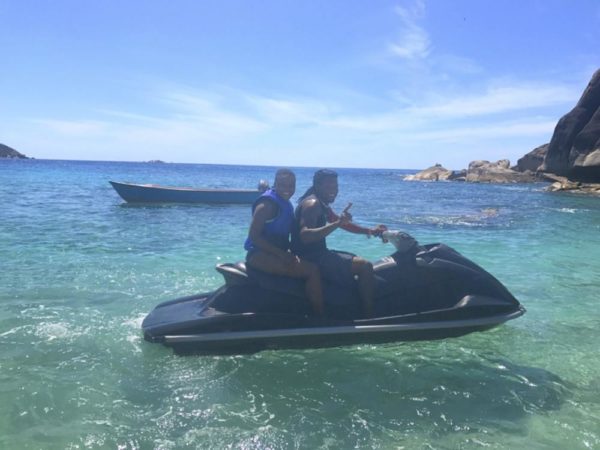 L'Union Estate Admission – $8
Snorkeling – $38
Botanical Garden Admission – $8
Hike to Nid d'Aigle – free
Motorbike Riding Lessons – free
In total, about $817 went into exploring Seychelles. I know I would have spent a lot less, if I adhered completely to all the tips shared here, but I believe budget travel is about spending money smartly, while engaging in activities you've dreamt up for years. It is not about denying yourself life's simple pleasures.
You don't need to break the bank to make beautiful memories, and Seychelles is all the proof you need.
So pack your bags, the Islands are calling!