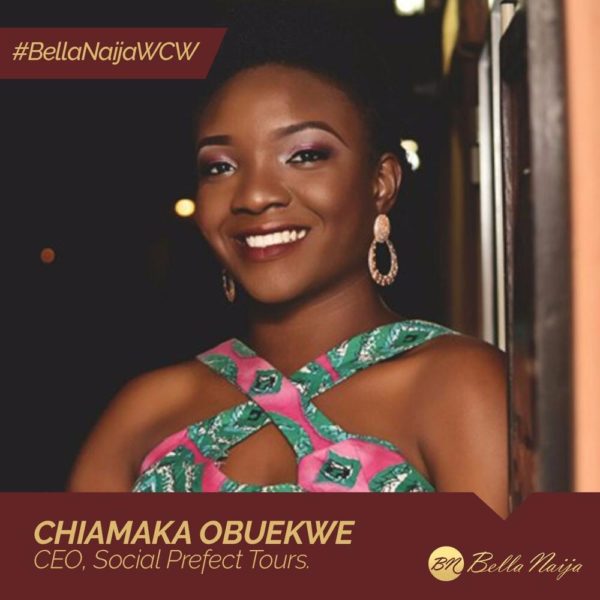 One cannot be classified as a salesman if he does not let people know what he sells. Not telling the story of your product or services is tantamount to winking in the dark – you are doing something, but no one is seeing it.
Sadly, tourism in Nigeria suffers this fate. While tourist attractions are in no short supply in the world's most populous black nation, what is lacking, among others, is showcasing these beautiful sites.
Our #BellaNaijaWCW this week Chiamaka Obuekwe is changing that narrative one tourist site at a time.
Chiamaka is the Chief Executive Officer of Social Prefect Tours, a travel brand which "organises group tours, school excursions, corporate retreats, holiday packages and also offer tour guide services within Africa, especially in Nigeria to educate people about the beauty within."
If you attended secondary school in Nigeria, "Social Prefect" should be familiar to you. For those who didn't, the Social Prefect is the student responsible for planning, organising, and overseeing all social activities.
An apt name for a company which was born out of Chiamaka's passion for adventure and travelling and also her desire to connect with people and bring them together.
Chiamaka founded the company because of her love for travel and adventure. After visiting an African country where she saw many foreigners like her in the country for recreational tourism, she made up her mind to begin telling the stories of the beautiful cities in Nigeria she had visited.
She began sharing her experience visiting Nigerian tourist sites and garnered lots of followers who couldn't believe Nigeria had such beautiful places.
Due to popular demand, she founded Social Prefect Tours in 2015 to organise group tours for her blog readers. Harnessing the power of social media, Chiamaka began attracting more and more readers interested in joining her tours.
In 2016, she left her job to focus on her business and has been growing tremendously ever since. The brand has also organised tours to Ghana, Togo and Benin Republic.
She also worked with South African Tourism for Indaba 2017, and the Bauchi State Government for the Explore Bauchi campaign.
She has been featured on Guardian, This Day, PUNCH, Ebony Life TV, Wazobia TV, Classic FM and was also selected among top 50 Nigerian women to be celebrated by Maggi during its 50 years anniversary campaign.
While the Nigerian government needs to do more for local tourism in terms of providing the necessary infrastructure and security, Chiamaka is playing her part as the unofficial storyteller and advertiser for the country's tourism sector and we are rooting for her!