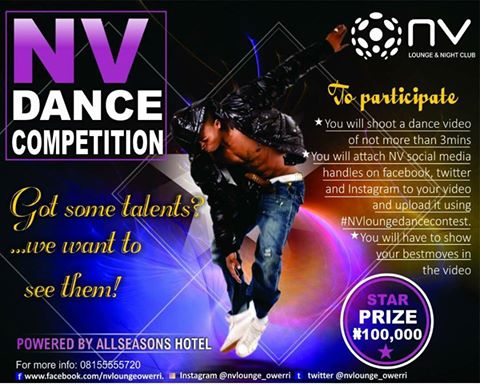 Hey guys! We have got great news from NV Lounge Owerri. NV Lounge is sponsoring a dance competition…whoop whoop! Do you think you are a talented dancer, you've got great moves and can swerve on NV lounge's dance floor? This competition is for you!
To enter;
Upload a not more than 3 minutes video on Facebook , Twitter and Instagram showing your best dance and club moves using the hashtag#NVloungedancecontest. Attach the social media handles of NVlounge Owerri to your video and TAG your video to those handles.
The individual/group with a video having the highest likes, comments, shares and most creative and entertaining content wins a whopping 100,000 Naira, gets to be hosted at NVlounge Owerri and will be announced on our social media pages. DO NOT CHEAT!
Get busy, shoot your video, and tell your friends to like, vote, comment and share!!!
Entries to the competition close Thursday, 5th September,  2017
—————————————————————————————————————————–
Sponsored Content