The 30th Most Beautiful Girl in Nigeria is going to be crowned tonight at Eko Hotel and Suites, Victoria Island, Lagos.
Ik Osakioduwa and Victoria Pepple have been announced as the hosts of this prestigious event. It's set to be a night of glitz, glam, and of course beauty!
36 beautiful contestants are vying for the coveted MBGN crown and a chance to represent Nigeria at the Miss World pageant.
The live show is happening right now and you can catch it on DStv on Channel 252.
If not, enjoy all the live updates here
..
07:47pm
The stage is set, the judges' places have been set and the elegant guests are arriving.
08:o7pm
Bridget and Anthony take the red carpet interviewing guests, everyone is looking forward to a fun event.
08:21pm
Interesting people on the red carpet, great personalities, and great vibes. The theme for this year's pageant is Gender Based Violence. We've also spotted the beautiful Sola Sobowale and MBGN 2013 Anna Banner!
The theme for #MBGN2017 is Gender Based Violence ? which we ALL must strive to eradicate. It's also #MBGNAt30 ?

— BellaNaija.com (@bellanaija) September 15, 2017
08:33pm
Wale Ojo steps on the red carpet looking extra dapper in a blue tux!
08:45pm
Backstage selfie! Miss Tourism UN World 2015/2016, Ebele Enemchukwu takes a quick selfie with some of the contestants.
08:47 pm
Rich cultural drum and dance performance by the Atunda Band.
08:57pm
The show is about to begin in full, now the National Anthem beautifully sung by Sandra Osamor ??
09:00pm
Quick break! Here are some nice red carpet photos from Instagram while we wait.
09:04pm 
The contestants are dancing to Samankwe HarrySong by Timaya ????
09:09pm
No blues around here, HarrySong is on stage!
09:14pm
Let's go back out to the red carpet. IK Ogbonna, Stephanie Linus spotted and they didn't come to play!! Stephanie looks trés chic in her pink dress.
09:15pm
Well, hello Alex Ekubo.

09:17pm 
First look at the fabulous hosts Ik and Victoria! Both looking fabulous, as expected.
09:20pm
Announcing the judges Lanre Tejuoso, Her Excellency Olufunsho Amosun, Producer of Banana Ghost Biola Alabi, Gozie Ochuba, Ogechukwu Ochaba and renowned actress Stephanie Linus.
09:23pm
A trip down memory lane. We see the journey of different queens from the inception of MBGN in 1983 till date narrated by Jaj Da Meccadon.
Mehn, the moment #AgbaniDarego won Miss World in 2001! How did you feel that day? #MBGN2017 #BNxMBGN2017

— BellaNaija.com (@bellanaija) September 15, 2017
09:35pm
We see what the girls got up to. From the beach day, kayaking activities, talent night, to daily dance and catwalk sessions.
09:40pm
Performance on Gender Based Violence.
09:43pm
Welcoming the contestants dressed in traditional wear starting with Miss Abia!
09:47pm
The ladies are gorgeously dressed in their traditional attire rocking to traditional beats.
09:52PM
An energetic performance from Miss Enugu.
Absolutely love Nigeria's diverse culture. Really beautiful ? #MBGN2017 #BNxMBGN2017

— BellaNaija.com (@bellanaija) September 15, 2017
10:02pm
Presenting world renowned gan gan player Ara (Thunder) with an electrifying performance.
10:11pm
Red carpet roundup while they go on a commercial break.
Adaeze Yobo and Carolyna H
The outgoing queen Unoaku Anyadike
10:16PM
Time for everybody's favourite category Swimwear showcase ?
10:2opm
The black swimwear showcase is over, its now time for the white, pink and blue swimwear.
10:23pm
Presenting the 36 contestants as they look radiant in their bikinis and scarfs.
10:27pm
Melanin popping on the runway through all the colourful bikinis!!
Who is your current favourite contestant?
Miss Imo is the favourite to WIN based on feedback on #BellaNaija. Let's see what happens #MBGN2017

— BellaNaija.com (@bellanaija) September 15, 2017
10:39pm
Just for fun, some beauties in the audience walk the runway representing Benue, Bauchi and Imo.
10:43pm 
Host Ik is keeping the audience entertained with his witty comments and hilarious jokes.
10:45pm
Who else caught this moment?!
Caption this! #MBGN2017 #BNxMBGN2017 pic.twitter.com/lkbHxiLBsD

— BellaNaija.com (@bellanaija) September 15, 2017
10:51pm
The contestants are back in evening wear. They're dressed like royalty!
10:54pm
Wow, Miss Bayelsa's dress is breathtaking!
Wife material 100 yards ? https://t.co/NrvEJnj3NW

— irelateblogz.com (@iRelateBlogz) September 15, 2017
11:04pm
Lovely dresses, beautiful ladies walking down with regal gait. Miss Niger tripped but regained her stance and waltzed out.
11:09pm
One final look at all the contestants in their beautiful evening wear.
11:12pm
The tension is building up. Who will be crowned Most Beautiful Girl in Nigeria 2017?
11:15pm
Cake time! Happy 30th birthday MBGN!!
11:20pm
A vote of thanks by Guy Murray Bruce representing Ben Murray Bruce.
11:26pm
Miss Amity nominated by all the contestants; Miss Yobe!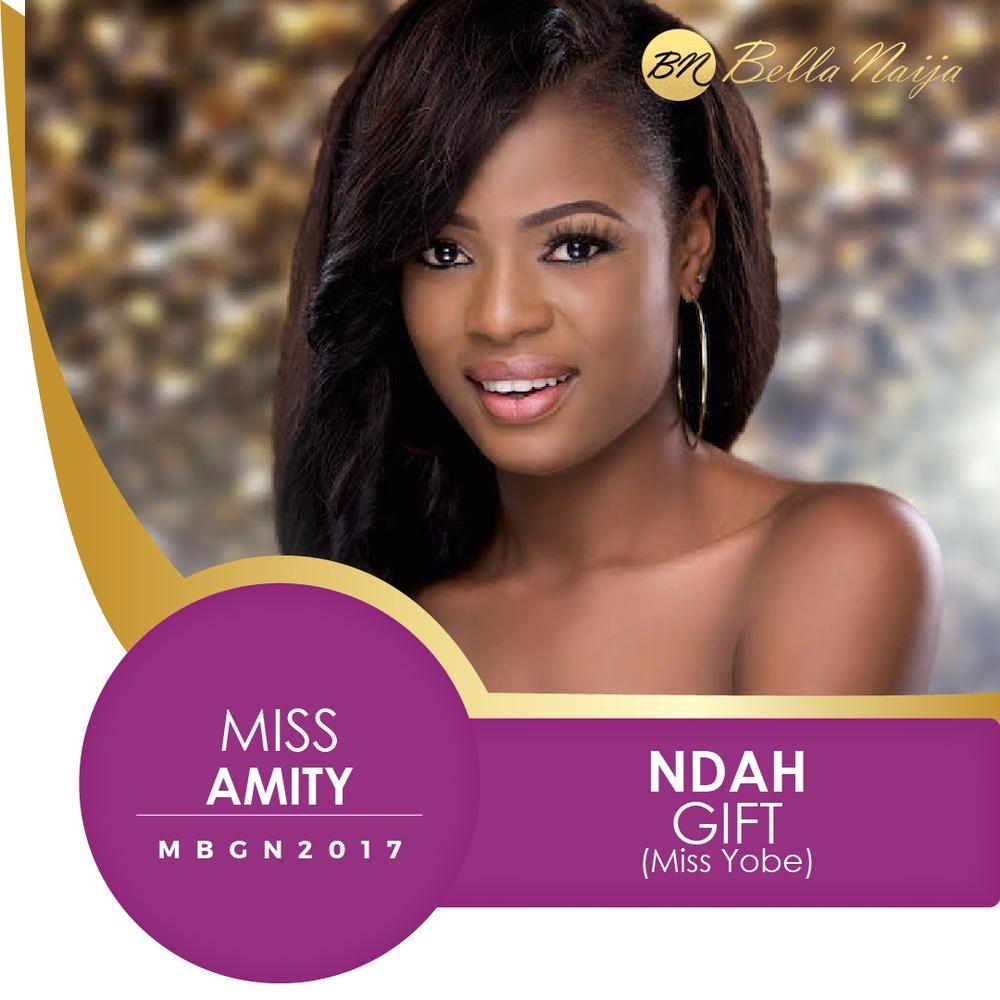 11:27pm
Miss Photogenic award goes to Miss Anambra!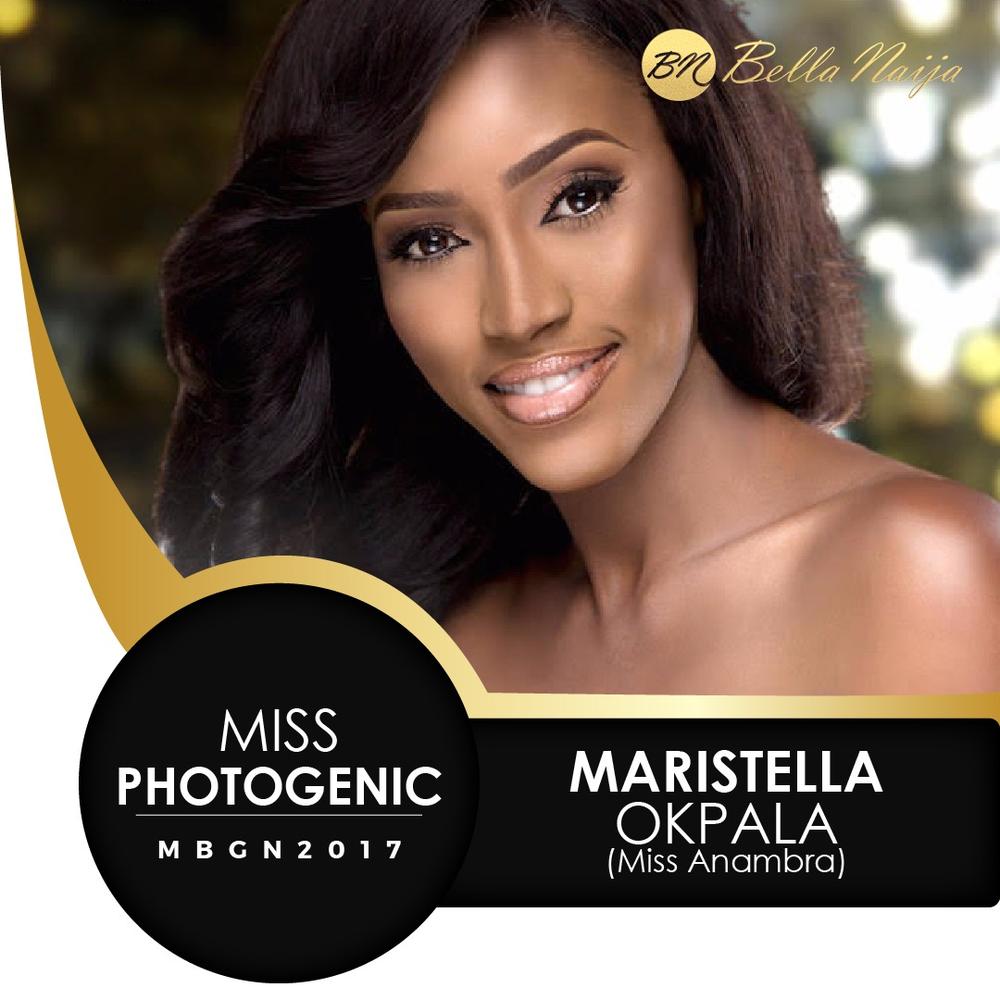 11:28pm
The award for the Model of the Year – Miss Kebbi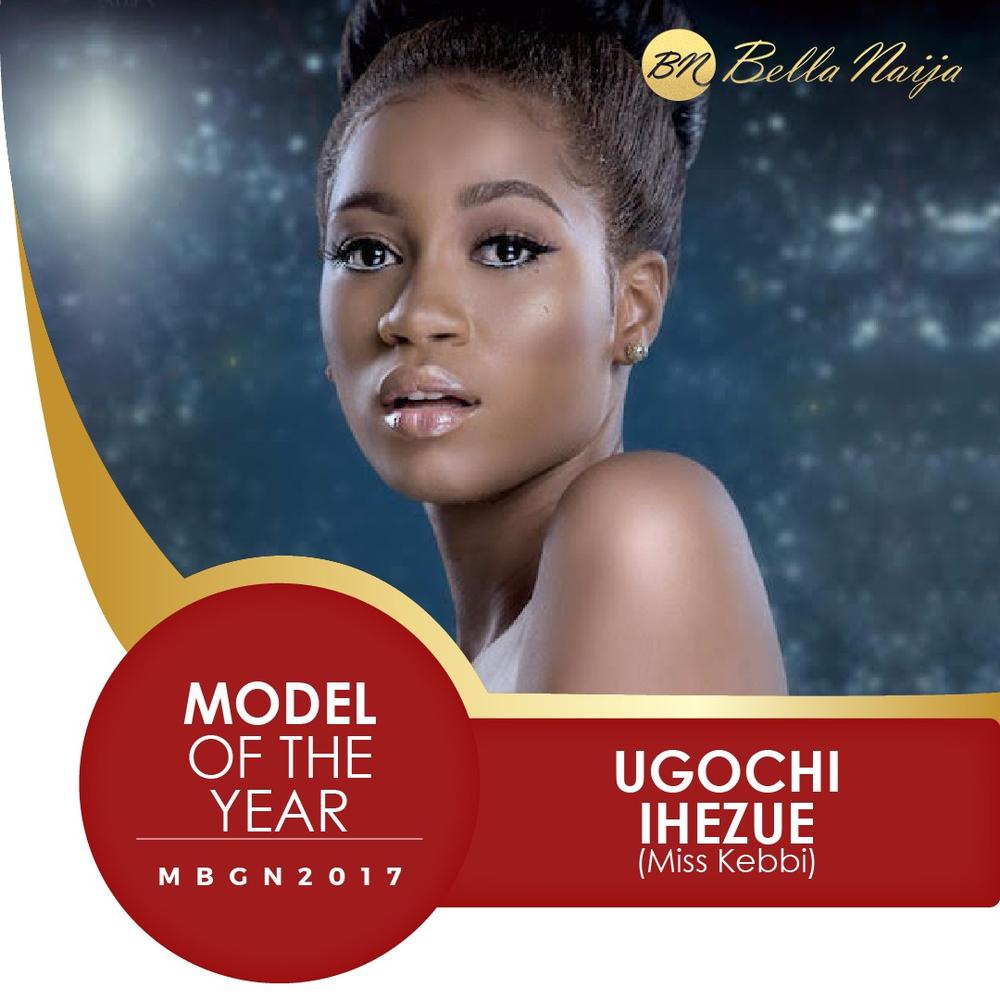 11:29pm
Miss Sokoto wins the Best Traditional Costume of the night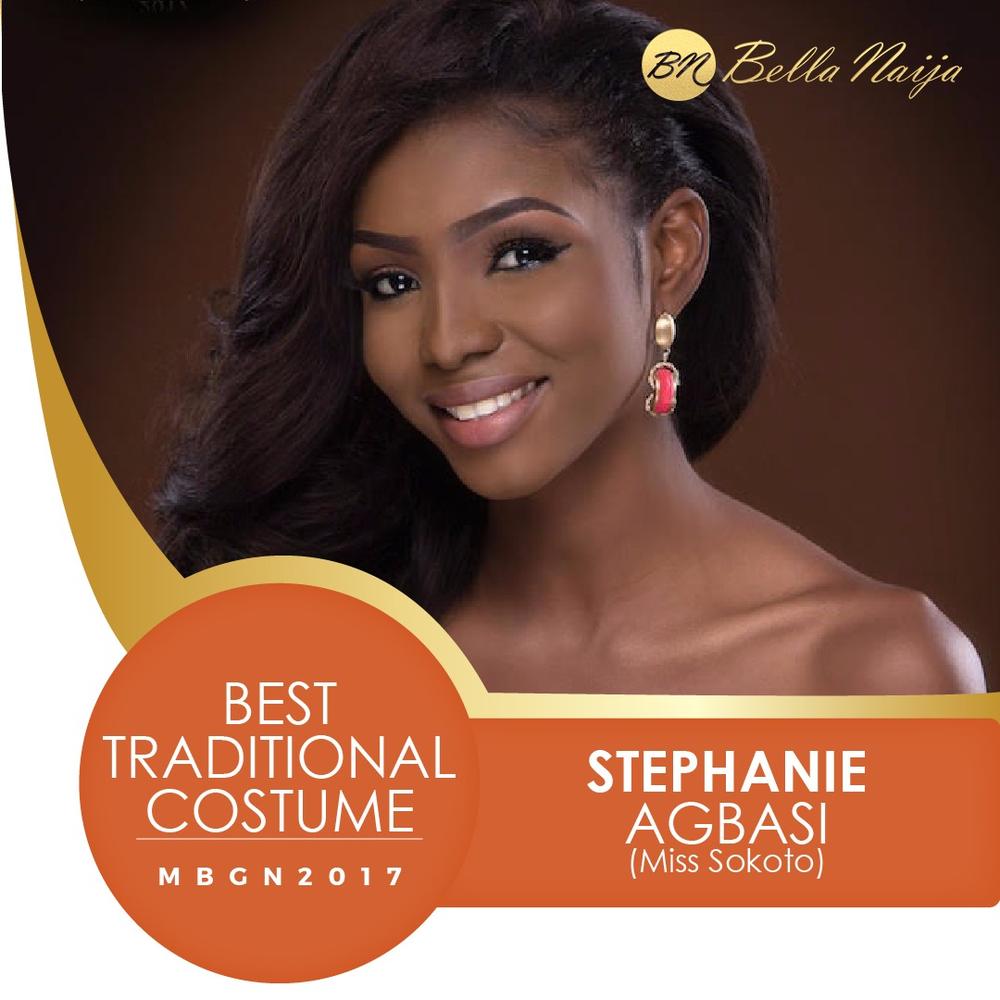 11:30pm
The Best Evening Wear award goes to Miss Bayelsa, yes!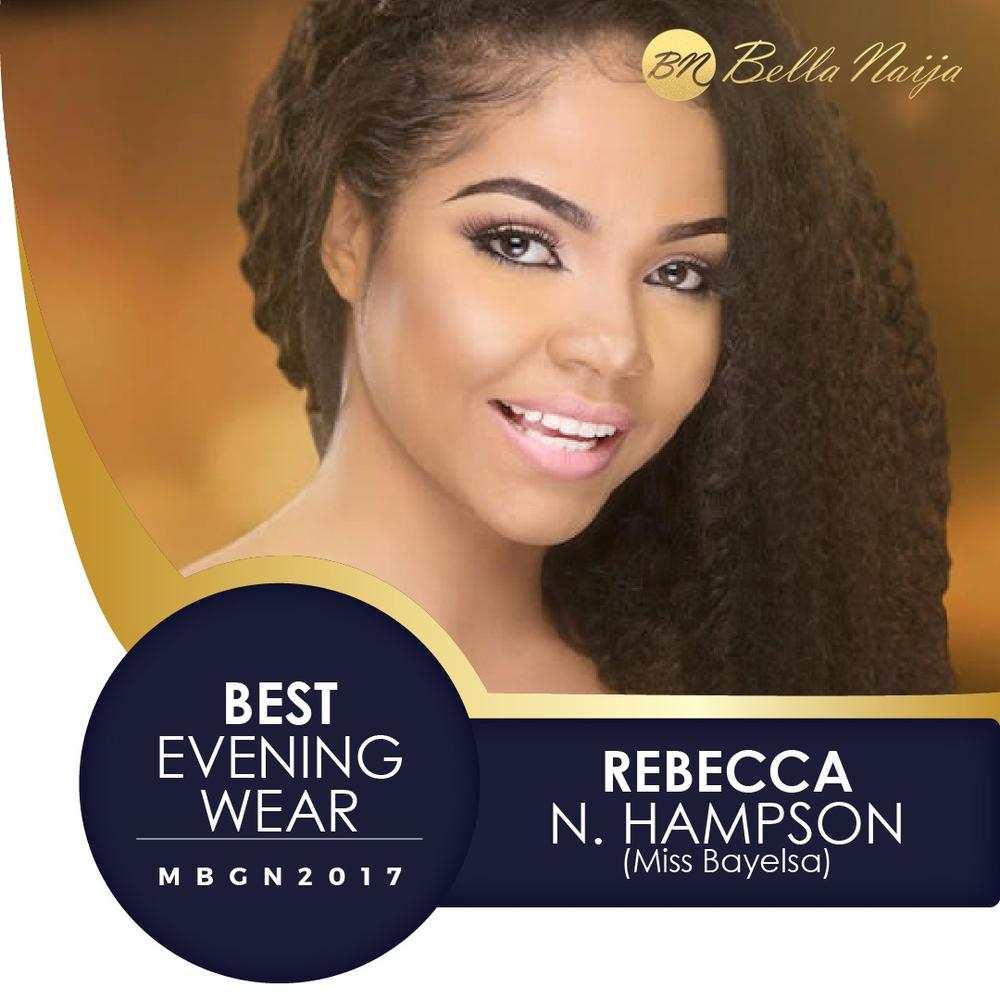 11:32pm
Tension is in the air, here are the Top 15 contestants!!
Miss Abuja, Miss Bayelsa, Miss Oyo, Miss Imo, Miss Plateau, Miss Anambra, Miss Kebbi, Miss Ondo, Miss Lagos, Miss Nassarawa, Miss Edo, Miss Abia, Miss Sokoto, Miss Kwara and Miss Niger.
11:43pm
Time to turn up! Olamide is here!!
11:50pm
The audience is having a great time, we see Denrele throwing some hot steps to Shakiti Bobo ??
11:58pm
We welcome back the beauty queens!
12:00pm
It's a tough decision that must be made. Who will wear the crown?
The judges are busy deliberating.
12:10am
Here are the Top 5!
Miss Bayelsa, Miss Sokoto, Miss Plateau, Miss Kebbi, Miss Oyo!
12:15am
Questions rounds!!
12:16am
Miss Bayelsa reveals her dress is actually heavy and made from pipes.
Her question: What natural disaster occurred recently?
Her answer: The Benue flood
12:19am
Miss Sokoto steps forward
Her question: What is to say you are not here just for fame?
Her answer: I'm here because I want to serve. It's a form of duty to your country at a national and at an international level.
12:22am
Miss Kebbi, Miss Oyo and Miss Plateau answer their own questions.
12:31am
"It was an honour to wear the crown" the outgoing Most Beautiful Girl in Nigeria Unoaku Anyadike presenting her outgoing address.
12:40am
Musical interlude by DJ Smooth 
12:44am
All the ladies come back out in preparation for the big announcement!
12:47am
The moment is here, Guy Murray Bruce here to announce who will be crowned the Most Beautiful Girl in  Nigeria 2017.
12:48am
Fourth Runner-Up – Miss Bayelsa
Third Runner-Up/Miss ECOWAS – Miss Oyo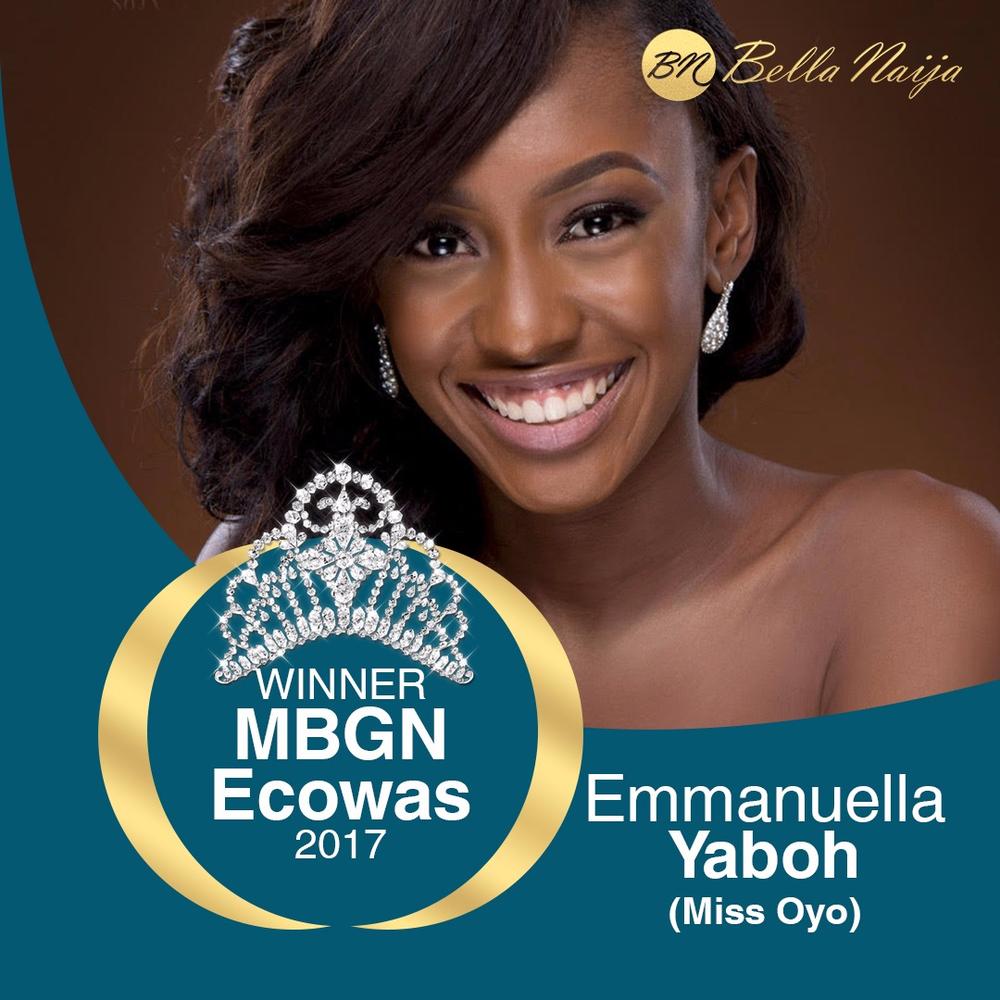 Second Runner-Up/Miss Tourism – Miss Plateau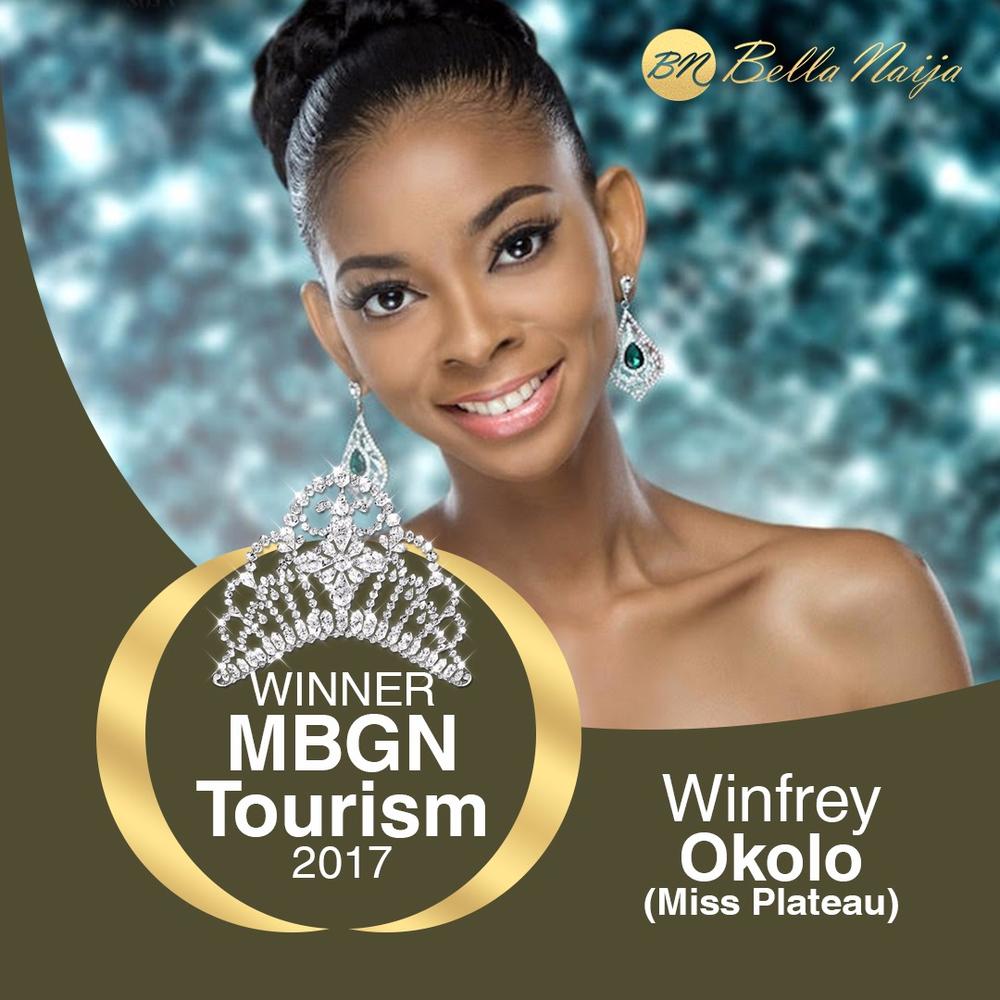 First Runner-Up/MBGN Universe – Miss Sokoto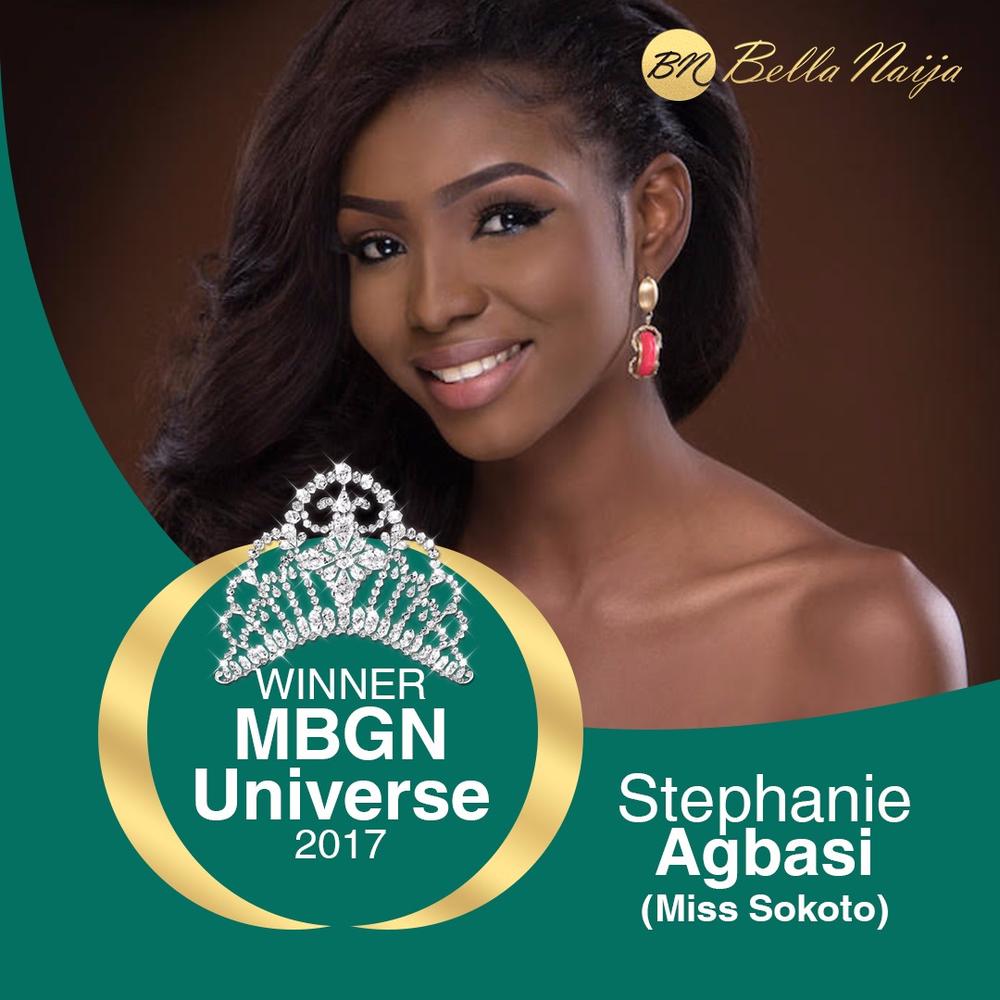 Most Beautiful Girl in Nigeria 2017 – Miss Kebbi!!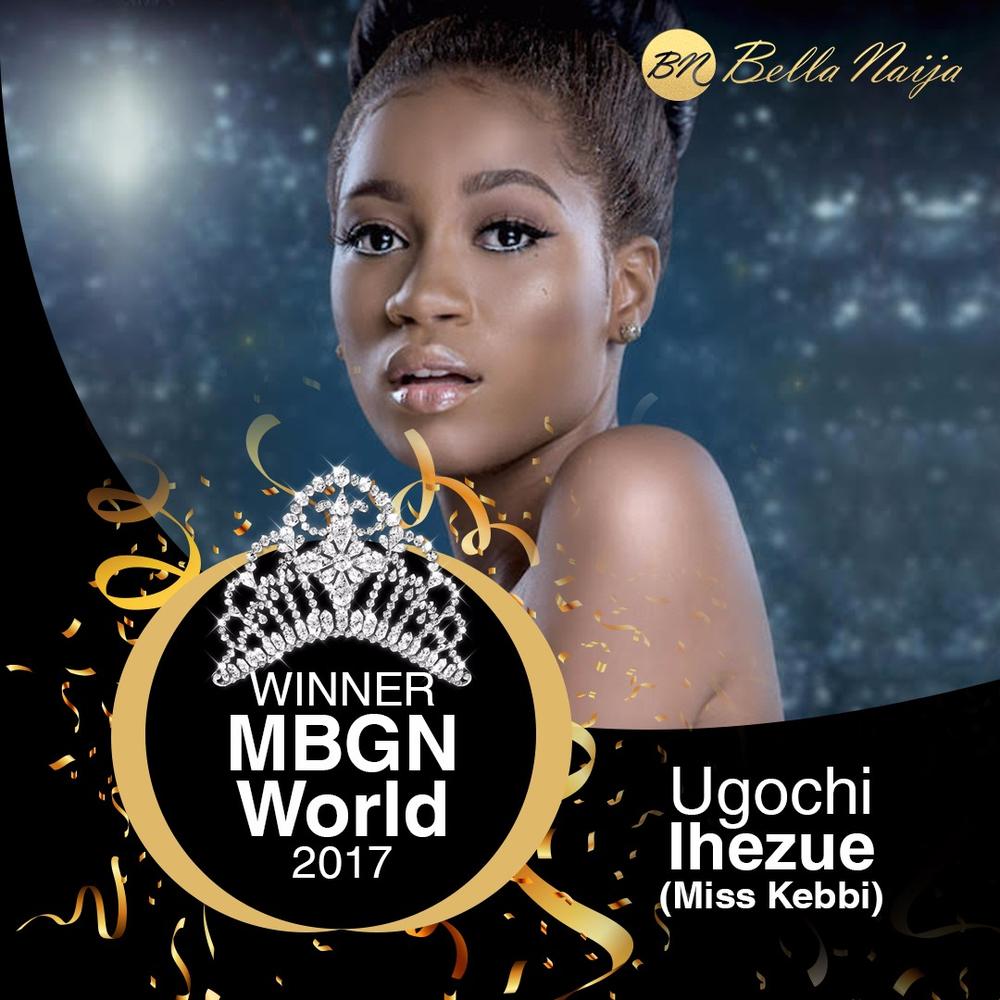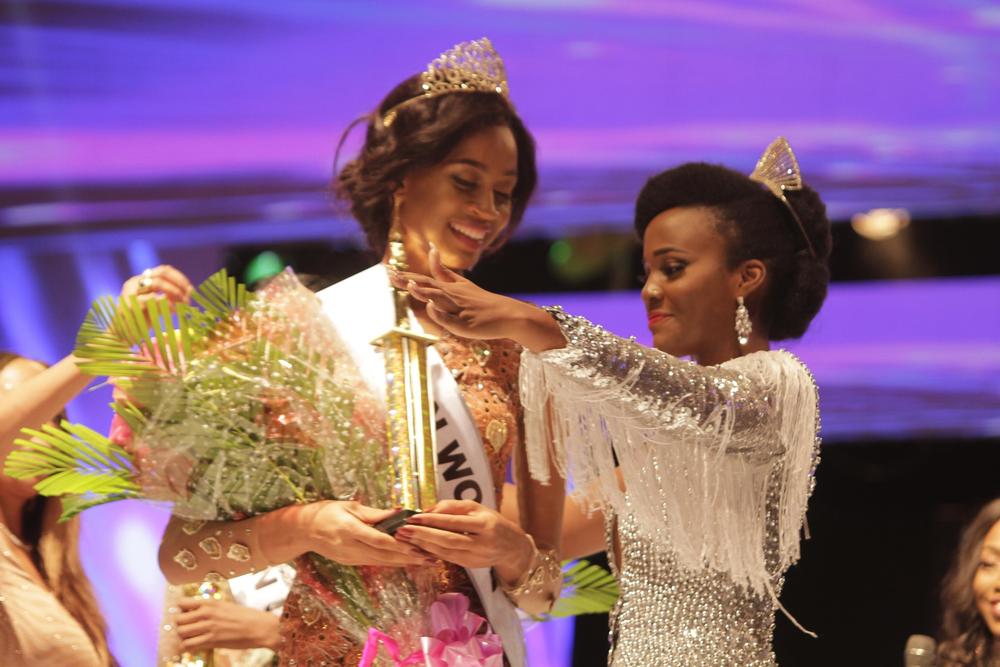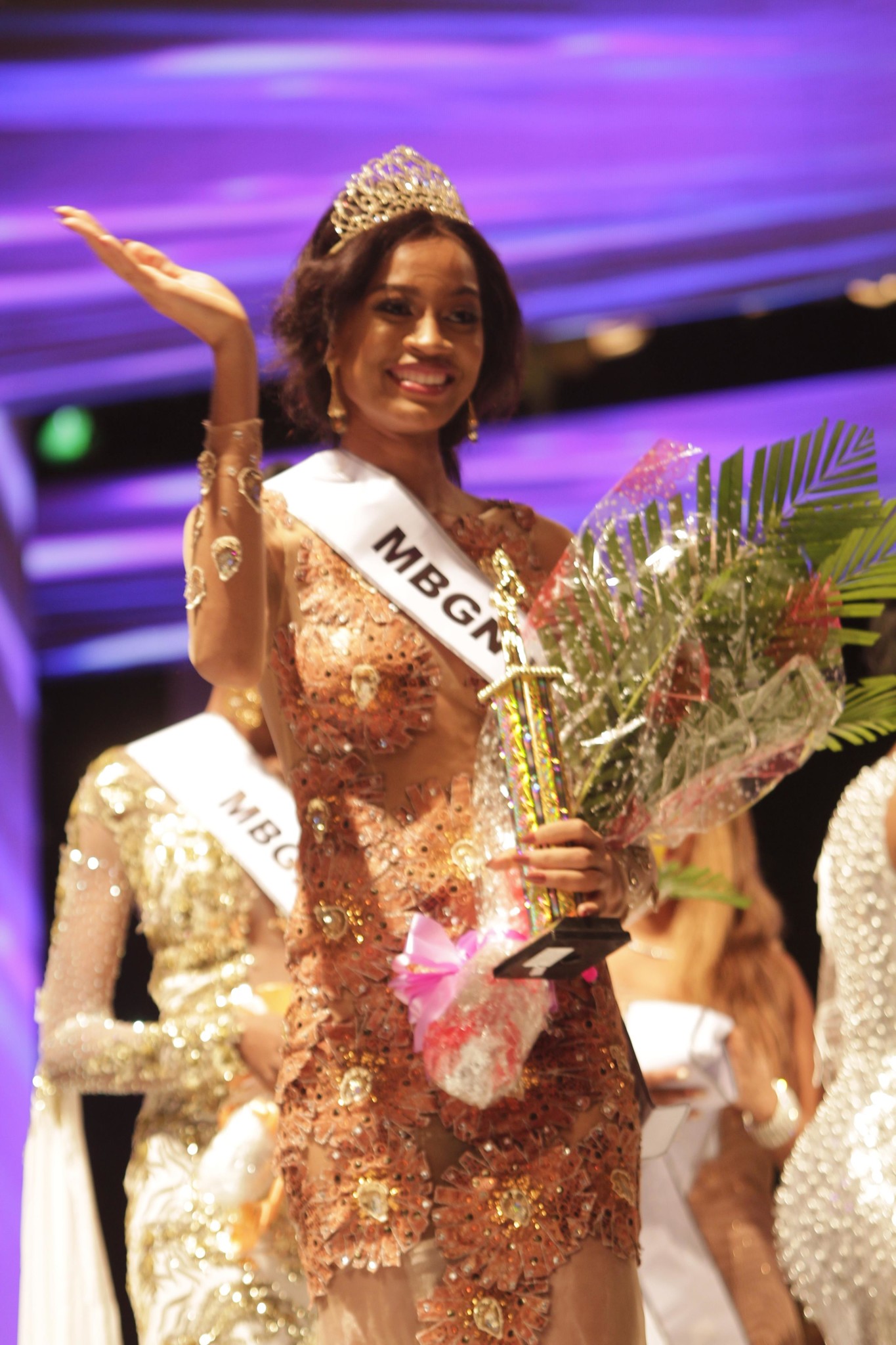 12:58am
And it's a wrap. Congrats to the winners!!