Raped by a Bike Rider when She Was 18, Iyinoluwa Shares the Story of Her Journey to Healing in a New Book | Excerpt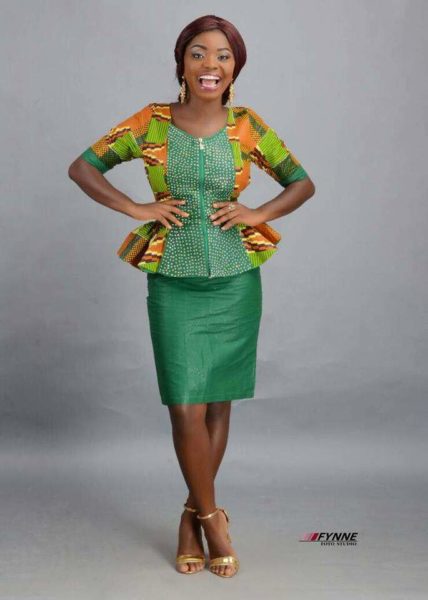 BellaNaija continually stands against sexual assault in every form. We seek to provide a platform for victims to vocalise their experience, with a bid to lift the cloak of shame that perpetrators are counting on. Today, we're pleased to share the story of IyinOluwa Fageyinbo – who rose from the ashes of the pain of being raped by a bike rider.
IyinOluwa's story is truly inspirational; she has taken the lemons of that situation, and turned it around. With the aim of sharing hope and faith to anybody going through the same thing, we hope you are truly educated and inspired.
***
My name is IyinOluwa Fageyinbo. I am 22 years old, a graduate of the University of Benin, a music minister and the author of "Journey to Healing".
Journey to Healing is a book that is based on true events which occurred in my life. Four years ago, on my way back from choir practice and two days to my dad's sixtieth birthday, I was brutally raped by a bikeman. It was an event that turned my life upside down in just one moment.
Thanks to God, I lived to tell the story and journey to healing has been written to give hope to others like me in similar circumstances; or maybe even worse and has been trapped in the bondage of shame, fear and pain.
God is a healer. He has worked on me physically and internally. He carried me out of a very dark tunnel and He is always ready to do much more than you could ever imagine.
Journey to Healing is for everyone that has gone through or is going through a trial of faith even now, a reminder that God has not forgotten you, He never abandoned you, He is nearer than you think and you have been preserved for such a time as this.
This book is also a wake up call to society – and we are the society, to protect our own, to preserve the innocence of our children, to rise against this injustice that is fast becoming a norm. We do not have to wait tll its at everyone's doorstep before we decide to take our stand and make a difference. Now is the time to stop the cycle of broken and wounded people and break the grip of silence, misplaced shame and stigmatization.
Now because of God's help and a wonderful support system, I am a testimony, not a victim. There's hope for that shameful situation.
Journey to Healing will be launched on October 7th, 2017.
Below is a short extract from the book;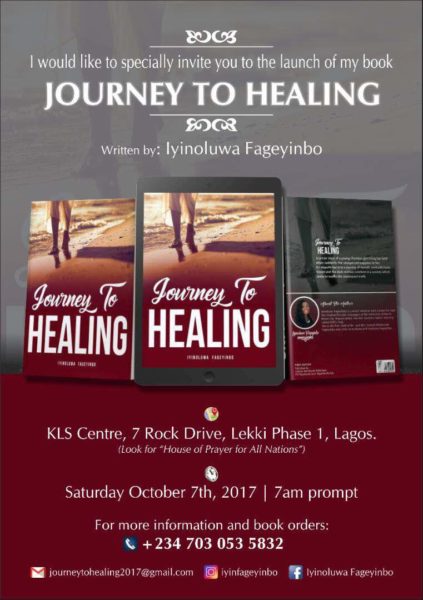 ****
An Unforgettable Episode
On Friday, July 19th, just two days before Daddy's birthday, I was on the way back home from choir rehearsals in church, accompanied by my sister, Ireoluwa and my friend, Metonde. We set out for Ikorodu at 5.30p.m. The Ikorodu road was under repair at the time, and the commercial bus we were in seemed to crawl slowly towards home. There had just been a heavy downpour of rain, and there was a traffic gridlock. The clock ticked on, hours went by, and three hours into our journey, we were still a long distance from home. More hours passed by, and five hours into our journey, we hadn't made much progress in getting to our house. The twilight of 5.30pm had given way to the darkness of the night; hours went by and at 11:00 pm, we got to the junction closest to my house.
By this time our phones were literally ringing off the hook. Dad was already frantically calling to know where we were. Home was still far from the junction, so we had to flag down the commercial motorcyclists called "Okada" to take us the remaining way home. As the hands of the clock ticked past 11.00 p.m., we stood in the cold night, trying to convince several Okada riders to take us home. Their penchant when it was late and they had closed for the day was to only pick up passengers heading towards the direction of their own homes as they were home-bound. That night, they all refused to go our way. My father kept calling, anxious to know where we were.
Finally, we were lucky enough to see one Okada rider who agreed to take us home. All three of us could not get on the motorcycle at once so, the Okada man agreed to take my sister and my friend home first, and then, return to pick me up. Metonde did not want to leave me at first since it was so late, but I convinced her saying, "You are my guest. Just go, I will meet up with you soon."
I found a place to sit at a spot where hawkers sold local bean cakes (moi-moi), and bread, and waited for the Okada man to return. My father was still calling me. After waiting for a couple of minutes, relieved, I spotted the Okada man approaching. He had dropped my sister and friend at home and had come back for me, just like he said.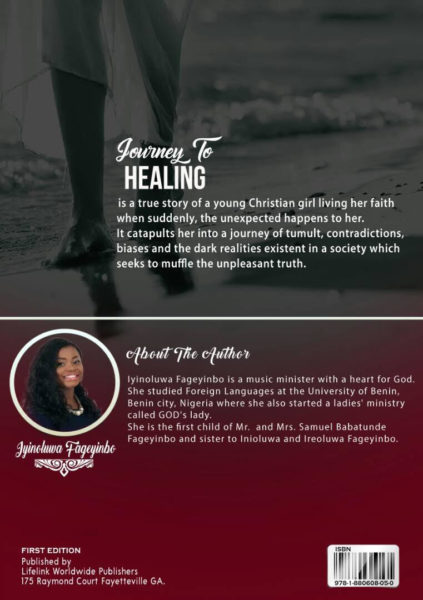 I climbed on the motorcycle and we started the ride towards home. As we were about getting to a security post, he veered off the road which was my known route home and into another turning, and I asked him why he did that. He said the security men would harass him because of the time. He assured me that he was familiar with the area and that since he had already dropped off my companions safely at home, that he would do the same for me. I was reassured because I was new to the area and wasn't familiar with the roads. So, I did not protest further. All I did was to follow his lead. We kept going. The roads were muddy and messy because of the rainfall earlier in the day, and it was a cold night.
I soon realized this journey was taking longer than I had anticipated.
"Why is it taking so long to get me home?" I asked.
"I am only going via another road," he replied.
As we moved on, his motorcycle began to slow down and finally stopped. The area was very dark and lonesome. There was no light and nobody on the road, except few stars that lit the sky. At this point, I was really scared. I got off from the bike and started walking forward, but it was so dark, I could barely see ahead of me.
"Where are you going?" he called out to me. "Bring your phone let me check what is wrong with this motorcycle."