If you've ever had a health-related issue in Nigeria, then you will probably understand that it is extremely difficult to fund your treatment and navigate the healthcare system.
In view of this, BellaNaija launched the BN Community Centre. This online platform will feature "calls for help" as submitted to us. This includes information, photos and account numbers.
***
Usually, the people featured on this segment are people who contact us. While we would like to help everybody, we understand our constraints. We are also acutely conscious of the fact that there are a lot of frauds, trying to make a quick buck off sympathetic well wishers. We are sometimes wary of some of the calls that go viral on social media. It is for this reason that we try to do basic checks, and we also encourage you to do the same, before giving.
Bakare Abiodun's story is one that was brought to our attention on social media. We checked the time sequence of his messages, and tried to see how to help.
Hi fam, pls let's be part of Bakare's warrior's story. He needs your help to walk again.
Pls donate/RT
Bakare Abiodun A
0259201019
FCMB
??? pic.twitter.com/k6YDJaTieN

— ?Bakaræ A²☄ (@superbaky) September 13, 2017
We reached out to the numbers listed on the doctor's report and the receipt of payment. All attempts were unsuccessful. We then noticed that Dr. Ola Orekunrin of Flying Doctors had been in touch with him, so we reached out to her – just to verify that the person actually existed and that the situation was as presented on social media.
Dr. Ola was very gracious enough to respond to us, affirming that Flying Doctors airlifted the patient to the hospital; and she urged us to conduct further investigation on our own.  Thus, we made more attempts to find the doctor whose name was on the doctors report.
Thankfully we were able to track him down and we spoke to him this morning, and he shed some light into Bakare's story.
Bakare Abiodun is a 27 year old sickle cell warrior who had been bedridden for three years. A student of Olabisi Onabanjo Univeristy, Bakare is suffering from sickle cell complications. He went to Sokoto, where Dr. Muhammad's hospital is, in search of affordable health care. A few surgeries have been done successfully and Bakare is now able to move a bit.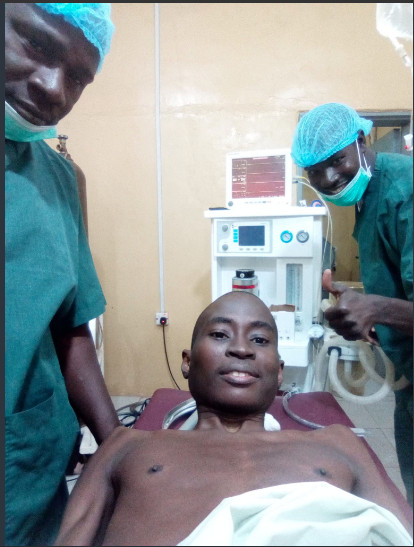 However, there's still a need for a few more surgeries; one of them is the hip replacement surgery.
Lack of funds is the major issue, and this is where you come in.
Bakare needs money for this surgery. After the surgery, he's also going to need physiotherapy and other forms of palliative care to make full recovery.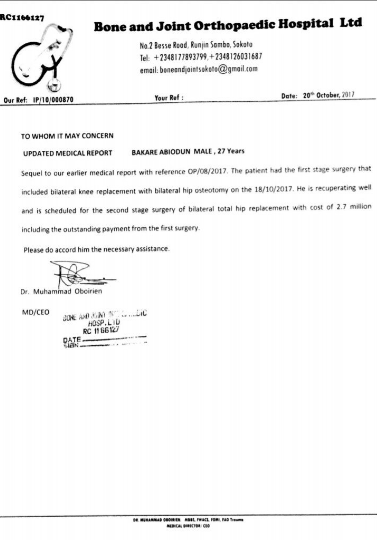 If you are unable to donate money, but are able to support in other ways, please do. If you're a nurse, or a physiotherapist, or a social media influencer (for wider range of awareness), let's pull together to help get Bakare the help he needs.
We thank the doctors who helped us immensely in our quest for getting the information needed, and for helping Bakare.
I am tired…
but I can't give up now…

— ?Bakaræ A²☄ (@superbaky) November 6, 2017
***
We, at BellaNaija, encourage you to give if you can. However, please ensure you perform independent verification prior to donating any funds.