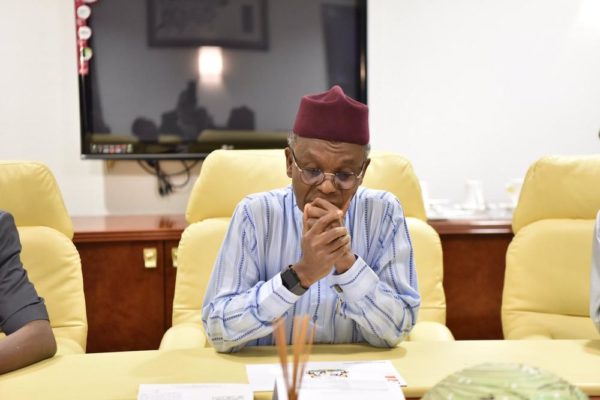 The Kaduna State Government has revealed it will be cutting the number of staff across its 23 Local Governments to below 7000.
The Kaduna State Governor Nasir El-Rufai revealed the news on his official Twitter @GovKaduna.
He revealed that a lot of the local governments are broke, the reason for this being that they're overstaffed, he wrote on his Facebook.
Part of the reason why many local governments are broke is that they are overstaffed. The admin department of Zaria local government has 300 staff. For what? This overstaffing is why many of the local government councils cannot pay salaries without the support of the state government.

So, we have prescribed personnel figures for all the 23 local government councils in Kaduna state. Direct council staff will now be less than 7000 in total. This excludes teachers under SUBEB and primary health centre staff who have been moved to the State Primary Health Care Development Agency.

I have signed an Executive Order directing the Administrators of the 23 local government councils to comply with the prescribed personnel levels. #LGReforms
Expounding on his Twitter, he wrote:
Most important to note is that the state government is only laying off redundant staff and not the ones required because the capacity for our 23LGs to effectively render services and execute developmental projects has been tampered with #LGReforms

Positive change cannot happen by wishful thinking, it only happens when things are done differently. Out of 23LGs in Kaduna, 6LGs are on life support. This means if the state doesn't augment their shortfall, they can't even pay salaries.

Out of the 23LGs in Kaduna State, only Birnin Gwari LG is "healthy" as the remaining 22LGs always need one support or the other from the state before they can execute their constitutional mandates.

The right sizing going on in our local governments are corrective measures to reposition them. 4042 redundant LG staff have been laid off already. This comprises 3,159 staff who have been retired and 883 staff whose appointments have been terminated.

Those who have been retired will receive their three months salaries in lieu and other entitlements while those whose appointments have been terminated will receive one month salary in lieu and other entitlements as specified by the law.

We now have 6,732 staff who are needed in the 23LGs of Kaduna State.