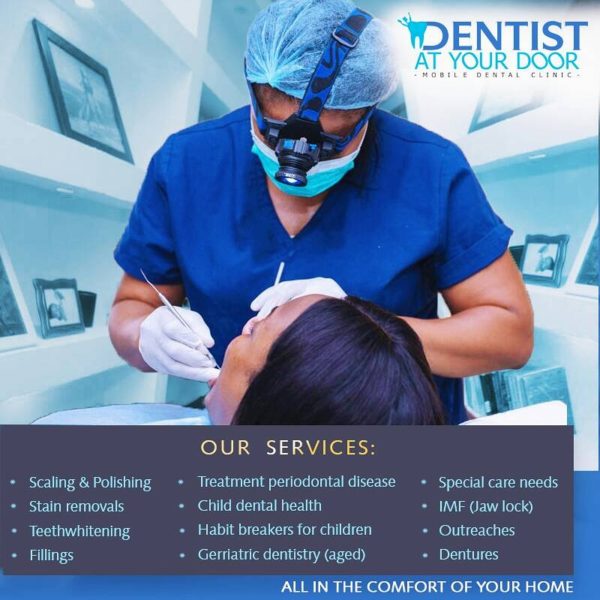 Dentist at Your Door, Lagos' favourite mobile dental clinic is offering some exciting holiday specials to help you keep your smile healthy and bright right in time for the holidays and the new year.
Going to the dentist can seem like an impossible task, due to busy schedules, fear of the unknown and the waiting times at dentist offices! December is a busy period and Yemisi Akintonwa, BDS, founder of Dentist at Your Door, understands that everyone has a lot of expenses this time of the year. Dentist at your door is offering holiday specials to help you maintain a bright smile and over all oral health.
Did you know that 70 % of Nigerians' have never visited the dentist before? Dental health is extremely important to overall well-being and physical health. Dentist at Your Door is a mobile dental clinic founded by Dr. Yemisi that offers at home and office dental service right at your comfort.
Dentist on the Go has some holiday freebies for December 2017
December brides get excited!  Looking for that perfect smile for your special day? ALL brides get 15% off for scaling and polishing plus 2 teeth whitening sessions plus a complimentary take home whitening kit. And for families, Dentist at your door understand that life can get busy. It can sometimes be difficult to make time to take care of your everyone's   oral health. Dentist on the Go meets you where you are comfortable. All families get 10% off for all services.   
To make an appointment Call or DM Dr Yemisi on 08029093223
Follow and contact her here: www.instagram.com/dentistatyourdoor
—————————————————————————————————————–Sponsored Content